Milestones | India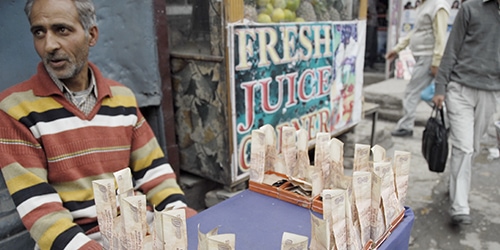 ---
In partnership with more than 50 state-run, cooperative and private banks, India's National Democratic Alliance government has launched the world's largest financial inclusion project to bring 75 million households into the banking fold by the end of January 2015. The drive allows households to have simple savings bank accounts, along with a small "overdraft facility" and a debit card. "It's not just opening bank accounts: These households will gain access to credit for economic activity, insurance and pension services for their social security," prime minister Narendra Modi announced after the launch of the project on August 28.
A campaign to link all households in more than 600,000 villages with banking services has taken on increased significance, as estimates suggest 30% of people in India today depend on private loan sharks that charge astronomical interest rates on loans.
As of October 10, according to official data, 55.2 million adults from rural hamlets and urban shanties were enrolled with bank accounts. The financial inclusion project also includes cash support from the government toward bearing part of the cost of food, fertilizers for farmers and cooking gas for vulnerable sections of society. The support will be provided via the bank accounts opened through 115,0000 bank branches and 140,000
banking representatives.
Chanda Kochhar, managing director and chief executive of ICICI Bank, the country's largest private bank, says it has been working on a comprehensive financial inclusion plan for the past four years. "We aim to open 2.5 million bank accounts under the PM's project. The scheme inspires us to renew our commitment to the goal of financial inclusion with even greater vigor and focus." The project is also aimed at curbing a cash economy that accounts for more than 90% of monetary transactions in India.