NEWSMAKERS: SPAIN
By Vanessa Drucker
The government of Spanish prime minister Mariano Rajoy revealed its character in early June, when it appointed Luis María Linde to become chief of the country's central bank and help restore its reputation.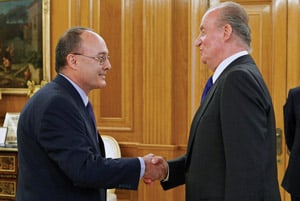 Linde shakes hands with king Juan Carlos of Spain
Photos Credit : REUTERS/POOL
Linde is stepping into the shoes of Miguel Ordóñez, who had announced his decision to depart a month before his term expired.
No one would criticize Linde's competence or question his familiarity with the inspectors of the Bank of Spain. A distinguished pedigree includes almost 30 years with that institution, where he oversaw international affairs and country risk. He was also appointed in 2005 as executive director for Spain at the Inter-American Development Bank. "The problem is that he is too old and won't be able to follow through the six-year term," says Marc Chandler, global head of currency strategy at Brown Brothers Harriman. Linde, currently 67, will be obliged to retire in three years, according to the rules of the Bank of Spain. As a result, the seat of power is destined to remain with economy minister Luis de Guindos.
ECB executives favored José Manuel González-Páramo, the Spanish representative on the ECB Board of Governors, to head the Spanish central bank. "Basically, the Rajoy administration missed an opportunity to throw the ECB a neighborly bone and mend some important fences," Chandler adds.
Instead, the Spanish government opted for a political choice in its new appointee, in efforts to reduce controversy at home. Linde, a respected technocrat who enjoys support from both the ruling conservatives and the opposition Socialist Party, may be perceived as acting more independently.
Chandler sees the latest appointment as one more faux pas by Rajoy. He has repeatedly underestimated the magnitude of Spain's economic needs, Chandler notes, but Linde cannot provide "a breath of fresh air."