NEWSMAKERS: BERMUDA
By Gordon Platt
Paula Cox, Bermuda's premier and minister of finance, shared the stage with former US president Bill Clinton in New York in September at the C3 Summit, a conference designed to promote relations between business people in the US and the Arab world.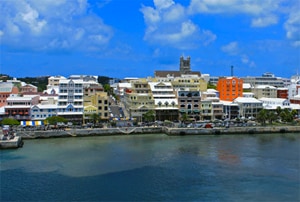 Bermuda opens its doors to shariah-compliant takaful insurance
Cox said that Bermuda "welcomes the global Islamic finance community with open arms" and could provide knowledge transfer in a trusted environment, as it seeks to open "a shariah window on the West."
Already a top reinsurance center, along with New York and London, Bermuda sees itself as a natural home for retakaful and captive takaful companies, Cox says. Takaful is a form of shariah-compliant insurance, whereby the participants agree mutually to share their losses. Some 1,200 insurers and reinsurers are licensed in Bermuda, many of which plan to develop takaful portfolios.
Islamic finance is growing rapidly, and many financial centers around the world are competing for a piece of the pie. Bermuda created an Islamic finance task force last year, headed by PwC Bermuda. It looked at opportunities for Bermuda to promote itself as a home for shariah-compliant funds, wealth management and sukuk, as well as takaful.
"There is growing demand from affluent Muslim investors living in Western countries, such as the US, for global shariah-compliant investments," a PwC spokesperson said.
Bermuda signed a double taxation agreement with Qatar in May, along with a memorandum that commits the Arab nation to assist Bermuda in making further inroads in the Gulf Cooperation Council countries. For its part, Bermuda will help Qatar to further diversify structures to access Western markets.
Clinton praised Cox for her "vision and foresight" in seizing the opportunity to build bridges between the US and the Middle East. He said the US needs to stay involved in the Arab world and "help them achieve economic success."