NEWSMAKERS: UNITED STATES
By Gordon Platt
CEO Michael Corbat aims to restore Citi's prestige—and boost its dividend—by operating with extreme efficiency and producing sustainable profits.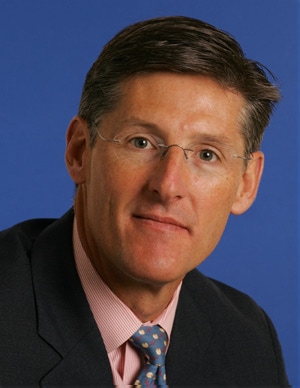 Corbat's selection to head Citi was a surprise to many
How he will effect that remains to be seen. A lifelong Citi executive, Corbat took the reins on October 16 with the abrupt departure of Vikram Pandit, who led the company through the global financial crisis and restored it to health following a government bailout in 2008.
Citi has made good progress this year in stabilizing its earnings and slimming down, but it failed the Federal Reserve's stress test in March, and Pandit was not allowed to increase payouts to shareholders. Corbat aims to improve relations with regulators and says Citi "will remain extraordinarily focused on our efficiency ratios."
A former Harvard football offensive lineman, Corbat joined Salomon Brothers in 1983. After Salomon became part of Citi, Corbat became head of emerging markets in the bank's fixed-income unit. He took over corporate lending in 2004 and wealth management in 2008. As head of Citi Holdings—which some market watchers had initially seen as a dead end, career-wise—he helped divest nearly $600 billion of troubled and noncore assets.
Most recently, Corbat was CEO of Citi's operations in Europe, the Middle East and Africa. He knows the value to corporate and institutional clients of the bank's global network and global platform, and will protect these. The bank's focus on fast-growing markets will continue, but more costs will be cut and businesses that do not meet performance standards will be sold.
It is too soon to know how much of a shift there will be away from investment banking in favor of less volatile commercial and retail banking. "Today's environment requires us to make our organization as flexible and responsive as possible," Corbat says.
In his introductory email to colleagues as CEO, he noted: "Regulatory, legislative and economic changes around the world present headwinds as we redefine our relationships with all of our stakeholders. To thrive, we must be vigilant about how we allocate our resources to ensure we are serving our clients and offering the products with the highest potential in the most productive markets."
The question is whether "vigilant resource allocation" is code for "big change ahead at Citi."