NEWSMAKERS: TURKEY
By Dan Keeler
Turkey's authorities are concerned that the economic boost provided by an upgrade to investment grade by Fitch Ratings could trigger some unwelcome side effects.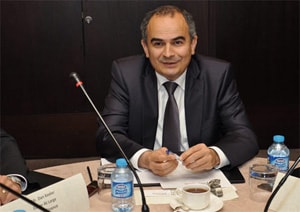 Erdem Baç says he can keep inflation in check
At a recent Global Finance roundtable in Istanbul, Erdem Baç, the governor of Turkey's central bank, said: "There is no doubt that Turkey deserves an investment grade. It is overdue." However, he added: "We should be extremely careful on the macro side. We could have quite a rise in portfolio flows, and that could put appreciation pressure on the currency. But we are more ready for such a change, compared to, say, three years ago. We have more instruments to cope with it."
In mid-October, ratings agency Fitch strengthened an earlier hint that it might be open to upgrading Turkey's credit rating from BB+ to the lowest investment grade of BBB-, revealing that it would be addressing the issue before the end of this year. Turkey's ailing lira rallied on the back of the comments, which helped offset some of the gloom triggered by the country's recent military clashes with Syria.
One of the key criteria on which Fitch will base its ratings assessment is inflation, which in recent months has soared to multiyear highs. Baç is confident his policies will rein in inflation in the medium term. "Inflation expectations are not yet down to 5%," he says, "but we are going to make sure—this is my promise—that before the end of my term inflation expectations [are] anchored at 5%."
Many investors are already channeling funds into Turkey on the assumption that an upgrade is imminent, says Alp Keler, CEO of Ak Asset Management.
"Although many investors have already priced in an upgrade, achieving investment grade would provide considerable benefits for Turkey, says Yapi Kredi Bank's CEO, Faik Açikalin: "Sovereign rates should come down, which leads to better borrowing rates for companies, which will help the markets grow and leads to more economic activity. Long-term growth becomes more sustainable, and the depth of the markets increases, while the volatility in the domestic markets reduces."