Europe/Global
By Anita Hawser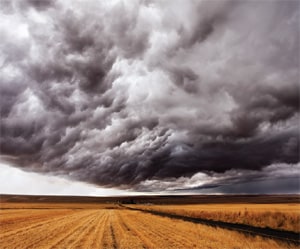 Trouble ahead: Delegates failed to
secure a binding treaty in Copenhagen
In mid-December political leaders, environmental scientists, NGOs and lobbyists converged on Copenhagen to try to hammer out a global agreement on climate change. At times, tempers were frayed between developed and developing countries, with developing countries walking out in protest at one point over the lack of progress on their demands for legally binding emissions targets from rich countries. China hit out at developed countries during the 10-day summit, saying that their "plethora" of demands on developing countries reduced the likelihood of a positive outcome. While some expected the conference to be dominated by the concerns of richer Western nations, the influence of the Group of 77 was readily apparent. Developing countries, particularly in Africa, demanded compensation for the effects of global warming.
However, there was no denying the differences between richer and poorer countries. While the United States favored a new climate change agreement, having failed to ratify both tracks of the Kyoto Protocol, developing countries supported keeping the existing Kyoto Protocol. The rich countries were also concerned about what role China, one of the largest emitters of carbon dioxide alongside the US, would play in any global deal. China and other developing countries refused to make their commitments to reduce emissions internationally binding, reiterating their view that developed countries such as the US have a historical obligation to substantially reduce emissions.
With the two sides at loggerheads, as Global Finance went to press the prospect of a global agreement on climate change appeared dim. Support for payments into a global fund by richer countries to help poorer or developing countries combat climate change had dwindled. Deforestation commitments were also watered down, with requirements for an international monitoring system on illegal logging changed from compulsory to optional.
However, delegates remained optimistic that some form of legal agreement or framework for addressing climate change could be achieved. "While we may not end up with a nicely bound package with a neat bow on it, there is quite a lot of optimism because people realize just how significant these discussions were," remarked Alex Blood, an Australian-based environmental scientist with consultancy Golder Associates.
One aspect everyone was united on, including business leaders who were represented by industry organizations such as the International Chamber of Commerce, was the need for greater clarity from policymakers on the way forward, whether it was carbon capture and storage, caps on emissions or a global carbon price.
The final impact of Copenhagen is unlikely to be clear for some time. However, it will be remembered as a landmark summit, given the number of political leaders (more than 80) who attended and the fact that the debate was not so much dominated by whether climate change was real or not, but what is the best way to move forward and who should shoulder the cost.