NEWSMAKERS
By Gilly Wright
The surprise appointment of Sir Jon Cunliffe as deputy governor of the Bank of England shows how seriously the UK takes challenges to its financial sector.
From November, Cunliffe will be responsible for financial stability, a role that will require his negotiating skills, as new financial regulations are tabled both within the European Union and internationally.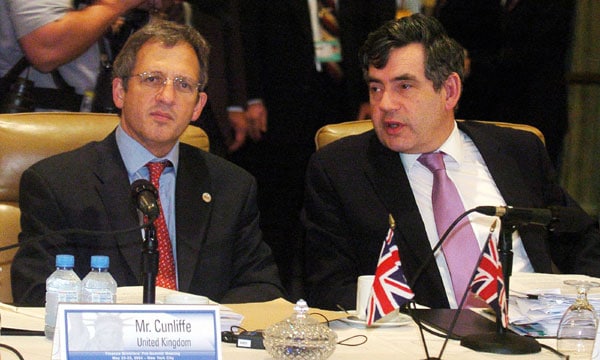 Cunliffe, left, brings an international perspective to BoE role
Cunliffe has been the UK's permanent representative to the EU since January 2012, and between 2007 and 2011, he was the prime minister's adviser on Europe and global economic issues. He has also held a number of senior positions in the Treasury and government.
And he has previously worked with the new Bank of England governor, Mark Carney, who is known to have had a hand in the appointment. Carney had this to say of his second-in-command: "I have been fortunate to have worked with Jon for over a decade on a wide variety of international issues at the G7, G20 and Financial Stability Board. He brings an important European and international perspective that will be vital in ensuring that the Bank of England can shape both the UK and international financial systems so that they effectively serve the needs of the real economy."
Daiwa Capital Markets economist Grant Lewis, who worked at the Finance ministry alongside Cunliffe, rules out any Machiavellian twists to the appointment, stressing what a strong candidate he is. "He clearly knows the EU and other international forums intimately. He was also in charge of financial stability at the Treasury, and it seems, given the two roles—one on the economy and monetary stability, and one on financial stability—it seems he's a very good hire for the job."
Recent dealings between the EU and the City of London have been fractious. They have included a British veto at the December 2011 EU summit, signaling the UK's intention to retain its offshore/onshore model, protecting the City's interests. However, Cunliffe is likely to adopt a more collaborative approach. "You don't win everything, nor always get your own way," muses Lewis, "but Cunliffe knows the right people, the players and the system, and that's going to help."