AUSTRIA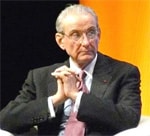 Citi's Rhodes: Current crisis is the US' biggest challenge in recent history.
With Bank of America buying Merrill Lynch and Lehman's filing for bankruptcy, the global credit crunch is clearly far from over. In fact, a panel of banking heads and economists at the annual SWIFT Sibos conference in Vienna said worse could be yet to come in terms of a widespread recession in the non-financial sector. "We are not through the crisis yet," said Willem Buiter from the London School of Economics during a debate on systemic risk. "We are two-thirds of the way through the financial crisis, but we have yet to really see it impact non-financial corporations, although that is beginning."
William Rhodes, chairman of Citi, added, "We are in the eye of the storm," and described the current crisis as the biggest challenge the US economy has faced since World War II. "I hope this crisis will finally lead to international accounting standards and international regulatory norms," he said.
Several speakers agreed that there would be a "long and persistent recession" in the north Atlantic region and further slowing in Europe and Japan—and the emerging markets, which some believe is evidence that the BRIC economics have not fully "decoupled" from the West.
"There is no de-coupling," said David Hodgkinson, group chief operating officer, HSBC, pointing to the rapid increase in inflation, which had affected developing economies and led to declining consumer and business confidence. "Russia will suffer from the subprime crisis as a result of scarcity of funds and the [high cost] of refinancing," said Herbert Stepic, CEO of Raiffeisen International. Despite its recent strong FDI inflows and rapid GDP growth, Russia would not emerge unscathed from the subprime crisis, he added. "Smaller regional banks will fail or merge."
Stepic said those banks with a strong corporate and retail deposit base and strong brand reputations were more likely to survive the credit crunch. "Banks will divest non-core businesses," he said. "Banks with a broad customer base and direct client access will win. They own their customers and have a clear funding advantage." Stepic also called on the 8,000 banks gathered at the annual Sibos conference to continue to work with banks they know and to not accelerate the downturn by infecting the real economy.
Anita Hawser