NEWSMAKERS: JAPAN
By Valentina Pasquali
Prime minister Shinz Abe's election victory at the end of 2012 promised to bring sweeping changes to Japan's handling of its lethargic economy, with renewed efforts to spur growth and combat deflation.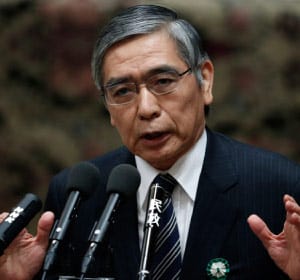 Kuroda stresses he is not like his predecessor
Now Haruhiko Kuroda, Abe's pick for central bank governor, is sure to become a key player in the execution of so-called "Abenomics."
Kuroda is a supporter of inflation targeting and bold monetary easing and has criticized his predecessor at the Bank of Japan, Masaaki Shirakawa, for taking a timid approach to policy. "That is the reason he was chosen," says Masamichi Adachi, an economist with J.P. Morgan Securities in Tokyo."His first task is to impress onto people that his BoJ is different from past ones."
Educated at the University of Tokyo in Japan and the University of Oxford in England, Kuroda spent his career in the Ministry of Finance, rising to the rank of vice minister of finance for international affairs and special adviser to the cabinet. Having retired from government service in 2005, he was then appointed president of the Asian Development Bank.
Among Kuroda's strengths, observers list his experience in the area of fiscal policy and international finance; the fact that he and the prime minister seem to share the same economic vision; and his close connections to the Ministry of Finance."But he is not an expert in monetary policy like US Federal Reserve chairman Ben Bernanke," says Masao Nakamura, professor at the Sauder School of Business of the University of British Columbia in Canada."What this could mean is that whatever announcements Kuroda makes about things such as money supply, government bond buying and monetary easing might not be received by the markets with as much confidence."According to Nakamura, Kuroda's ties with the Ministry of Finance could also backfire. Instead of imposing the will of a strong central bank, the risk is that he could fall prey to pressures from the ministry.