NEWSMAKERS: INDONESIA
By Valentina Pasquali
With just over a year to go before the 2014 elections and in a move that caught many observers by surprise, Indonesia's president, Susilo Bambang Yudhoyono, has appointed current Finance minister Agus Martowardojo as the new governor of Bank Indonesia, the country's central bank.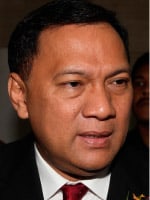 Martowardojo quells doubters as central bank appointee
Martowardojo, 57, is a career banker, and before leading the Ministry of Finance, he was at the helm of Bank Mandiri, Indonesia's largest lender. Parliament rejected him once before for the post of central bank governor in 2008 because of his perceived lack of experience in the area of monetary policy. But his time as Finance minister appears to have quelled most residual reservations.
"Agus has performed well in his stint as Indonesia's Finance minister, continuing the sound fiscal management he inherited from his predecessor," says Rajiv Biswas, the Asia-Pacific chief economist for IHS Global Insight. "Both Indonesia's finance industry and international investors have been very pleased that such a capable person with a strong financial markets background has been appointed as the new governor of Bank Indonesia."
Eurasia Group's lead analyst for Indonesia, Shaun Levine, believes Martowardojo's biggest strengths are "his desire to keep policymaking free of the influence of vested interests and [his desire] to see Indonesia grow and expand." But he is known to be brash and has rubbed people the wrong way in the past. "He doesn't hold back," Levine says. "He is not a politician." This is probably among the unofficial reasons why he was transferred from the Finance Ministry to the central bank ahead of next year's elections.
Overall, people expect policy continuity from Martowardojo. His focus as central bank governor will center on managing inflation, which has spiked above the government's target, as well as exchange rate volatility, with the rupiah under pressure from a deteriorating trade balance. In his new role Martowardojo will also have to direct the transfer of the central bank's supervisory power over commercial banks to the newly created Financial Services Authority, a job that he is believed to be particularly qualified for, given his experience in Indonesia's banking sector.