NEWSMAKERS: HUNGARY
By Paul Mackintosh
Widespread concerns in Europe over the independence and integrity of Hungary's institutions were rekindled recently by the news that prime minister Viktor Orbán had appointed his right-hand man, György Matolcsy, as the new governor of Hungary's central bank, the Magyar Nemzeti Bank (MNB).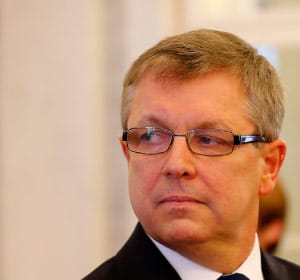 Loss of credibility feared under Matolcsy
Matolcsy is the former minister of National Economy and the architect of many of the unorthodox economic policies that taxed and antagonized multinational corporations, banks, pensioners, investors and international institutions.
Initial financial market reaction was muted, probably because most observers had already priced the appointment into their expectations. Some analysts were clear on what it meant, though.
"At the end of the day, it is irrelevant who the governor or deputy governors are—the same policy mix will come directed by Orbán and Matolcsy," says Peter Attard Montalto, emerging markets economist with Nomura International. "It is just under Matolcsy we will have a greater and more dramatic loss of credibility, of staff…less transparency, a removal of unbiased research and analysis on financial sector and fiscal issues."
Matolcsy is known not only for his policies but for his outspoken statements—for instance, branding his foreign critics as pirates who seek to profit from a low forint and high Hungarian bond yields. With a Hungarian general election due in 2014, many observers fear that he will now put the MNB at the service of the governing Orbán administration's electoral timetable.
Matolcsy stands in contrast to outgoing central bank governor András Simor, who repeatedly advocated credible and predictable economic policy and is "one of the most open, honest and engaging policymakers I've come across," remarks Montalto, "a level-headed defender of financial stability, the currency, inflation [policy] and central bank independence, even against unimaginable pressure from government."
Orbán asserted in a recent speech in Warsaw that the independence of Hungary's central bank was guaranteed by law. Speaking just before his appointment, Matolcsy pointed to Hungary's success in keeping deficits below 3% of gross GDP and reducing public debt without austerity as proof that Orbán's policies worked.
Others disagree. With the Hungarian economy still mired in recession, a just-released PwC survey of Hungarian CEOs shows that 84% identify capricious government measures and lack of confidence as their most serious challenge.