NEWSMAKERS: CANADA
By Joel Kranc
Few people were completely surprised when Mark Carney, the head of the Bank of Canada, broke the news earlier this year that he was leaving his post to head up the Bank of England.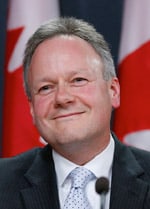 Poloz has the skills but must prove his mettle on the job
What was more surprising, however, was his selected replacement—Stephen Poloz. Poloz currently serves as the chief executive officer of Export Development Canada (EDC), a state-owned corporation that provides financial services and bonding products to Canadian exporters.
Poloz has served with EDC since 1999, first as a chief economist, then moving up to his current post three years ago. But the Bank of Canada is not unfamiliar territory for him: He spent 14 years there earlier in his career as an economist. "He's a very strong economist [and] an exceptionally good manager and leader, so he puts a check in the box beside all of the technical traits you are looking for in a new governor," says Craig Alexander, senior vice president and chief economist with TD Bank Group in Toronto. "Politically, he also knows how Ottawa works," he adds, "and can act as a liaison with the bank regulator and other government departments."
Poloz will have very large shoes to fill. Carney has become a mythic figure—having helped steer Canada through the worst economic crisis in decades. "I frankly don't anticipate any drastic change in monetary policy," notes Glen Hodgson, chief economist with the think tank Conference Board of Canada, who served under Poloz at the EDC. "He understands that the Bank's central job is to create wealth in Canada by keeping inflation down and doing exceptional things in exceptional times."
Alexander adds that there is no one item at the top of his agenda other than keeping a steady hand on monetary policy.
As Carney leaves the post, it seems his legacy will be that of skillful handling of monetary policy and financial market intervention within the harshest of economic environments. As Poloz steps in, the hope is that Carney's course will only see minor modifications needed to keep things firmly on track.