NEWSMAKERS: LATVIA
By Gilly Wright
Praised by both the EU and the IMF for passing painful austerity measures, Latvian prime minister Valdis Dombrovskis will soon be rewarded by seeing his country become the 18th member of the eurozone.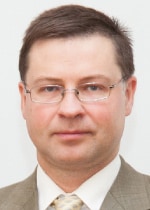 Success: Dombrovskis leads Latvia on path to euro adoption
Although GDP shrank and unemployment rose by 20% in 2009, under Dombrovskis, Latvia has trimmed more than $2 billion off the budget deficit via public-sector pay cuts, spending reductions and tax hikes and has managed to retain a fixed exchange rate throughout the crisis. The PM has also pulled off the feat of being reelected: Numerous governments have fallen after passing austerity measures.
Morten Hansen, head of the economics department at the Stockholm School of Economics in Riga, credits Dombrovskis for navigating Latvia away from imminent bankruptcy and a bailout and toward macroeconomic equilibrium and stable growth. "I think he was of the utmost importance, and I cannot see who else should have pulled this one off," says Hansen. "This will be his legacy."
Latvia's program was put together with the help of international lenders, and Hansen believes this sharpened its focus, "so it did not just end up as cut-cut-cut." Furthermore, he continues, "there was a specific exit strategy: euro adoption." With this goal in mind, Dombrovskis has said that he believes removing currency conversion costs and raising Latvia's credit rating will help encourage greater foreign investment into Latvia.
"The euro itself does not provide growth," muses Hansen. "But it provides a framework of predictability: Low inflation will prevail, which is good for decision-making for firms and consumers. It also helps to avoid transaction costs, again good for consumers. Monetary policy will be decided in Frankfurt, and fiscal policy will be constrained by the 'fiscal compact'—thus, politicians should, ideally, have time to ponder the issues necessary for future economic growth and convergence."
Despite the benefits of euro adoption, the majority of Latvians remain opposed to joining the European Monetary Union, but Dombrovskis is determined to see Latvia join by January 1, 2014. Following his recent achievements, few should doubt the outcome.