WAITING FOR THE RENAISSANCE
By Gordon Platt
Egypt's elections promised much in terms of building a modern and democratic state. But the realities of governing for the Muslim Brotherhood are proving more difficult than initially thought—and some economic and political reforms may be a bitter pill for them to swallow.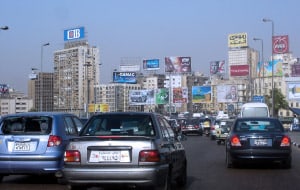 Two-and-a-half years since the Egyptian Revolution and a year since president Mohamed Morsi of the Muslim Brotherhood became the country's first democratically elected president, many Egyptians believed that it would bring improved economic conditions. Morsi and the Brotherhood swept to power on the back of promises that they would rejuvenate the economy and build a modern, democratic Egypt. But already the challenges of governing a country that is at a major political and economic crossroads are becoming increasingly apparent. Not only is the economy sluggish, but the Muslim Brotherhood faces a political conundrum: Does it encourage tourism and unfettered foreign investment, which is needed to get the economy growing again, or does it remain true to its fundamental ideological beliefs?
The cornerstone of the Brotherhood's promise to the feverish Egyptian electorate was its Renaissance Project for development, which promises a "rapid and comprehensive transformation from an income or rentier economy to a productive or value-added economy." It seeks export-led growth to speed industrialization in cooperation with the private sector. So far, however, it has failed to deliver on that promise. The growth rate has slowed to around 2%, unemployment has risen well into double digits, prices are going up, the budget deficit is ballooning, the country's reserves have reached a dangerously low level and the Egyptian pound has fallen sharply.
"The Renaissance Project is full of platitudes and was not well thought out," says Jeffrey Martini, Middle East analyst at RAND Corporation. "The Brotherhood was in opposition for so long that it became good at critiquing the economy, but not in designing economic policies of its own," he says.
Martini says the government realizes the importance of foreign investment and tourism, but how does it reconcile that with its Muslim belief system? "It can't ban alcohol, for example," he explains, "but it also needs to pacify its domestic constituencies. I don't see it going back to protectionism, but it is sensitive to hard-edge capitalism, and it shares empathy for the lower classes."
OPENING PANDORA'S BOX
Samer Shehata, assistant professor of Arab politics at the Center for Contemporary Arab Studies at Georgetown University in Washington, says: "In essence, the Brotherhood's plan is not that much different from the previous government's economic philosophy, with the exception of an emphasis on fighting corruption and a greater emphasis on medium and small-scale business and entrepreneurship. But the Brotherhood is not proposing particularly creative or new models of development."
Egypt may try to provide a welcoming environment for foreign investors, but it will not succeed sufficiently, Shehata says. "The lack of security (or perceived security), lack of political consensus and uncertainty about the future, including continued occasional protests, are the most basic reasons," he says. "I think it will be difficult for some companies based in the US and Europe to get over the fact that the government is led by an Islamist president."
The Egyptian government is negotiating a $4.8 billion loan agreement with the International Monetary Fund that could unlock billions in additional loans and attract foreign direct investment. As Global Finance goes to press, Egypt is in its third round of negotiations to secure the loan, with the IMF requesting more up-to-date economic data and guarantees that key reforms would be implemented. But a significant percentage of the opposition (and society more generally) is opposed to any reforms that involve subsidy cuts and belt tightening, Shehata says. "There is also strong opposition to the IMF among some political segments. There will be an IMF agreement, but it will take some more time."
Shehata believes that the more support Egypt gets from Gulf countries and other regional players­—as it did recently from Qatar and Libya—the less pressure there is to reach an agreement with the IMF.
A BANK-LED RECOVERY
Ezz Al-Arab, CIB: Reforms are good for the coming generations
Others envision an enlarged role for local banks in helping drive Egypt's economic revival. "Everywhere in the world taxpayers have paid to bail out corporations and banks," says Hisham Ezz Al-Arab, chairman and managing director of Commercial International Bank (CIB), Egypt's largest private-sector bank. "It is only in Egypt that the banks are helping the government," he says. Egypt's banks paid the price 10 years ago and have emerged solid after that crisis, he says. "The quality of the bankers is far superior," he adds.
Banking is a simple, clean business, Ezz Al-Arab says. "We take deposits and we make loans." The central bank guarantees all deposits. "We are in a service industry and we are all the same. The difference is in service quality." The key to success is to be customer-centric and socially responsible, Ezz Al-Arab says.
On the issue of addressing structural reforms that are long overdue, Ezz Al-Arab says it is like opening Pandora's box, which every other Egyptian government has avoided. "The energy subsidy is the real problem that cannot be allowed to carry on," he says. "You are subsidizing car owners, and this doesn't help the poor. If you can afford to buy a car, you can afford to buy gasoline and you don't deserve a subsidy."
The reduction in subsidies could be backloaded and introduced over a period of time, Ezz Al-Arab adds. "You have to confront reality. The longer you wait, the tougher the IMF negotiations will become. These reforms are good for the coming generations."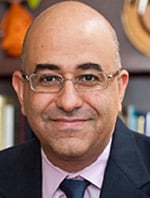 Shehata, Georgetown University: The Brotherhood is not proposing new models of development
The government's economic program includes a lot of great ideas, but the devil is in the details, Ezz Al-Arab notes. "The most important part is the implementation," he says. "There should be clear and complete plans with priorities: In three months X, and in six months Y, stage A and B, etc. The people will bite the bullet as long as they can see where they are going and what the benefits will be."
The changes in Egypt's economy will take time, he concludes: "It takes about five years, and it is a painful process. In the end, however, Egypt will be better than before."
Meanwhile, Egypt's current economic problems are slowly diminishing support for the ruling Islamists ahead of parliamentary elections later this year. This could provide an opening for the liberal and secular parties, according to Shehata. "The economy is worsening, the security situation is deteriorating, and [president] Morsi is meeting very few if any of the promises he made during the campaign," Shehata says. "If the opposition can get its act together, this represents a wonderful opportunity to make electoral gains against the Muslim Brotherhood. Of course, this would require some organization and grass-roots work outside of Cairo."
It is not clear, however, if the National Salvation Front—an umbrella organization for non-Islamist opposition groups—will contest the elections, according to Martini of RAND Corporation. "If they do boycott the election, another Islamist victory would be all but inevitable," he says.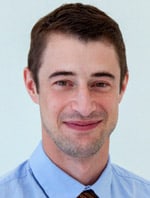 Martini, RAND: The government shares empathy for the lower classes
A recent report on Egyptian political trends, written by Martini and Stephen Worman of RAND, notes: "Egypt appears headed toward a much more competitive political environment in which Islamists will be increasingly challenged to maintain their electoral edge." The report, which maps voting patterns, concludes that the Islamists are strongest in Upper Egypt (south of Cairo), the outlying western areas of the country and North Sinai. The non-Islamist parties have polled well in Cairo and its immediate environs, South Sinai, as well as in the more sparsely populated areas along the Red Sea. The Nile Delta is contested territory.
"Meanwhile, the Islamists are increasingly at odds with one another," Martini says. He cites the recent split in the ultraconservative Salafists into the Al-Nour and Al-Watan parties.
Bankers and economists say the medium and long-term outlook for the country is bright if political concerns fade and the right steps are taken to ensure sustainable economic growth. But in March, Moody's Investors Service lowered Egypt's sovereign debt rating to seven levels below investment grade. It cited the deep polarization of the country's politics, with repeated episodes of unrest, as impeding the government's ability to govern effectively and to keep the economy from worsening further. Egypt's long-term prospects may be bright, but it won't be easy to get there from here.
EGYPT'S POST-REVOLUTIONARY TIMELINE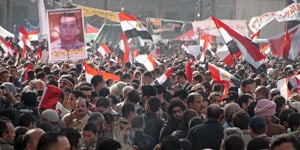 January 25, 2011: The day of revolt. Popular uprisings began with demonstrations and labor strikes throughout Egypt, following the January 14 overthrow of Tunisia's president.
February 11, 2011: Hosni Mubarak agrees to step down after nearly 30 years as president. Military junta says it will rule for six months.
March 19, 2011: Referendum on constitutional amendments is held.
July 1, 2011: Mass protests break out against the slow pace of change.
November 28, 2011: Voting begins in parliamentary elections.
January 16, 2012: Egypt asks IMF for $3.2 billion of support.
January 23, 2012: People's Assembly meets for the first time.
May 23-24, 2012: Presidential election is held.
June 2, 2012: Mubarak is found guilty of complicity in the murders of protesters.
June 14, 2012: Supreme Court dissolves parliament.
June 16-17, 2012: Second round of presidential election is held
June 24, 2012: Islamist Mohamed Morsi is announced as winner of the presidential election.
November 20, 2012: IMF reaches staff-level agreement on $4.8 billion standby arrangement.
November 22, 2012: Morsi issues controversial decree making his decisions impervious to judicial challenge.
December 11, 2012: IMF loan is delayed after Morsi withdraws planned tax increases.
December 25, 2012: Egypt formally approves new constitution.
March 7, 2013: Court halts Morsi's plan to bring parliamentary elections forward to April.
April 15, 2013: IMF staff mission concludes visit to Egypt with no agreement, but says talks will continue.
October 2013: Parliamentary elections to be held.
Source: Compiled by Global Finance