NEWSMAKERS: UNITED KINGDOM
By Anita Hawser
Since its bailout after the 2008 financial crisis, Royal Bank of Scotland has come under pressure from the government to increase lending, and recent reports suggest the government is considering fully nationalizing the bank.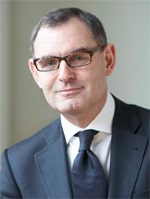 Owen: Reorganization puts RBS ahead of the game
But internally, staff are simply focused on restoring the firm's financial strength. One man charged with that responsibility is John Owen, CEO of international banking, a new division set up as part of the reorganization of RBS's former global banking and markets (GBM) business.
GBM has been reorganized into markets and international banking, following RBS's exit from cash equities, corporate brokering, equity capital markets and mergers and acquisitions.
The bank's wholesale businesses are now just one-third of their pre-crisis size in balance sheet terms. Since 2008 we have been forced to introduce substantial change and increased discipline, but that process is only just starting in some of the other banks. We are ahead of the game, says Owen. RBS has reduced its group balance sheet by £600 billion ($955 billion), and noncore assets now account for just £70 billion of the balance sheet—down from more than £250 billion pre-2008.
Owen says the focus going forward will be on profitable business lines such as debt capital markets and transaction services. We are not carrying loss-making businesses, which purifies our relationship with clients by enabling us to focus on those things that we are good at.
The markets' business will keep its focus on fixed income—with strong positions in debt-capital raising, securitization, risk management and foreign exchange.
Global transaction services now falls under the new international banking unit run by Owen, which will focus on providing a one-stop shop for debt financing, risk management and payments services. Providing financing, moving money around the world and changing currencies represent a constant flow of business, says Owen. There is no doubt in my mind that this is the right strategic thing to do.
Meanwhile, following the departure of former CEO Bob Diamond in the wake of the Libor scandal, Barclays recently announced his replacement, Antony Jenkins, who ran Barclays' retail and business banking units. Jenkins has spent 30 years at Barclays, and reportedly stood out among a field of internal and external candidates because of his track record in transforming Barclaycard and retail and business banking, as well as his knowledge of Barclays' portfolio and his future vision for the bank.