NEWSMAKERS: POLAND
By Jonathan Gregson
Not only does Poland stand alone within the European Union in having delivered GDP growth through every quarter since 2008, but its intrinsically conservative banking system survived the crisis well.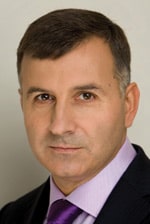 Jagieo: Looking to buy
That looks set to continue, with forecasts for this year's economic growth hovering around 3.5% to 4%. And Zbigniew Jagieo, president of the country's largest bank, PKO Bank Polski, points to continued strength—and possibly consolidation—in the banking sector.
Thus far, Polish banks' relatively comfortable capital ratios have enabled them to absorb losses on their portfolios, though nonperforming loans have nearly doubled from 4.5% in late 2008 to a market average of 8.8% (PKO Bank Polski's are 7.4%). But the country's Financial Supervision Authority is concerned about the level of foreign currency lending, which, given rumblings in the nearby Eurozone, could put pressure on both the zloty and Polish banks' balance sheets.
According to Mariusz Zygierewicz at the Polish Bank Association, the regulator's recommendation of limiting foreign currency lending to 50% of bank's loan books is acceptable when applying to new credits, but if applied to preexisting portfolios is likely to generate write-downs. The problem arose through Poles' taking out low-interest loans and mortgages in euros and especially Swiss francs. With the Swissie breaching new highs, the value of these loans in zlotys has ballooned.
Banks have responded by competing fiercely for domestic savings, raising interest rates offered to depositors and, in some cases, reining back lending, though Jagieo points out that PKO Bank Polski increased its share of corporate loans from 12.8% to 15% over the first three quarters of 2010.
Jagieo also expects further consolidation, noting that "during the recent crisis significant M&A; transactions were the result of financial problems at foreign banks" and that these still own 70% of Poland's banking industry. Having been outbid by Banco Santander for troubled Allied Irish Bank's 70% stake in Bank Zachodni WBK last year, Jagieo confirms he is prepared to acquire another bank "if there is a window for such a transaction, but is under no pressure to make such moves."