MILESTONES: GLOBAL
By Paula Green
Whether it's that endless, dusty bus ride to the nearest automated teller machine or simple poverty that keeps them from opening a bank account, the 2.5 billion people who do not have accounts with a bank are losing out on opportunities to develop a financially secure future and contribute to their community's economic growth, according to a World Bank report released this Spring.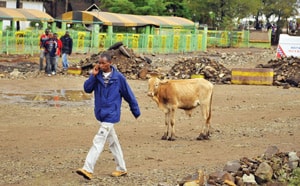 Mobile banking supersedes traditional banking in Africa
Photo Credit : MEUNIERD/ Shutterstock.com
Instead, these so-called "unbanked" individuals are often paying excessive fees to money lenders and living without insurance coverage to protect their families, businesses, farms or livestock against unexpected events and risks.
The report, Measuring Financial Inclusion: The Global Findex Database , is the first analysis of the bank's Global Financial Inclusion Database. Also called Global Findex, the database encompasses a massive set of indicators that measures how adults in 148 economies save, borrow, make payments and manage risk.
The data was gathered by Gallup in 2011 using a Gallup World Poll Survey of about 150,000 people in 148 countries representing 97% of the world's population. The bank's Development Research Group is building the database with a 10-year grant from the Bill & Melinda Gates Foundation.
The unbanked make up three-quarters of the world's poor, or those earning less than $2 a day. The report finds that nearly two-thirds of these individuals cite poverty as the hurdle that keeps them from opening a bank account. A third blame the fees for opening and maintaining an account or the distance between their home and the financial institution.
Unsurprisingly, women in developing countries have less access to financial services: 37% of women compared to 46% of men.
Mobile phones are increasingly being used, especially in sub-Saharan Africa, as a nontraditional vehicle to carry out money transfers. With poor transportation and infrastructure, 16% of Africans have used a mobile phone to pay bills, make deposits or send or receive money via text messages. That compares with 3% in the rest of the developing world.