Kohlberg Kravis Roberts, the US-based private equity firm, received a license to operate from the Dubai International Financial Center.
By Gordon Platt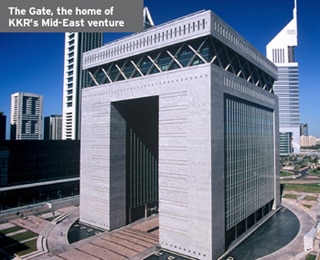 The building in which the firm, whose 1988 leveraged buyout of RJR Nabisco was chronicled in a book entitled Barbarians at the Gate, is a Dubai landmark named, aptly, the Gate.
KKR MENA, a newly formed KKR subsidiary, will cover the entire Middle East and North Africa region as it pursues private equity and infrastructure investment opportunities from its Dubai base. Private equity is abundant and fairly active in the region, says Abdulla Al Awar, managing director of the DIFC Authority. For example, Abraaj Capital, a Dubai-based buyout firm, is seeking to buy a strategic stake of at least 15% in DP World, the world's fourth-largest ports operator.
Meanwhile, IFC, a member of the World Bank Group, plans to invest $25 million in the MENA Joint Investment Fund, a $500 million fund that will provide private equity to businesses in the region. Citadel Capital, a private equity firm based in Cairo, will run the fund, which is targeting medium-size and large companies, with the goal of helping them become regional market leaders. In April IFC invested $17 million in the Sphinx Turnaround Fund, also sponsored by Citadel Capital. The Sphinx fund will invest about $250 million in smaller businesses with distressed assets in Egypt.
The International Monetary Fund has reduced its 2009 growth forecast for the six member states of the Gulf Cooperation Council to 1.3%. The IMF now expects three Gulf economies to contract this year. Saudi Arabia's economy, the biggest in the region, is expected to shrink by 0.9% in 2009. The UAE's economy is forecast to decline by 0.6%, and Kuwait's by 1.1%.
Kuwait's central bank cut its benchmark rate a half point on May 14, two days after Investment Dar, which owns half of Aston Martin Lagonda, missed a payment on $100 million of debt and became the first company
in the Gulf to default on a sukuk.