GRAND VISIONS
By Anita Hawser
Qatar has used its oil and gas wealth to finance its global ambitions. But its economy remains vulnerable to ever-present geopolitical tensions.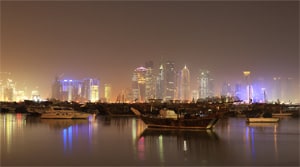 For a small country, Qatar certainly punches above its weight on both the economic and political front. The tiny peninsula in the Persian Gulf has one of the highest rates of GDP per capita, with per capita income expected to reach $112,000 by 2016. Qatar has used its wealth to broker a role for itself as a mediator on the regional and global stage. And it has done all of this from a low population base: Of the almost two million people that live in Qatar, less than 350,000 are actually locals. The rest are largely expatriates from Southeast Asia.
One thing Qatar is not short on is ambition. According to the General Secretariat for Development Planning's [GSDP's] Qatar Economic Outlook 2012–2013, between 2013 and 2019 Qatar will plow $130 billion into planned infrastructure investments. The bulk of these investments form part of the country's ambitious National Vision 2030 strategy, which will include a new $25 billion metro and rail network, a modern health and education system and a new international airport for $10 billion.
This program is in addition to the infrastructure Qatar has been building since it won the bid to host the 2022 FIFA World Cup. "Looking across the skyline in Qatar you can see large, glitzy projects, artificial islands and some of the more ostentatious projects you saw in countries like Dubai back in 2006," says Kristian Ulrichsen, associate fellow, Chatham House Middle East and North Africa Programme.
Qatar is also becoming an increasingly attractive destination for inward investment. Kurian Kuriakose, chairman of SKCA Morison Chartered Accountants in Qatar, says this is partly attributable to the World Cup effect, but also the 2008 financial crisis, which hit other financial centers in the region such as Dubai harder, spooking investors. "Qatar was an unplanned beneficiary of the financial crisis," he explains. "It is increasingly attractive as a center for investors, also at a time when Qatar has been in the news [for winning the World Cup bid]. These factors combined give Qatar an edge."
UNUSUAL FINANCIAL CENTER
Commentators make much of the competition between Qatar and Dubai as financial centers. However, Shashank Srivastava, CEO of the Qatar Financial Centre, notes: "What are the criteria [investors] would look for? If you are a money manager, you look for attributes such as an English common law environment based at the federal level and a world-class regulatory regime. Qatar is one of the few countries that offer this. How many are not a free zone and offer access to domestic and free zone markets? I don't see there is a choice."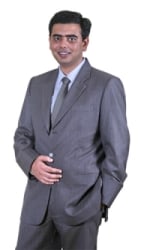 Srivastava, Qatar Financial Centre: Few countries can offer emerging markets returns at developed markets risk levels
Srivastava believes that Qatar's economic fundamentals make it stand out from other centers. "Qatar's economy is the fastest-growing economy in the fastest-growing region of the world. We are AA-rated, and there are very few countries that can offer emerging markets returns at developed-markets risk levels. That is not something you take lightly." He says the country is well positioned to benefit from the rise in south-south trade flows between emerging markets countries. "Qatar sits right in the middle of all that."
The increasing role of Qatar and the GCC countries on the global economic stage can be traced to the first part of the 21st century when oil prices peaked at $147 a barrel, says Ulrichsen. The wealth Qatar accumulated from oil and its investment in liquefied natural gas (LNG), enabled it to buy up prime real estate in the UK and Paris and invest in companies such as Barclays, LVMH and Xstrata. Economic power brought an increasing desire for political influence.
Qatar's high level of resources and a small local population gave it room to maneuver when it came to financing its global and regional political ambitions. It is also the reason why Qatar has not experienced the social unrest that is characteristic of some of its closest neighbors. "Qatar sees itself as a regional leader," Kuriakose explains. "One can see that from the role it takes in geopolitical events in the region. Even though it is a small country, it makes its mind known in the world arena."
However, its recent support of opposition forces in Libya and Syria marks a shift in Qatar's regional and foreign policy, says Ulrichsen, away from "diplomatic mediation, neutrality and impartiality" toward a "more assertive, interventionist" policy, which he says could jeopardize the factors that assisted Qatar's rise on the global and regional stage.
GLOBAL AND REGIONAL INFLUENCE
Qatar makes no secret of its desire to use its influence and wealth to promote regional stability. As the world's largest producer of LNG, the health of its economy is inextricably tied to its ability to trade freely with customers around the globe. Qatar has secured long-term LNG export contracts with a number of Asian countries (China, Korea, Japan), which supplanted reduced demand from the US as it embarked on shale gas production of its own.
However, Qatar's gas exports remain susceptible to regional geopolitical tensions. "Lately such risks are hinging on rising tensions over Iran's nuclear program," Thomas Byrne, senior vice president, sovereign risk group, Moody's Investors Service, wrote in a September report. "Should tensions escalate to a confrontation, Qatar's LNG shipments through the Strait of Hormuz could be disrupted."
Moody's says high hydrocarbon prices are needed to maintain Qatar's fiscal surplus. Its export and economic outlook also remains vulnerable to oil price fluctuations. Although LNG makes up the bulk of export revenues, crude oil, Moody's says, still accounted for 23% of total exports in 2011. Having sustained high levels of double-digit real GDP growth––17.4% on average between 2006 and 2011, according to Moody's––Qatar's GSDP expects growth of 6.2% in 2012, reducing to 4.5% in 2013 as hydrocarbon sector expansion decelerates. However, Qatar's non-hydrocarbon sector is expected to grow by 9.2% this year, with the biggest contributors in manufacturing, construction, utilities and services sectors.
To sustain growth in the non-hydrocarbon arena, Moody's says Qatar will need to improve the quality of its labor force and develop the small and medium-size enterprise sector. "There are SMEs that can help extend certain small-scale industries," says Kuriakose. "There needs to be more of a focus on SMEs."
Qatar's labor force is also hampered by its reliance on expatriates. "The proportion of nationals to expats is a challenge," says Kuriakose. "There needs to be more of a balance." Yet of the one million jobs available in Qatar, according to the Qatar Statistics Authority, there are only 60,000 Qataris of working age to fill them, so there will be a reliance on expatriate labor for the foreseeable future.
Ulrichsen notes that it is difficult for the private sector to develop in Qatar when most Qatari nationals are guaranteed a public sector job. It also places a potentially huge burden on the public purse. "There is an awareness in general of these issues, particularly among elements of Qatar's local population," says Ulrichsen of Chatham House. But for now Qatar is enjoying its moment in the sun. These issues do not seem pressing as it continues to reap the benefits of 20 years of investment in LNG.