ELEGANT, YET SIMPLE
By Paula Green
Corporates are beginning to use mobile finance solutions not only for payments but also to monitor risk and plan for contingencies.

Mobile mania is just beginning to make its way into the world of corporate mobile banking—most recently as a tool for contingency planning. The corporate mobile banking market is slowly maturing as new devices, cheaper data plans and faster networks are developed, but many companies are taking a slow and considered approach to mobile channel deployment.
Only 10 of the top 25 US banks are offering companies some type of mobile banking solution, according to a study by Boston research firm Celent. Among the big mobile corporate banking players outside the US are Deutsche Bank, Royal Bank of Scotland and ANZ in Australia.
The financial crisis curbed banks' ambitious plans for corporate mobile offerings, according to Jacob Jegher, senior analyst at Celent. "It became a 'nice to have,' instead of a 'must do.'" But, says Jegher, "as mobile becomes more prevalent, this is becoming a 'must do'."
IN CASE OF EMERGENCY
For Jeremy Husk, executive vice president of finance and operations at California apparel firm Koi Design, mobile banking has become indispensable. One of the biggest advantages of using a mobile banking solution is the efficiency and time savings, he says. "It gives me the ability to do a lot on the go," says Husk, who is responsible for payments, deposits and funds transfers at Koi.
Husk uses Wells Fargo's CEO Mobile Deposit for payments from anywhere. And, just as important, it is a keystone in the firm's contingency planning: When Koi's payroll company experienced a glitch that delayed the payment of employees' salaries, Husk was able to electronically pay employees while playing golf with clients at an Arizona course.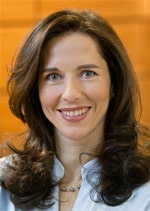 Watson, Wells Fargo: Companies are using mobile offerings to help manage risk and improve working capital availability and office workflows
Secil Watson, EVP and head of wholesale Internet solutions at Wells Fargo, says companies of all sizes and industry sectors are successfully using mobile banking services. Treasurers, assistant treasurers and controllers are the most frequent users. Senior executives generally use the services in small and mid size companies; in larger companies, the categories of positions tapping into mobile banking are moving down the pay scale.
Jegher notes: "Let's also keep in mind that this is very role-based. Not all users are great candidates for mobile use, depending on their job functions." Treasurers typically use the service to approve payments and check balances while purchase card/commercial expense-card holders increasingly use mobile banking services to enter out-of-pocket expenses. "They represent the 'road warriors' in their companies," Watson adds. In smaller businesses, mobile deposit is being used to curb desk float.
"Some banks didn't recognize earlier on the relevance of mobile banking to their corporate and commercial customers," says Watson. Corporate clients want to use their phone to carry out quick actions to manage money. And the list of actions grows every day. "They want to manage their risk, improve working capital availability and create efficiencies in their office workflow."
Lloyd O'Connor, MD, product executive, for J.P. Morgan Treasury Services, adds: "Clients want elegant and simple solutions that are secure. Corporate executives in all industries and sizes want to use their mobile applications to access information, especially when severe weather or other emergency situations prevent them from getting to their office computers or laptops at home. And security is always paramount. "Mobile use cannot be any less secure than the use of any other type of electronic device," he says. "We like to think of it as offering a security cocktail that meets multiple needs."