A Rapid Recovery
By Gordon Platt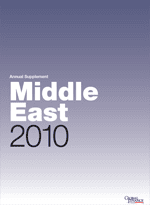 Demographics and hydrocarbons make the Middle East a dynamic region that is rapidly advancing, despite the debt overhang in Dubai. A young and fast-growing population is demanding jobs, and regional governments are responding with a massive infrastructure-spending spree. The financing and wealth management requirements of this oil-rich region are growing. Local and expatriate bankers appreciate the business, particularly after what they have been through in the past few years. As economies in the region diversify and reform, they are expected to attract growing amounts of foreign direct investment (FDI).
Surprisingly, the region is also taking the lead in creating the alternative energy sources of the future. The relentless desert sun and thoughts of what to do once the oil runs out have focused attention on the solar power industry. The Sahara desert could host huge solar power installations that will provide a significant portion of Europe's electricity needs in the future.
In one of the more encouraging developments in the region lately, Kuwait's parliament has broken a deadlock on stimulus and reforms that will unleash a burst of economic activ¬ity, not only in 2010 but also for years to come. Meanwhile, neighboring Iraq is emerging as a major oil exporter. Qatar is one of the fastest growing economies in the world, thanks to its booming exports of LNG.
Despite all of the reasons for hope and progress, however, many challenges remain. The global financial crisis revealed weaknesses in financial markets in the region, which could lead to stronger regulation and supervision. The highly publicized debt problems in Dubai and the lack of transparency in some large, family-owned businesses have caused lenders to be cautious.
Economic activity will, however, rebound this year along with the global economy and rising oil prices, economists predict. Growth probably will accelerate in 2011, as credit re¬straints loosen and non-oil export markets improve around the world.
Islamic finance continues to expand rapidly, although recent events have shown that it is vulnerable to the same liquidity and confidence crises that plague conventional banking. There is a need for more transparency and regulation here as well. Fortunately, regulators in the region have shown a new willingness to cooperate. This will help to create an environ¬ment where FDI will pour in to take advantage of the many opportunities in a region that is undergoing an impressive economic and financial transformation.
Contributing Writer
Gordon Platt
Supplement content:
1) Oil Wealth Keeps Economic Stimulus Flowing
2) Bankers Survey A Changed Landscape