Central and Eastern European banks work to regain their footing after a challenging year.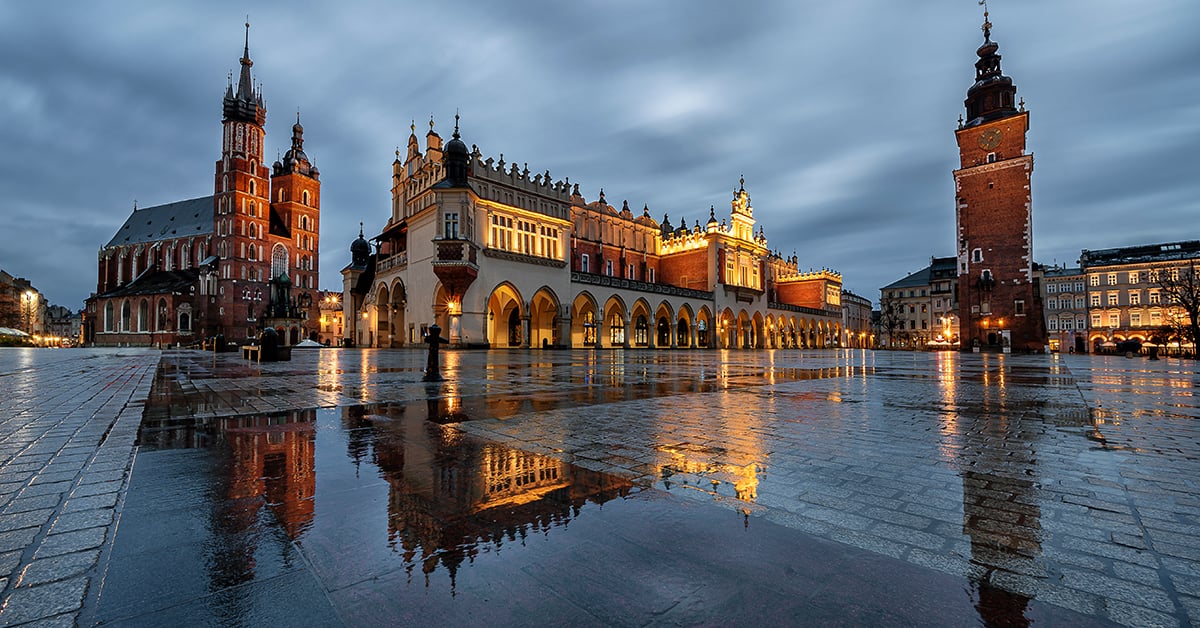 The Russian invasion of Ukraine in early 2022 threw the business and investment environment of Central and Eastern Europe (CEE) into turmoil—while, like the rest of the global economy, it was still finding its post-Covid feet. The geopolitical, macroeconomic, business and investment uncertainty created by the invasion resulted in an exceptionally challenging environment. The ramifications of war and sanctions pressured growth, pinched supply chains, pushed up energy prices and forced regional companies to completely rethink their growth strategies.
Meanwhile, banks in the region were struggling with the interest rate cataclysm sparked across the ocean as the US Federal Reserve hiked rates aggressively to head off inflation. Global Finance's Best Banks in CEE for 2023 are institutions that prevailed in this challenging operating environment, both regionally and globally.
Leading the pack is OTP Bank, our repeat CEE regional winner. The lender operates in 11 countries throughout the region, with its base and largest presence in Hungary (42% of group assets), followed by Bulgaria, Croatia and Serbia. In 2022—despite being buffeted by the enormous challenges that defined the year—adjusted after-tax profit for the group as a whole rose by 19%, while adjusted return on equity (ROE) rose by 30 basis points to 18.8% and performing loans grew by 12%. In addition, the net interest margin held steady at 3.5%.
And OTP isn't done. In recent years, a string of savvy acquisitions throughout the region has bolstered its position and powered growth. Bank deputy CEO and board member Péter Csányi points to OTP Group's "unique knowledge of the region and lasting commitment to it" and cites the anticipated launch of operations—via the acquisition of Ipoteka Bank—in the Central Asian country of Uzbekistan as additional evidence of the group's growth mindset.
Central Europe
Market leader CSOB is our Best Bank winner in the Czech Republic for the fourth year in a row. Over the year, CSOB added another 115,000 customers—representing nearly 3% growth—while loan volumes rose 5% and deposits increased by 6%. Aleš Blaek, CSOB Group CEO and chairman, points to this as the reason behind the bank's solid growth in profitability. Additionally, the bank's overall capital position is strong, with a Tier-1 capital ratio of 19.9%.
CSOB views its concept of selling banking and insurance products under one roof as a key competitive advantage that helped solidify its market-leading position across various products. "Our clients feel that it is easy to deal with CSOB and that CSOB knows them," a bank spokesperson explains.
Bank Millennium enjoys its third consecutive year as our Best Bank in Poland. Despite the regional macro headwinds, the bank's adjusted net profit rose by 99% in 2022, while customer deposits increased by 7%. The bank's ROE for the year nearly doubled to an impressive 21.5%. Digitalization continued to be a centerpiece of Bank Millennium's strategy, as just over 87% of the bank's customers are active on the company's channel and the number of mobile banking users jumped by 22% in 2022.
Our Best Bank in CEE, OTP Bank, is also Hungary's repeat Best Bank winner. During the year, OTP's Hungarian operations income grew by 17% (accounting for 38% of the overall OTP Group income). Deposits rose 9% for the year, driven by a 15% jump in corporate deposits. The share of household savings in Hungary held at OTP Bank fell slightly during the year but stands at a dominating 32.1%.
Meanwhile, OTP Group—particularly the institution's crown jewel operations in Hungary—is heavily focused on environmental, social and governance (ESG) matters via building a green credit portfolio, setting up dedicated local ESG organizations and reducing the bank's carbon footprint. "The delivery of ESG obligations and goals set by the bank's ESG strategy is on track according to schedule, with several new initiatives already in the field of green finance," the bank reports in its 2022 annual results.
VUB, part of the Intesa Sanpaolo banking group, was named Global Finance's Best Bank in Slovakia for the third year running. With 128 retail and 33 corporate branches across the country, VUB saw an increase in deposits of 10.4% in 2022, while its market share of retail lending clocked in at 20.9% and 19.5% for corporate borrowing. As a result, net profit jumped by 44%. The bank points to the continued development of green loans and the launch of an instant payments system as two of the year's most significant achievements.
But "it will be difficult to sustain the commercial performance of the past years," warns supervisory board chairman Ignacio Jaquotot in the bank's annual report, noting the possibility of a recession, weakening asset quality and higher inflation as crucial headwinds.
OTP Bank, part of Hungary's OTP Group, takes the title of Best Bank in Croatia. As of the first of January 2023, the country adopted the euro—though it had joined the European Union in 2013—and ensuring a smooth transition was a significant focus of the country's banking sector during 2022. The fourth-biggest bank in Croatia by net profit, OTP Bank accounts for 9.9% of system assets and has a market share of 14.4% in retail lending.
SKB banka, also part of the OTP Group, is the winner of the Best Bank in Slovenia award for the fifth year in a row. Profit after tax jumped by 33% to an all-time high of €61 million (about $67 million), as market share in loans increased by 30 basis points to 10.8%, and rose by 36 basis points in deposits to reach 9.2%. ROE jumped by an impressive 312 basis points to 14%.
Digitalization has been a critical theme for the bank and part of SKB banka's strategy to deliver value to customers. "To give our clients a superior experience, we are building on our strong technological and operational foundations to provide seamless digital services while keeping the money and their data safe and secure," explains CEO Anita Stojevska.
In Romania also, OTP Bank takes home the Best Bank award. As of the end of 2022, the bank's market share in total assets increased to 3% (making it the country's ninth-largest bank), up from 2.9% a year before. The bank's operating profit increased by 76% compared to 2021, thanks to a 29% jump in total income and a relatively modest 10% increase in operating expenses. In addition, net interest income grew by 35%, bolstered by higher loan volumes.
In 2023, OTP Bank in Romania anticipates heightening its focus on attracting assets and bolstering profitability while maintaining portfolio quality—aiming to consolidate the growth of recent years. As part of a multiyear transformation program launched in 2019, the bank has since then increased its market share by 71% while increasing total customers by 42%.
Repeat winner UniCredit Bulbank takes the Best Bank in Bulgaria award on the back of what CEO Tzvetanka Mintcheva, introducing the bank's annual report, calls a "pivotal year." She adds that the bank "increased its market shares in total assets, total loans and total deposits for the first time in the history of the bank; and both corporate and retail loans registered increasing market shares in four consecutive quarters," resulting in net profit rising 48.5% year over year to a record level.
Mintcheva also points to two key trends in the country's banking sector that, in part, mirror those around Europe and elsewhere: increasing capital requirements, which will tend to push banks toward consolidation, and continued digitalization of products and services. For example, last year, UniCredit Bulbank posted 60% growth in the number of payments processed via its mobile platform—and it forecasts continued growth as more customers move toward an increasingly digitalized banking environment.
Banca Intesa Beograd wins for the sixth consecutive year as our Best Bank in Serbia. With €7.1 billion in assets, it's the country's biggest bank on an asset basis, with 15% of total system assets, as well as in terms of total customer deposits, reportedly at 14.8%. As with much of the region, digitalization is a major focus on the front and back end of the bank's operations. Also, in 2022 Intesa continued to focus on ESG strategies and finding the right balance between social, economic and environmental impacts and objectives, emphasizing green initiatives.
Bosnia and Herzegovina's UniCredit Bank Mostar wins our Best Bank award again for the country, supported by a sharp increase in ROE of more than four percentage points, to 14.45%. Net profit rose 27.7%, and total assets increased by 3.7%. Green initiatives are increasingly at the center of the bank's strategy. ESG is at the heart of all our decisions and actions: from the environment, through management, to the way it supports the communities in which it operates, according to the bank states.
Banka Kombetare Tregtare (BKT) is our winner for the fifth year in a row as Best Bank in Albania and the third as Best Bank in Kosovo. In Albania last year, BKT continued to consolidate its position as the country's largest bank, with a market share of around 26.3% in total assets of $4.6 billion and a deposits market share of 25.8%. In addition, the bank posted record profits of $85.6 million for the year. Digitalization is a significant focus and "is not a one-time exercise or a reactive process, but a continuous journey that has become essential to stay relevant in today's constantly changing nancial services landscape," a BKT spokesperson explains.
In Kosovo, BKT saw its asset base grow in 2022 by a healthy 23%, driven by 20% growth in customer deposits and a 25% increase in customer loans. Thanks to continued strong growth, the bank's market share of total national banking system assets stood at 15.6% as of 2022, compared to 11.8% in 2019. BKT's share of total deposits rose from 11.7% to 14.5% over the same period.
Many banks are looking to upgrade their digital capabilities in the local market—a critical driver of BKT's strategy. "Customers expect more convenient and personalized services, which require banks to invest in new technologies," says Muharrem Inan, head of BKT's Treasury, Financial Institutions and Private Banking group.
Our Best Bank in North Macedonia is Komercijalna banka for the second time. Results for 2022 were boosted by a 26.1% increase in net interest income and an 11.8% growth in loans. Looking forward, CFO Maja Stevkova Sterieva calls out two major themes that will shape the country's small but vibrant banking sector: digitalizaton and the green energy transition.
She points to the introduction by Komercijalna banka of a platform for digital signing and the exchange of documents in digital form as a significant step to improve the technology platform for customers. And on the green front, she says, the sector has focused on solar, "both for building capacities for production and installation of solar systems, and for installation of solar systems for its own energy production."
The Best Bank winner in Montenegro, for the fifth year running, is OTP Bank subsidiary CKB banka (Crnogorska Komercijalna Banka), the biggest bank in the country, with a market share of assets at 26.1%; and by far the country's biggest loan portfolio, with 33.3% of the country's total market. Moreover, as of the end of the third quarter of 2022, CKB Banka posted ROE of 12.24%, up from 9.4% a year prior.
Following an emphasis on digitalization during the pandemic, the bank continued to expand its digital offerings to "open up opportunities for products, services and business model innovations, as well as an enhanced customer experience," CKB reports. Its launch of the CKB GO mobile and internet banking platform and application was a significant step in this direction.
Akbank is our winner again as Best Bank in Turkey. During the first nine months of the year, Akbank posted a return on assets of 5.6%, a sharp rise from 2021's 2.1%. While Akbank has a far-reaching bricks-and-mortar presence, with 713 branches, it reports that a full one-third of all new customers are acquired via digital onboarding—and its 8.3 million digital customers are up strongly from 5.5 million in 2020. In addition, 54% of customers' financial transactions are through Akbank's mobile app, including 67% of money transfers.
Eastern Europe
Our winner as Best Bank in Estonia this year is LHV, the country's biggest financial group. Net profit for 2022 rose 2% to €61.4 million, supported by a 32.7% year-on-year jump in net interest income. ROE for the year finished at a solid 16.4%, though down from the 21.1% of the previous year.
But 2023 is looking like a challenging year, and one unusually difficult to predict, reports managing director Madis Toomsalu. In a fourth-quarter statement to shareholders, he says, "A growth in the volume of loans must be forecast against the backdrop of the last decade's intensively changing economy, employment and prices; while the increase in expenses is related to loan losses, an increase in salaries, deposit costs and regulative expenses."
Next door in Latvia, Citadele banka is our third-time Best Bank winner. A pan-Baltic universal bank, Citadele boasts a presence throughout the region—though its biggest presence is in Latvia—and 375,000 customers. Operating income for 2022, €168.2 million reflected 12% growth over the previous year, driven by substantial net interest income (up 11%) and fee and commission income (up 10%). Citadele's loan book grew by 10%, while nonperforming loans fell by 20 basis points to 2.7%.
The war in Ukraine is a source of concern for the Baltics, as is the global macro backdrop, but Citadele is optimistic. "Despite the lingering risks and uncertainties, such as the impact of rising interest rates on the real estate market and lending, the economic outlook for 2023 appears more positive than it did in the autumn of 2022," bank economist Mrtiš boliš contends.
After a one-year hiatus, Siauliu Bankas is the winner as Best Bank in Lithuania. The bank—the largest homegrown financial institution—posted a 15% jump in net profit in 2022, to €63.6 million, as the bank's net interest income rose by 32% and the loan portfolio grew by 25%. In addition, its ROE rose slightly to 15.2%.
"Despite external factors such as rising energy prices, volatility on the stock exchanges or increases in base interest rates, Siauliu Bankas was able to sustainably adhere to its strategic goals and be closer to its clients throughout the year," said CEO Vytautas Sinius, in introducing 2022 results.
Belarusbank is our winner as Best Bank in Belarus for 2022. The biggest bank in the former Soviet republic, Belarusbank offers a range of services, including lending, leasing, factoring, international settlements and foreign exchange. The 4.7% contraction in the Belarus economy, due in part to a raft of sanctions imposed by the EU, the US and others due to the country's alignment with Russia in the war in Ukraine, was a significant headwind for Belarusbank.
Our repeat winner as Best Bank in Moldova, MAIB, weathered an exceptionally challenging year at the fringes of the Russia-Ukraine conflict. The country's GDP contracted by 5.6% and inflation spiked to 28.6%, as supply chains were disrupted and the reverberations of the global increase in interest rates hit Moldova. But MAIB saw profits rise by 66% as its net interest margin jumped 1.5 percentage points—while its market share in total assets climbed to just under one-third of the total market.
CEO Giorgi Shagidze points to increasing digitalization of the regional banking market as a long-term trend that will continue accelerating. And harmonization of Moldova's regulatory and legal infrastructure with EU standards, following the country's application for entry, "will shape life in the country for years to come," he adds.
Ameriabank is our winner as Best Bank in Armenia for the third year in a row. The country's largest bank in total loans grew by 10% in 2022 to reach a market share of 17.6%. The bank posted asset growth of 14.2% and saw total equity rise by 33.4%. In 2022, net profits increased by 128% to the highest in bank history. The bank has added two new branches—taking the total throughout the country to 25. In addition, last year Ameriabank became the first bank in Armenia to issue green bonds via a public offering as part of its market-leading efforts in green finance.
TBC Bank takes the crown as Best Bank in Georgia. The country's biggest bank, TBC Bank accounts for 38.6% of total banking system assets and has a 40% market share of deposits. Over 2022, net profit grew by 24% to a record high, while ROE was a solid 27%, fueled by strong growth and the bank's strong capital position.
TBC CEO Vakhtang Butskhrikidze points to digitalization, technology and increasingly high customer expectations as the main themes driving Georgia's banking sector. "As customers are becoming more demanding, we see a greater need for digital banking services and artificial intelligence," he says. "We are constantly fine-tuning our digital channels and offerings to stay ahead of the curve. At the same time, our advanced data analytics capabilities allow us to create more personalized solutions for our customers," Butskhrikidze explains.