Middle Eastern banks have been working toward the shift to digitalization.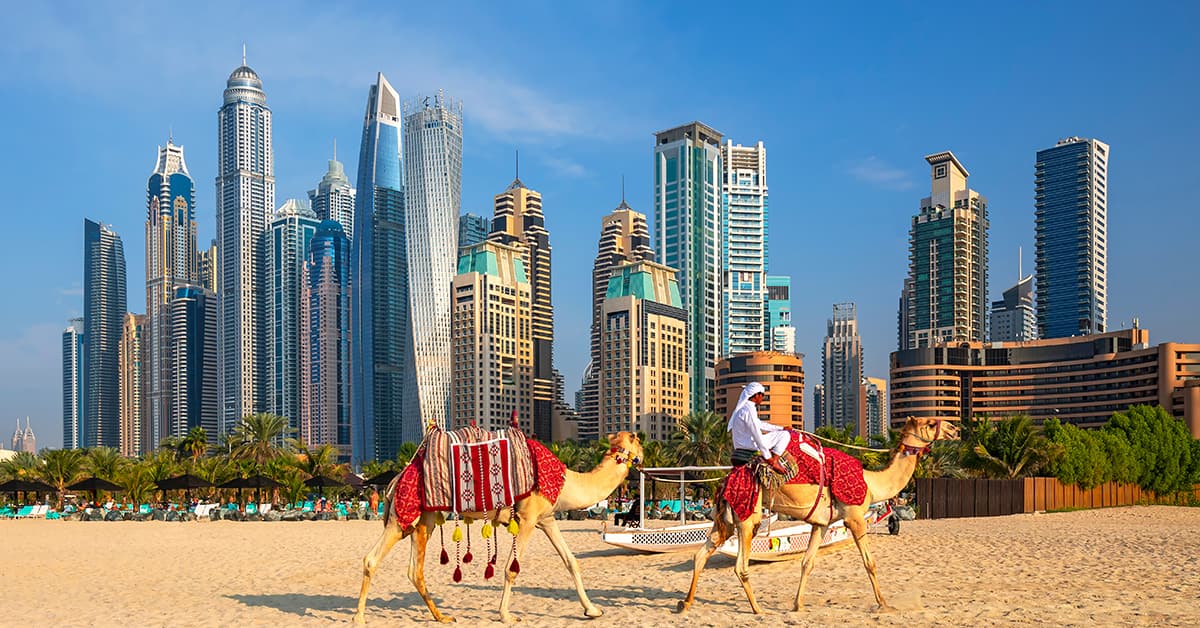 To attract new customers, the country winners for Best Banks in the Middle East region are moving aggressively with digital transformation to launch new online banking services. While service-model expansion enhances services for retail, commercial and wealth management clients, an emphasis on small and midsize enterprises (SMEs) is a priority for most banks. This reflects the tremendous growth opportunities of the SME segment and includes increasing services with specifically tailored accounts and advisory resources for entrepreneurs. In many countries, our winners focus on the youth segment for future brand loyalty, with convenience and lifestyle banking features. Another common theme is the ongoing sustainability effort to embed environmental, social and governance (ESG) principles across the bank's products and operations, consistent with international standards and complementing state-sponsored goals and programs.
Regional Winner
Arab Bank is leveraging organic growth and collaboration with fintech partners to accelerate new offerings while enhancing existing platforms to deepen its customer relationships and attract younger clients. In recognition of this progress, Arab Bank has been awarded the title of Best Bank in the Middle East in 2023 and also the country title in Jordan, Yemen and once again in Lebanon.
The bank's customers continue to benefit from improved digital capabilities with ongoing technology upgrades and service offerings. Arab Bank was the first bank in Jordan to launch Apple Pay. The bank expanded its merchant network with enhanced point-of-sale (POS) terminals for secure contactless payments and offers redemption of loyalty points via smartphones throughout its home market in Jordan and also in Palestine. Customers can access an online marketplace for consumer products. Ongoing innovation is attributable to its partnerships with fintechs, including investments in 19 companies in 2022, that proved to be highly influential in the design of new digital platforms and solutions integrated into the bank's service offerings.
For commercial clients, serving SMEs is a top priority. The bank is developing and refining its suite of products to provide seamless digital experiences and innovative solutions, to expand market share. The Arabi Next app is a customizable digital banking platform for SMEs to seamlessly manage and expand their business, with financing options that include supply chain facilities and accounts receivable factoring, combined with client onboarding, transactions, payments and funds transfer functionality, through an interactive dashboard.
In Jordan, the bank has expanded its SME presence with 11 new service locations, now operating 19 in the country; and it has increased its capabilities with the launch of the Arabi SME portal for more-efficient client onboarding, applications for credit and POS loans. In Egypt, a new SME product finances small projects with loans up to 5 million Egyptian pounds (about $162,000) over a three-year term, for the purchase of related equipment and raw materials, and includes a VISA Signature credit card. A new service helps clients with website design to create e-commerce sites utilizing the bank's payments platform.
The bank offers creative and specialized products to physicians, with access to personalized services; and it offers enhanced banking features with flexible solutions to address specific needs and lifestyles, including preferential interest rates on preapproved personal loans and mortgages, expanded credit card limits, and travel benefits with access to airport lounges. This service is offered locally and through a cross-border program, accessing the bank's regional network for managing accounts online in multiple countries.
To attract new customers, there are specific programs for younger clients between the ages of 16-25 that feature reduced fees, loyalty-award points and merchant discounts; while an industry-first app for children ages 8-17 years helps parents to build financial literacy and a culture of savings.
To further its sustainability goals across its footprint, Arab Bank launched its Sustainable Finance Framework, the first bank in Jordan to do so. The framework complements sustainable-financing mandates in the power, energy and water treatment sectors; and it includes solar projects in Egypt, Saudi Arabia and Palestine, as well as sustainability-linked credit facilities in Bahrain. With its deep knowledge and long tenure in the region, and operating with 600 branches in 10 countries in the Middle East and 29 overall across five continents, the bank is a strategic entry point to the Middle East for corporate and commercial clients to facilitate cross-border transactions.
Country Winners
Ahli United Bank (AUB) retains its status as Best Bank in Bahrain, as strategic acquisitions during 2022 form the catalyst for both domestic and regional growth. The bank completed its acquisition of Citi's consumer business in Bahrain for $16 million, which deepened its franchise by adding $144 million in loans, $182 million in deposits and $87 million in high-net-worth assets under management in its private bank segment.
The bank's regional capabilities took a big leap from its aquisition by Kuwait Finance House (KFH), which created the seventh-largest bank by assets in the Middle East and the second-largest Islamic bank globally. With 20% of AUB's income coming from Bahrain and 60% from the Gulf Cooperation Council, its integration with KFH as a wholly owned subsidiary creates significant growth opportunities to expand market share in its core retail and commercial banking franchise, as well as cross-border business in the Middle East, with conventional and Shariah-compliant banking services now in 12 countries.
Innovation continues, with new digital offerings including supply chain finance and virtual accounts for efficient vendor payments with commercial clients. Retail clients benefit from automated personal, auto and mortgage loans, with customer onboarding reduced to three minutes. The bank is committed to maintaining the highest international standards for corporate governance and regulatory compliance, and to contributing to ESG advancement within each country in which it operates. In a landmark sustainability transaction, AUB completed a $1.1 billion Shariah-compliant financing facility, the first of its kind globally.
Qatar National Bank (QNB) is our winner again for Best Bank in Iraq, where its deep global banking franchise serves customers through its own in-country branch network complimented by its 54% stake in domestic Mansour Bank. With QNB's goal to continuously adapt to markets it serves by identifying customer needs and trends, the country's retail and commercial clients benefit from QNB's vast business reach as the largest bank in the Middle East by assets with comprehensive services in conventional and Islamic banking through over 1,000 branches in 28 countries.
The bank continues its digital transformation by launching new products and refining its digital capabilities to all customers. With sustained investment in technology, QNB has expanded its payments platform with digital wallets and with contactless features involving QR codes at POS terminals using mobile phones and smartwatches like Fitbit and Garmin, as well as Google Pay and Apple Pay with links to the QNB credit card. These developments contribute to growing consumer adoption, with 90% of clients using mobile and internet banking—users are up 17% year-over-year (YOY). With Global Account Access, QNB customers can access all their international accounts, and they can make direct funds transfers using blockchain technology in certain global markets.
Bank Hapoalim, our winner in Israel, has commenced a three-year strategic plan aimed at reinforcing its position as the leading bank in Israel. The plan involves responsible growth as well as enhanced customer service through the development of innovative products and services for its retail and commercial clients—streamlining processes for the more rapid launch of new products. This will be achieved through investment in technology, collaboration with third parties and application of data analytics.
Modernizing the bank's IT infrastructure is critical and includes the expansion of the Bit peer-to-peer payment platform, the leading platform in Israel for payments and financial transactions, with connection to over 20,000 merchants. One goal is to provide near-instant approval for consumer loans and revolving credit with this app. Engagement is growing, with active users up 11% YOY to three million customers.
Bank Hapoalim is committed to sustainability, with $4 billion in loans extended for green projects and renewable energy. It demonstrates this leadership in ESG principles by winning its 2022 "AAA Platinum+" rating—having been rated "Platinum" for more than 10 consecutive years—by Maala, a business membership organization that promotes global corporate social responsibility (CSR) standards in Israel. CSR initiatives include $11 billion in loans on balance sheet to small businesses and an $11 billion investment in education and community development.
Through initiatives in digital banking transformation, wealth management and sustainability, National Bank of Kuwait (NBK) aims to build on its dominant domestic franchise and is recognized as our Best Bank in Kuwait. As the country's second-largest bank by assets, NBK holds a 37% market share of banking system assets and operates through 68 branches to provide consumer, corporate and wealth management services. Its majority stake in Boubyan Bank provides greater opportunities for growth with Shariah-compliant retail, corporate banking, wealth management and insurance products and services. Building on the success of its recently established Weyay Bank, the first fully digital bank in Kuwait, NBK is embarking on a five-year digital road-map initiative to replace legacy systems with new applications to accelerate tech expansion and drive efficiency to improve the customer experience. This will include the launch of a new mobile app in 2023.
In corporate banking, NBK has established itself as a leading partner for both domestic and international firms by serving 75% of foreign corporations active in Kuwait. By collaborating with NBK Capital, the bank's brokerage and asset management division, retail clients can now seamlessly link with SmartWealth, an online financial advisory platform for wealth management and investment products, via their mobile banking app. The bank accelerated its sustainability strategy in 2022 with the launch of its Sustainable Financing Framework to embed ESG principles across the bank in its transition to a net-zero economy and to support the national program for achieving a low-carbon economy as per New Kuwait Vision 2035.
Our Best Bank in Oman again, leading with 35% of banking system assets, Bank Muscat continues to transform its franchise with improved technology-driven services to attract new customers. The bank is enhancing the client experience through more-efficient digital onboarding and online applications for banking products, contributing to a 7% increase in digital adoption with 1.4 million online banking users. In merchant services, the bank grew new merchant partners by 150% with a 40% increase in transaction volume. The corporate bank is a trusted partner in backing major projects throughout the sultanate in the energy, manufacturing and infrastructure sectors; and online offerings are growing with the launch of DigiTrade for efficient and secure online trade financing transactions and greater payments services both domestically and cross-border. Bank Muscat is also a leader in Islamic finance through its Meethaq subsidiary, which has captured 30% of Islamic banking assets. Community initiatives include partnership with local law enforcement for a fraud awareness campaign, support for SMEs with an entrepreneurial program, sponsorship in Omani youth programs and financial literacy education.
To reach new clientele and expand its dominant 30% market share in loans and deposits, our Best Bank award winner for a second consecutive year, Bank of Palestine, has implemented a strategy to enhance the customer experience and increase brand awareness through investment in employee development, digital channels and women-owned businesses. With a focus on improved access to the bank's services, digital priorities include greater functionality and transparency with accounts and payment services. This progress is reflected in increasing levels of merchant engagement—a 40% increase in POS locations with over 10,000 terminals nationwide. With these developments, the aim is to deepen client engagement with the bank and attract new clients. This presents a big opportunity to reach the country's underbanked segment, which represents half the population.
Bank of Palestine promotes financial and gender inclusion through its program for women-owned businesses, with guidance and favorable lending terms to foster entrepreneurship and business development. ESG initiatives include the creation of a sustainability committee and collaboration with the International Finance Corporation to develop best practices with operational risk management and governance. Social programs support education, health, culture and sports. Furthermore, the bank joined the Global Impact Investing Network, an alliance to promote education and infrastructure investment, and is in partnership with the European Bank for Reconstruction and Development to address climate risk mitigation.
With a growing lineup of online offerings, Qatar Islamic Bank (QIB) is responding to ever-increasing demand for digital banking services and wins our award as Best Bank in Qatar. The bank promotes a cashless economy by providing greater access to financial services. Last year, the bank was the first in Qatar to introduce a digital credit card and a Growing Deposit savings program that includes a recurring deposit feature through the mobile app. A flexible certificate of deposit account offers no-fee terms for early withdrawals. Digital onboarding was integrated in the bank's Bedaya program, also launched in 2022, a digital account for university students using QIB's mobile app that features a secure biometric login and robust interface for efficient navigation.
By engaging with customers, regulators and fintech providers, QIB leveraged data analytics and artificial intelligence (AI) to introduce these new technologies, resulting in improved client engagement. YOY, retail mobile app users rose 20%, with a 48% increase in total transactions, contributing to over 50% of total sales volume. This resulted in reduced reliance on branch visits, and branch transactions have declined by 44% over the past three years. Recognizing the important role of SMEs in the economy, QIB offers advanced digital channels and solutions through a mobile app for SMEs as well as dedicated corporate branches and relationship managers. Financing to startups and SMEs also includes the Al Dhameen program, a loan guarantee initiative sponsored by Qatar Development Bank.
Through its leading domestic platform, SAB (Saudi British Bank) combines its deep local expertise and its affiliation with HSBC to provide extensive banking services in the kingdom and globally and is our Best Bank in Saudi Arabia for the fourth year running. The bank is aggressively expanding its digital capabilities across its franchise with innovative new retail products including services such as SAB 360, a personal finance management tool to track spending and cash flow; additional mortgage solutions with instant preapproval; enhanced mobile funds transfer; expanded programs targeting younger clients; and an e-commerce digital storefront. As an affiliate of HSBC, the bank's wealth and private banking clients can tap into HSBC's global network through an integrated system for account access and funds transfer in 45 countries.
The bank is pushing to expand its 13% market share in commercial loans through a growing suite of online platforms using an enhanced mobile app, digital account onboarding, virtual accounts and integration with national payment infrastructure provider Saudi Payments to offer a SAB Visa procurement card for digital payments. SAB is the kingdom's leading international trade bank, with a 23% share; and as an affiliate of HSBC, SAB clients have access to comprehensive trade and supply chain resources and services through regional teams globally.
SAB is the first to integrate blockchain technology with its trade finance services, and commercial clients also benefit from a cloud-based supply chain finance platform and a streamlined digital business account opening process. New features for SME clients include a new mobile app, digital account openings, expanded POS capabilities and easier access to working capital financing. By joining the Arab Monetary Fund payment system, commercial clients can execute cross-border multicurrency payments with greater efficiency
Guided by Islamic financial values, responsible corporate citizenship and effective banking solutions, Abu Dhabi Islamic Bank (ADIB) is our winner in the United Arab Emirates (UAE). As the second-largest Islamic bank in the UAE and fourth globally, with over one million clients, the bank combines a highly personalized customer experience with ever-growing digital banking capabilities. With the bank's 2025 innovation strategy, ADIB seeks to further develop Islamic finance, build its UAE retail base, and leverage data analytics and AI to advance its digital transformation. Central to this strategy is ADIB's Analytics Center of Excellence, which utilizes AI to identify operational efficiencies and launch new products. This includes a newly launched command center to visualize the bank's activities via a 22-meter video wall. Effective marketing of product offerings is critical for franchise growth, and the bank's strong level of service offerings contributed to a brand-recognition rank of No. 1 in the UAE. This contributes to increasing levels of digital adoption, with 76% of customers digitally active and 94% of all transactions conducted over digital channels. Additionally, with the No. 1-ranked mobile app in the UAE, the bank is deepening its engagement as 50% of new customers open accounts with the app.
Industry-leading initiatives include the launch of ADIB Pay, the region's first contactless payment option that uses a client's watch, ring or bracelet instead of requiring the use of a card; as well as an efficient chatbot with a strong 85% resolution rate. ADIB is the first bank in the UAE to utilize a government-linked facial-recognition system, accessing the Ministry of the Interior's central database for more-secure account openings. There are more options for SMEs, with financing up to 1.5 million Emirati dirhams (about $408,000), accounts to empower youth with financial education to track savings goals, a debit card for merchant payments and a wealth management advisory program catering to the UAE's affluent millennial segment. Building on over $2 billion in funded commitments to sustainability projects, the integration of ESG principles in Islamic banking practices is included in the bank's five-year plan and supports the country's proclaimed 2023 Year of Sustainability, culminating in Dubai's hosting of the UN Climate Change Summit in November.