Online security issues have taken center stage over the past year, presenting banks with greater challenges in retaining online customers and attracting new ones.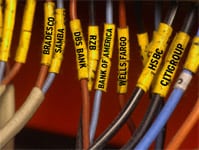 Amid blaring headlines, customer concern and new regulatory action regarding the security of customers financial information on the Internet, banks have faced a challenging time in 2005. Concern about the growth of identity fraud is slowing adoption and usage of online banking, according to the results of a survey commissioned by Entrust, a Texas-based Internet-security firm. The survey, conducted by Atlanta-based research firm InfoSurv, quizzed more than 700 online-banking consumers across the United States about their use and views of Web banking.
According to the report, 18% of all respondents said they decreased their use of Internet banking or stopped banking online completely in the past 12 months due to concerns regarding the security of their online identity. Thirteen percent of European consumers reported doing the same. A report by Stamford, Connecticutbased research firm Gartner Group in June estimated that 2.5 million people in the US suffered financial losses in phishing attacks in 2004. Phishing involves tricking people into providing personal identification information. In response to reports like these, the Federal Financial Institutions Examination Council, a consortium of five US banking regulators, took action in October. It issued guidelines requiring banks to implement, by the end of 2006, multi-layer authentication systems that go beyond user name and password. This is to ensure those attempting to log onto bank accounts and make transactions are actual customers and not criminals.
Global banks have mounted a three-pronged defense in response to these problems: boosting the security of their online-banking systems and offerings; convincing corporate and retail customers that they are safe banking online; and investing in enhanced Internet-banking products, services and technology to attract more customers and reduce costs over other banking channels.
The concern around online identity attacks and fraud continues to be high, with increasing numbers staying away from banking via the Internet, says Kevin Simzer, senior vice president at Entrust. The urgency of this problem demands immediate action, especially when considering the financial impact of customers reverting to more expensive channels to conduct their banking transactions.
One bank taking action is Bank of America, which in 2006 plans to introduce a new, multi-step process that combines passwords with customer-selected test questions and a digital system that fingerprints the customers computer.
The Entrust survey found that 94% of respondents expressed a willingness to use additional security measures such as strong authentication when banking online, especially when conducting higher value transactions. Top banks, such as those honored in the 2005 Worlds Best Internet Banks Awards, are also rolling out new, innovative products and services that attract clients by boosting their productivity and convenience. Banks are also continuing to reap cost savings and operating efficiencies from their Internet-banking initiativesyet another reason why its important for banks to put security issues behind them.

Worlds Best Internet Banks Second-Round Winners


Methodology

All second-round winners were chosen from among entries evaluated by a world-class judging panel consisting of representatives from Tata Infotech. Global Finance editors were responsible for the final selection of winners. Only banks that entered the competition were considered for awards, and awards are only given in those regions and sub-categories in which there were entries.
Winning banks were selected based on the following criteria: strength of strategy for attracting and servicing online customers, success in getting clients to use Internet offerings, growth of online customers, breadth of product offerings, evidence of tangible benefits gained from Internet initiatives, website design and functionality, and the strength of the banks security initiatives.
See owr award winners

Keith Loveard