MERGERS & ACQUISITIONS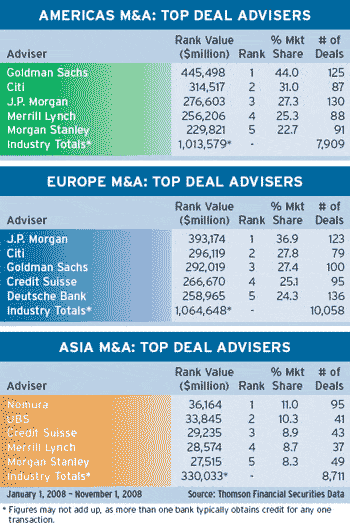 Government-encouraged bank mergers and bailouts are keeping global M&A; activity alive amid the financial crisis, which has severely restricted financing for corporate buyouts.
San Francisco-based Wells Fargo's $15.1 billion acquisition of Wachovia, which derailed a hastily arranged government deal to sell most of Wachovia to Citi, was the largest M&A; deal in the Americas in October. The dramatic turn of events came after the US Internal Revenue Service reinstated tax breaks for financial institutions that take big losses on non-performing loans acquired through acquisitions.
The US government is encouraging weak banks to merge with stronger partners rather than to fail and put a further strain on the Federal Deposit Insurance Corporation. Meanwhile, the US Treasury Department announced a plan to spend $250 billion to buy preferred shares in financial institutions, with half going to the top 10 banks and the rest to regional and community banks.
In what could foreshadow hundreds if not thousands of US bank mergers, Pittsburgh, Pennsylvania-based PNC Financial Services purchased Cleveland, Ohio-based National City, a troubled bank with lots of bad mortgage loans, for $5.6 billion. As part of the deal, PNC will receive $7.7 billion from the US Treasury by selling it a stake in the combined institution.
Treasury secretary Henry Paulson announced the plan to tap the Troubled Asset Relief Program, a $700 billion financial rescue package approved by Congress in October, to inject capital in banks to strengthen the financial system and boost lending following similar moves by European governments. The British government spent $64 billion of taxpayers' money to buy stakes in Royal Bank of Scotland, Lloyds TSB and HBOS. The latter two banks renegotiated the terms of their proposed merger in light of the bailout. Germany, France and Spain announced rescue plans totaling $1.3 trillion in loan guarantees and capital.
Paris-based BNP Paribas agreed to take a 75% stake in the remaining operations of troubled bank Fortis, following a bailout that left Belgium and Luxembourg holding a 49% share in Fortis, which suffered big losses in credit derivatives.
In Brazil, Banco Itaú agreed in early November to acquire Unibanco in a stock-swap transaction, creating Latin America's biggest bank. The banks, both based in São Paulo, rushed out third-quarter earnings ahead of schedule to ease investors' concerns about potential currency derivative losses following the sharp decline in the Brazilian real.
Henrique Meirelles, president of Brazil's central bank, said the merger would contribute to the strengthening of the country's financial system. The central bank has pumped more than $46 billion into the nation's banking system since late September to stimulate lending and keep smaller banks from failing.
There were several major M&A; deals outside of the financial sector in October. Chicago-based Exelon, the leading nuclear power operator in the United States, with 17 reactors, made an unsolicited offer to buy Princeton, New Jersey-based NRG Energy, a wholesale power generator with large operations in Texas. The bid came after NRG's stock lost half of its market value, making its cheapened power assets an attractive takeover target.
NRG says several major global banks have agreed to refinance its debt when the transaction closes. "We believe that our success with the refinancing effort in this challenging environment serves to underscore the compelling business and financial rationale for the merger and further validates the combination of our two companies," says John Rowe, CEO of Exelon.
In the biopharmaceutical industry, Eli Lilly agreed to acquire ImClone Systems, which has the facilities to develop and manufacture complex biomolecules.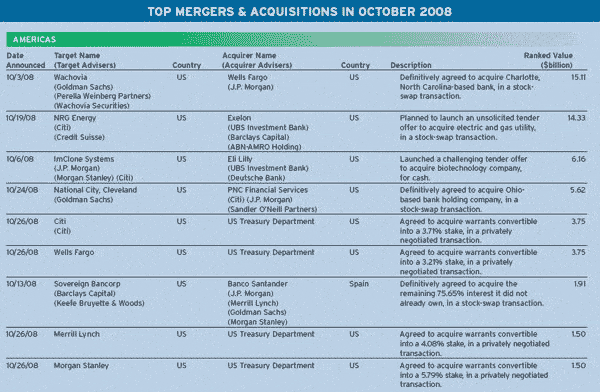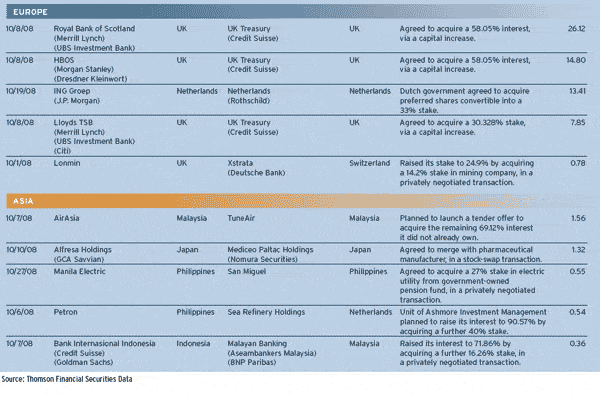 Gordon Platt