EUROPE


Six Continents Split-Up Creates Two New ADRs

Two new American depositary receipt programs were created in April as a result of the separation of Six Continents, the worlds largest hotel group, into two companies. Bank of New York was selected as depositary for both programs.
London-based Six Continents split its hotels and soft-drinks businesses from its pub and restaurants operations after shareholders voted overwhelmingly to reject an $8.8 billion hostile takeover bid by food and drinks entrepreneur Hugh Osmond.
Six Continents separated into InterContinental Hotels and Mitchells & Butlers, both of which are listed on the London Stock Exchange.The latter operates 2,100 pubs, bars and restaurants throughout the UK.
Birmingham-based Mitchells & Butlers has developed a major portfolio in the pub industry by creating a series of its own brands, including Vintage Inns,Toby Carvery,All Bar One, ONeills, Scream and Ember Inns, and through acquiring such brands as Harvester,Browns,and Alex.
Each Mitchells & Butler ADR represents one ordinary share and trades on the New York Stock Exchange.
Similarly, each InterContinental Hotels ADR represents one London-listed ordinary share and trades on the NYSE.The hotel companys businesses include InterContinental Hotels and Resorts, Crowne Plaza Hotels and Resorts, Holiday Inn, Express by Holiday Inn and Staybridge Suites.
InterContinental Hotels also holds a controlling interest in Britvic, which has the exclusive rights in the UK to the Pepsi and 7 UP brands. Britvics own brands include Robinsons, Tango and Britvic.
Shareholders received 50 shares each of InterContinental and Mitchells & Butlers for every 59 shares of Six Continents.The company also distributed a total of about $1.1 billion to Six Continents shareholders.
Osmonds investment vehicle, Capital Management & Investment, had planned to release funds for shareholders through a series of sale and leaseback deals on Six Continents pubs. It also had lined up buyers for some of Six Continents hotels.
The board of Six Continents turned down Osmonds offer, saying the proposal gives shareholders nothing they did not already own except significant risk.


ASIA/AUSTRALIA


CSR Separates From Rinker

Sydney-based CSR, with a major position in the Australian sugar industry,won approval from shareholders to separate its Rinker heavy building products business into an independent company.
Under the de-merger, CSR shareholders received one share of Rinker for each share of CSR.As Rinker shares were not registered with the US Securities and Exchange Commission, holders of American depositary receipts in CSR have had their interests in the de-merged entity sold, according to depositary JPMorgan.
Rinker, with significant operations in West Palm Beach, Florida, plans to set up a new ADR facility in the US over-the-counter market with JPMorgan as sponsor.

Korean Chemical Firm Sells Treasury Stock

Kumgang Korea Chemical, South Koreas largest diversified manufacturer of glass, industrial paint and building materials, placed $28 million of global depositary receipts through JPMorgan.
The GDRs were placed 40% in the United States, 40% in Asia, and 20% in Europe.
The deal resulted from the April 2000 merger of Korea Chemical with Kumgang.At the time, Korea Chemical was forced to buy back 13.1% of the company from dissenting shareholders and hold it as treasury stock. Regulations required it to liquidate this stock by the end of April 2003.
Kumgang Korea Chemical already had canceled 6.5% of the treasury stock.Another 3.4% was sold in the domestic market. The GDR represented the final 3.2%.

BOC Hong Kong Upgrades to Level I

BOC Hong Kong (Holdings), a commercial banking group, upgraded its Regulation S American depositary receipt programs to a Level I program.
The company says the upgrade demonstrates its commitment to building its US investor base, with Citibank continuing to serve as depositary.The Level I structure enables trading of ADRs in the US overthe- counter market. Each ADR represents 20 ordinary shares, which trade on the Hong Kong Stock Exchange.
BOC Hong Kong (Holdings) is one of Asias first-rate companies for retail banking, corporate banking and treasury, says Sanjeev Nanavati, global managing director of Citibank Depositary Receipt Services.

Indonesian Bank Initiates Program

PT Bank Buana Indonesia began a Level I American depositary receipt program in the US over-the-counter market. Bank of New York is the depositary.
Each ADR represents 100 ordinary shares, which trade on the Jakarta Stock Exchange.
Bank Buana, with 154 offices, focuses on serving small and medium enterprises in Indonesia.

THE AMERICAS


Argentinas Siderar Selects Depositary

Buenos Aires-based Siderar, Argentinas largest producer of flat-rolled steel, selected Bank of New York as successor depositary for its Regulation 144A American depositary receipt program.
Rule 144A programs are designed for securities not registered with the US Securities and Exchange Commission.
One Siderar ADR is equivalent to eight of the companys ordinary shares. Siderar, which exports its products to 30 countries, is part of industrial conglomerate Techint.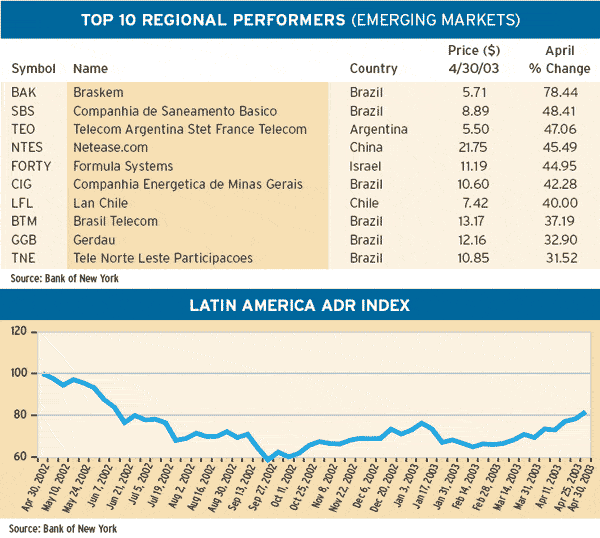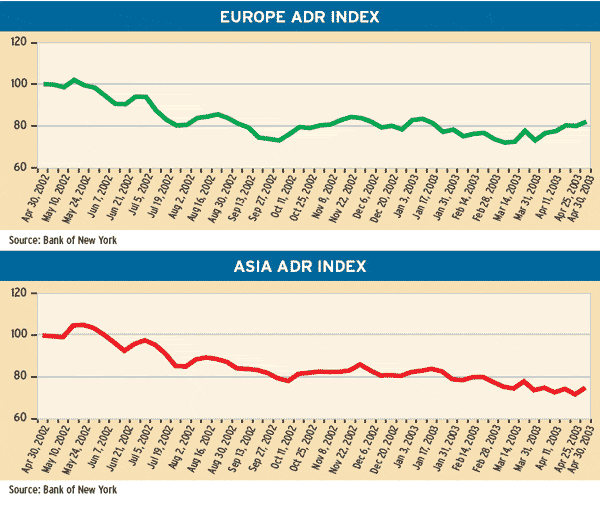 Gordon Platt