GLOBAL EQUITY/DRS

Saudi Arabia's Inma Bank, a new Islamic financial institution, raised $2.8 billion in its initial public offering of a 70% stake in April, the largest-ever IPO in the kingdom. Samba Capital, a subsidiary of Samba Financial, was the lead manager of the issue.
In February Zain Saudi Arabia, the Saudi affiliate of Kuwait's Mobile Telecommunications, raised $1.9 billion by selling shares to the public and to a government pension fund. The stock more than doubled in value on its first day of trading.
The Zain mobile phone issue followed a $1.2 billion IPO in January by the Petro Rabigh refinery joint venture of Saudi Aramco and Sumitomo Chemicals of Japan. The Petro Rabigh shares rose nearly 150% in their first day of trading.
Saudi Arabia and the United Arab Emirates are leading a boom in IPO activity in the oil-rich Middle East, thanks to ample liquidity, strong economic growth and economic reforms. Dubai-based port operator DP World holds the record for the region with its $5 billion IPO last year that was 15 times oversubscribed.
"The appetite for new stock issues continues to be high," says Brad Bourland, chief economist at Riyadh-based Jadwa Investment. There are about 100 IPOs in the pipeline for 2008 and 2009, he says.
If these issues come to market as planned, they could double the number of stocks listed on the Tadawul, the Saudi stock exchange. Saudi Arabia is the most active IPO market and the largest stock market by capitalization in the Middle East.
"Saudi Arabia is in the midst of a period of strong domestic economic growth driven by investment and liberalization, and this economic health will be reflected in the performance of listed companies with a domestic focus," Bourland says.
There were 25 IPOs in the kingdom last year, with 40 expected this year and another 60 likely to come to market in 2009. Citing data from Tadawul, Jadwa Investment says individual Saudi investors accounted for 94.5% of stock trading by value in the first two months of 2008. That could be about to change, however, as the government gradually opens the stock market to foreign investors.
Abdul Rahman Al Tuwaijri, chairman of the Capital Market Authority, announced last December that foreigners would be allowed to make investments in stocks and participate in Saudi IPOs through domestic funds established by licensed securities firms. Previously, the only foreign investors allowed to buy Saudi stocks were nationals of the six Gulf Cooperation Council (GCC) countries. They accounted for 1.7% of trading on Tadawul in the first two months of this year.
HSBC Saudi Arabia has introduced two equity indexes and related open-end funds to give international investors exposure to Saudi equities. The HSBC Saudi Equity Index comprises 36 stocks, and the HSBC Saudi Petrochemical Equity Index includes 11, including Saudi Basic Industries.
Meanwhile, with a little encouragement from the authorities, the IPOs keep coming. The Saudi government requires major petrochemical projects to list 30% of their shares on Tadawul in return for access to subsidized raw materials.
Saudi mining company Ma'aden, the state-owned partner in an aluminum venture with Alcan of Canada, is planning to raise $2.5 billion in an IPO this year. Five new Saudi cement companies intend to sell half of their capital in IPOs as a condition of their licensing.
In neighboring Qatar, which is rich in natural gas, investors offered $2.5 billion in subscriptions, or five times more than state-owned Qatar Petroleum was offering in its IPO in March of Gulf International Services, a new holding company for its services firms.
UK-based Vodafone, which is setting up mobile phone operations in Qatar, plans an IPO of a minority holding in the venture later this year. Vodafone won an auction for the country's second mobile license as part of a bidding group with the Qatar Foundation, a non-profit organization founded by Qatari ruler Sheikh Hamad bin Khalifa Al-Thani.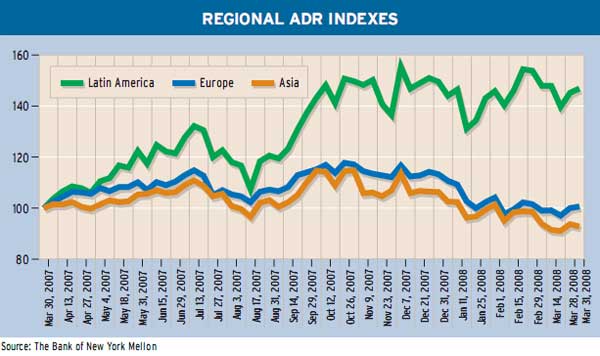 Gordon Platt