Corporate Debt

Cash-rich technology companies from Californias Silicon Valley, such as Cisco Systems and Oracle, are borrowing billions of dollars in the US corporate bond market to expand their financing options and pay for acquisitions.
Cisco, which had never sold any debt before, borrowed $6.5 billion in February in an offering led by Citigroup, JPMorgan, Merrill Lynch and Credit Suisse. The company says it used the proceeds to pay for its takeover of Scientific-Atlanta.
In January Oracle sold $5.75 billion worth of bonds to fund its takeover of enterprise-software vendor Siebel Systems. JPMorgan, Citigroup and Wachovia Capital Markets were the lead managers.
The Cisco and Oracle borrowings were the two largest US corporate borrowings so far this year through early April, according to financial data provider Dealogic. Ciscos sale was the largest debt offering ever by a technology company.
Meanwhile, media, entertainment and telecommunication companies, including Viacom and Verizon Communications, have been issuing jumbo bond issues of their own. Verizon, the second-largest US phone company, sold $4 billion of debt in four parts in February. Merrill Lynch, Goldman Sachs, HSBC, Morgan Stanley and Banc of America Securities were the lead managers.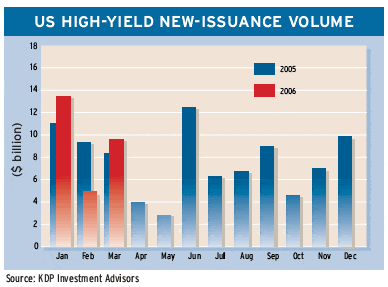 Viacom, which owns MTV Networks and Paramount Pictures, sold more than $4.7 billion of corporate debt last month through Banc of America Securities, Citigroup and JPMorgan.
New issues of US investment-grade corporate debt totaled $185 billion in the year through April 6, 2006, up 38% from the same period a year earlier, according to Dealogic. Computers and electronics and telecom volume totaled $24.3 billion in the year-to-date 2006 period, up from $2.9 billion in the same period of 2005 and the highest year-to-date volume on record, Dealogic says. Citigroup leads the US corporate debt investment-grade volume and revenue rankings so far this year.
Global corporate debt volume in the first quarter of 2006 totaled $550 billion, up 13% from the first quarter of 2005, and the highest year-to-date figure on record, according to Dealogic. Europe, the Middle East and Africa accounted for 51% of total corporate debt volume in the first quarter of this year, the highest percentage share since the first quarter of 1999. Citigroup also topped the global corporate volume and revenue rankings in the first three months of 2006.
Although US corporate borrowing costs are near the highest levels in four years, the volume of new issues remains strong. Issuance rebounded in the US high-yield corporate bond market in March, doubling to $9.6 billion from $4.8 billion in February, according to Montpelier, Vermont-based KDP Investment Advisers.
Host Marriott, the largest hotel real estate investment trust in the US, offered $800 million of 10-year notes privately to institutional investors through joint lead managers Goldman Sachs and Banc of America Securities. Host Marriott says it will use the proceeds to help fund its planned $3.76 billion purchase of 35 hotels from Starwood Hotels & Resorts Worldwide.
Dynegy Holdings, a subsidiary of Houston-based electric-power generator Dynegy, offered $750 million of 10-year notes to qualified institutional buyers. Xerox sold $700 million of notes in a public offering.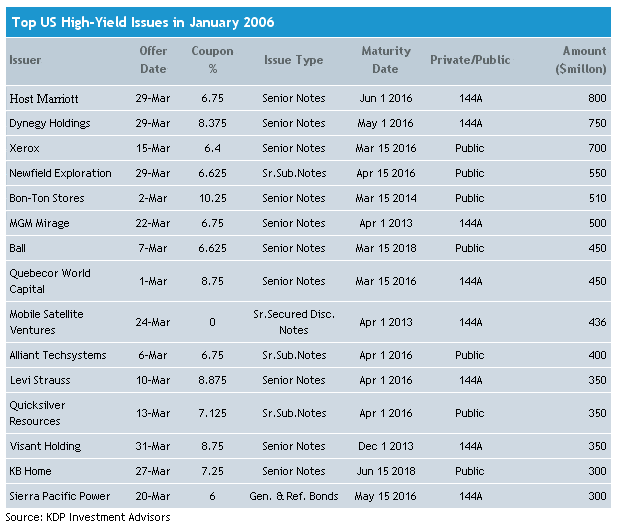 Gordon Platt