THE AMERICAS

Trading of American depositary receipts rose 6.8% in volume terms in 2002 to 28 billion shares, according to New Yorkbased Citibank Depositary Receipt Services.
Overall trading volume continued to rise, particularly for Asian issuers, indicating investors ongoing interest in ADRs despite weak market conditions, says Kurt Schneiber, global managing director of the Citigroup unit.
There was an increase of 15.9% in volume for ADRs from the Asia/Pacific region last year, compared to a decline of 0.7% for issuers in Western Europe and a drop of 3.7% in volume for Latin American issuers.
Capital market activity was sluggish in 2002, and the ADR market was no exception, Schneiber says.The overall value of trading decreased 16.9% to $569 billion, according to Citibank. And while the volume of ADR trading in the telecom sector declined 23.8% from 2001, trading in chemical and pharmaceutical issues rose 43.9%, and energy company trading gained 43.8%.The food-and-beverage industry chalked up a gain of 23.8% in trading volume.
The telecom industry remained the leading industry sector in volume terms,with Helsinki, Finland- based Nokia repeating as the most actively traded issue.Taiwan Semiconductor Manufacturing was second. Total US investment in non-US equities, including both ADRs and non-US shares, decreased by 21% in the third quarter of 2002 to $1.2 trillion, according to the US Federal Reserve. Declining asset values accounted for $304 billion of the $322 billion downturn, while net capital outflows accounted for $17 billion.
Citibank analysts note, however, that net quarterly outflows are rare and have occurred only seven times since 1987. Meanwhile, individual investor appetite for non- US equities has continued to grow through selfdirected mutual funds, they say.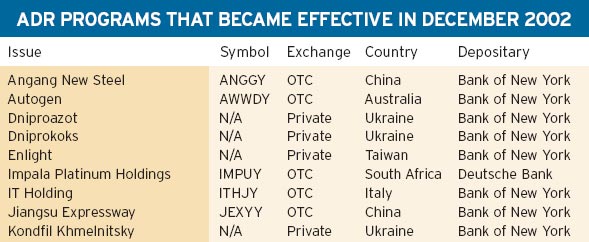 Platform Matches ADR, Share Trades

JPMorgan Chase launched an Internet-based platform to match cross book transactions, in which American depositary receipts are exchanged for ordinary shares.Our intent is to bring efficiency to an existing informal market and to lower investor transaction costs, says Patrick Colle, global head of the banks ADR group.
Such cross trades will be priced as low as $0.015 per share, versus the industry-standard $0.05 issuance and cancellation fees.The system should reduce the flow of ADRs back to the home market, as the ADRs remain placed with investors in the United States, the bank says.
With the system, JPMorgan Chase says it will become an intermediary to foster ADR and ordinary- share liquidity for all issuers, whether or not the bank serves as depositary. It estimates that the current telephone-based market transacts 1 billion ADR-for-share cross trades per year.
Institutional investors typically execute such trades when counter-parties desire to either acquire or unwind share positions without paying the standard share-issuance and cancellation fees. JPMorgan Chase selected nine countries for the initial phase of the system based on the legal permissibility of cross deliveries of ADRs for common shares.The countries included are Australia, Finland, France, Germany, Italy, the Netherlands, Spain, Sweden and Switzerland.

EUROPE


Tenaris Completes Exchange Offer

Luxembourg-organized Tenaris, which makes and distributes seamless steel pipe products for the oiland- gas and other industries, completed an exchange offer for shares in three subsidiaries. Following the offer, the companys American depositary shares began trading on the New York Stock Exchange.
As a result of the transaction, Tenaris holds 99.11% of the capital stock of Siderca, the companys Argentina-based producer of casings, tubing and line pipe used in the oil-and-gas industry. Tenaris also holds 94.5% of Tubos de Acero de Mxico, or Tamsa, and 88.41% of Italy-based Dalmine.

ASIA


Chinas TravelSky Launches ADRs

China-based TravelSky Technology established an American depositary receipt program on the US over-the-counter market. Each ADR represents 10 ordinary H shares of the company, which are listed on the Hong Kong Stock Exchange.
TravelSky was established more than a decade ago to pool the information technology departments of Chinas domestic airlines.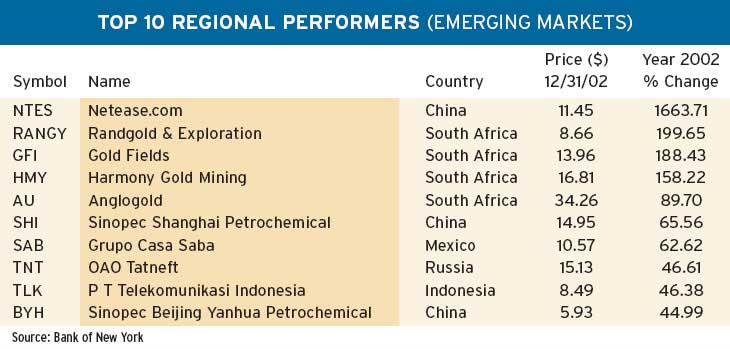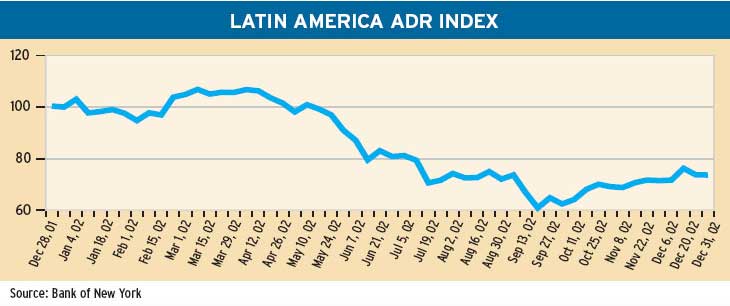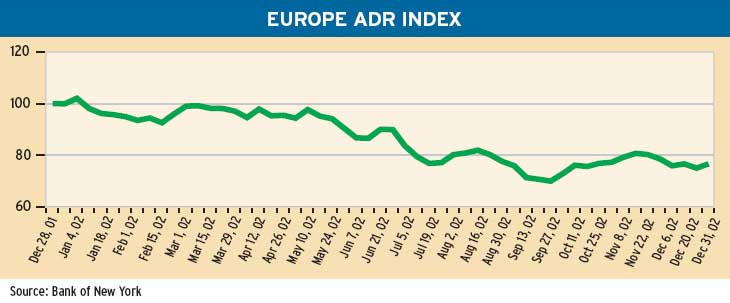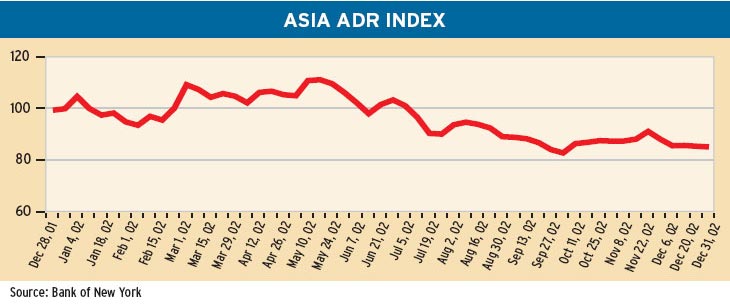 Gordon Platt