THE AMERICAS

The use of American depositary receipts to pay for foreign takeovers of US companies likely will increase this year, market participants say. Many foreign issuers have reconciled their accounting to US Generally Accepted Accounting Principles, or GAAP, and listed their ADRs on US exchanges with the intention of developing a viable currency for US corporate acquisitions. We anticipate renewed interest in issuers using ADRs as acquisition currency for US companies in 2004, says Patrick Colle, London-based global business head of JPMorgans ADR Group.
This is particularly so given the relative buying power of non-US currencies, combined with the attractiveness of non-US securities in the current foreign exchange environment, Colle says. The general economic slowdown and weakening stock prices in 2001 and 2002 significantly muted the volume of M&A; deals and increased the portion of cash used as takeover currency.This has begun to change, however, with stock prices and the economy on the rebound.
JPMorgan forecasts that global gross domestic product will rise 3.8% in 2004, following a 2.4% increase in 2003.The banks economists predict above-trend growth will be particularly strong in the eurozone, Japan and emerging Asia. Christopher Sturdy, managing director and head of Bank of New Yorks ADR division, says a number of European companies are getting ready to make acquisitions in the US. With European stock markets strong and the dollar weak, the role of ADRs in cross-border M&A; is likely to expand, he says.

Bermuda Company Launches ADRs

Deutsche Bank announced the launch of an unsponsored American depositary receipt program of Bermuda-based Benfield Group, which offers reinsurance intermediary and risk advisory services.
Benfield structures, arranges and places reinsurance on behalf of insurance and reinsurance companies but does not write insurance itself.
Each ADR is equivalent to two common shares, which are listed on the London Stock Exchange.

EUROPE


Michelin Starts OTC Program

French tiremaker Michelin began an unsponsored American depositary receipt program in the US over-the-counter market, Deutsche Bank announced as depositary.
Each ADR is equivalent to two of the companys ordinary shares, which trade on the Paris Stock Exchange.
Michelin, which sells B.F. Goodrich and Uniroyal brand tires in the US market, is also known for its green and red guides to hotels and restaurants.

KLM Appoints New Depositary

Citibank Depositary Receipt Services has been appointed successor depositary by KLM Royal Dutch Airlines for its New York registry share, or NYRS, program.
KLM, one of the worlds largest passenger and cargo airlines, is based at Amsterdam Airport Schipol in the Netherlands.KLM and its partners serve 350 cities in 73 countries. The NYRSs are listed on the New York Stock Exchange. Each NYRS is equivalent to one ordinary share and trades under the symbol KLM. KLMs ordinary shares trade on Euronext Amsterdam.


Carlton Program Ended by Merger

JPMorgan announced the termination of the Carlton Communications sponsored American depositary receipt program. The termination follows the merger of Carlton, a leading independent UK media company, with rival broadcaster Granada into a new holding company, ITV
The merger creates a national commercial network to compete with state-funded British Broadcasting Corporation and satellite broadcaster BSkyB.
Granada and Carlton together own 12 of the 15 regional franchises of ITV, Britains biggest commercial TV broadcaster.The combined business will account for more than half of the countrys TV advertising revenues.

Stora Enso Picks Deutsche Bank

Finland-based Stora Enso appointed Deutsche Bank as successor depositary for its New York Stock Exchange- listed American depositary receipt program. Stora Enso is an integrated paper, packaging and forest products producer with 42,500 employees in 40 countries. Its shares are also listed in Helsinki and Stockholm.
The company is a global leader in publication and fine papers, packaging boards and wood products.

ASIA


Seiko Epson Starts Program

Japan-based Seiko Epson, which makes Epson-brand printers and other imaging products, launched an unsponsored ADR program in the US over-the-counter market, Deutsche Bank announced as depositary.
Seiko Epsons initial public offering of its shares on the Tokyo Stock Exchange in June 2003 was one of the biggest IPOs in Japan last year. Each ADR is equivalent to two ordinary shares. Besides printers and scanners, Seiko Epson manufactures liquid-crystal projectors, semiconductors, quartz devices and watches.

AUSTRALIA


AMP Spins Off British Units

AMP,Australias largest life insurer, has initiated an unsponsored ADR program in the US over-thecounter market after spinning off its UK units. Each ADR is equivalent to four ordinary shares.
The company provides insurance, asset-management products, pensions and other diversified financial services throughout Australia and New Zealand.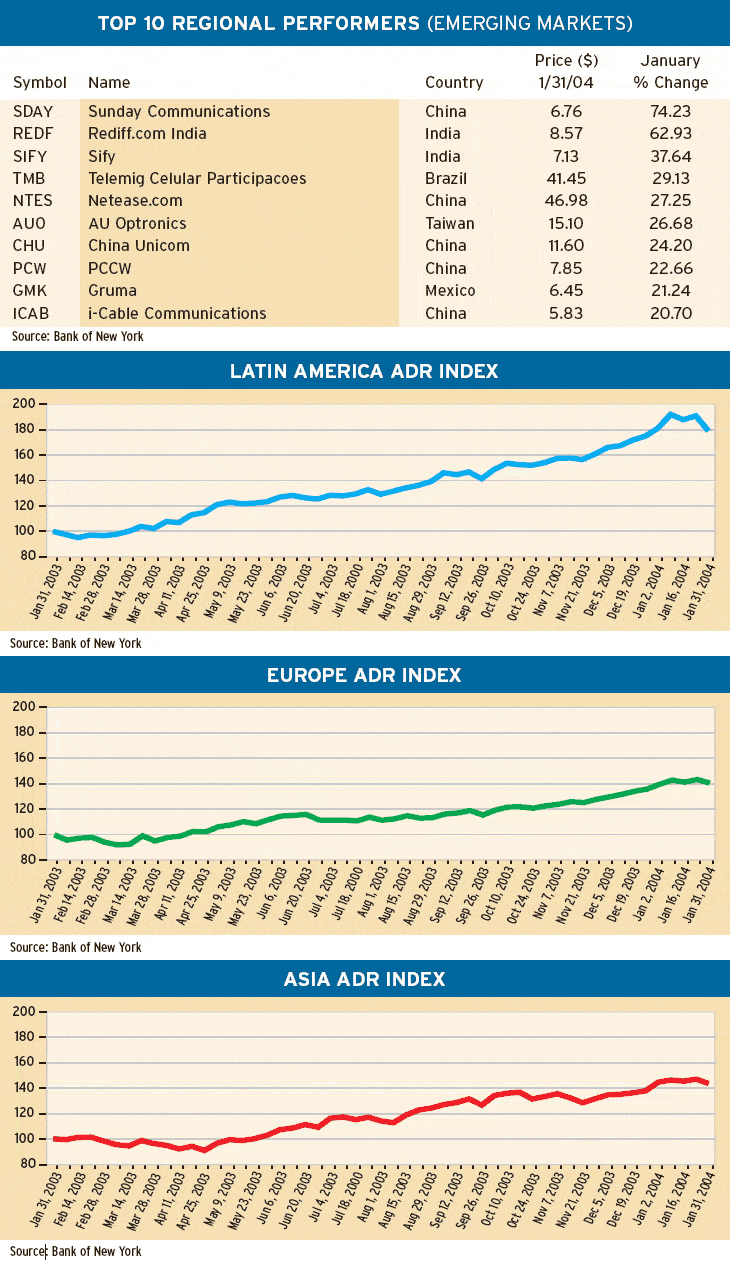 Gordon Platt