Europe/US

Major acquisitions in the banking industry are continuing to keep investment bankers busy, with sizable transactions announced in Europe as well as the US.
Santander Central Hispano, Spains biggest bank, agreed on July 26 to buy UK-based Abbey for about $16 billion.Abbey changed its name last September from Abbey National.
The takeover would be the first of a major UK lender by a bank based on the European continent and it could be the first of a number of cross-border bank mergers in Europe if it works out as expected.
In the US, meanwhile, North Carolina-based Wachovia definitively agreed to merge with Birmingham, Alabama-based SouthTrust in a stock-swap transaction valued at $14 billion that will create the largest bank in the US Southeast.
According to Thomson Financial, 2004 already is the second-biggest year ever for US bank mergers. The biggest was 1998, when Citicorps $70 billion merger with Travelers created Citigroup.
The Abbey deal is Santanders biggest acquisition ever and will bring it 18 million new customers.The Spanish bank has extensive holdings in Latin America.
Abbeys leading position in the UK mortgage market, combined with its strong distribution network, represents for Banco Santander and Abbey shareholders a valuecreating opportunity, says Santander chairman Emilio Botn.
The wave of consolidations sweeping the global banking industry is expected to extend well into next year.
UFJ Holdings, Japans fourth-largest bank, says it is working toward a takeover in 2005 by Mitsubishi Tokyo Financial Group. If that deal reaches fruition, it will create the worlds biggest banking group, with assets of about $1.7 trillion.

Bayer to Acquire Roche OTC Unit

Germany-based Bayer agreed to acquire Roche Consumer Health, the overthe- counter drugs business of Switzerland-based pharmaceutical manufacturer Roche Holding.
The acquisition, valued at nearly $3 billion, will make Bayer one of the three largest OTC consumer health companies in the world.
The transaction was to include Roches 50% stake in an OTC joint venture in the US with Bayer, as well as production sites in Germany, France, Argentina, Morocco and Indonesia.
Gary Balkema, president of Bayer HealthCares global consumer care division, will head the combined company, which will be based in Morristown, New Jersey.
It is our intention to further strengthen Bayers OTC business to become world leader, and with this acquisition we make another large step toward this goal, says Werner Wenning, chairman of Bayers board of management.

ASIA Ministry Sells Stake In Japan Tobacco

Japans Ministry of Finance divested a 14.47% stake in Japan Tobacco, which manufactures cigarettes and other tobacco products.
The ministry sold the shares to the public for nearly $8,000 in cash each, or a total value of $2.23 billion.
The Japanese government held 64.5% of the former tobacco monopolys shares before the latest privatization and is legally required to keep half of the companys shares.
The offering was delayed for nearly two years because of a stock-market slump. The delay was affecting the timetable for selling other state-owned companies to help reduce the governments debt.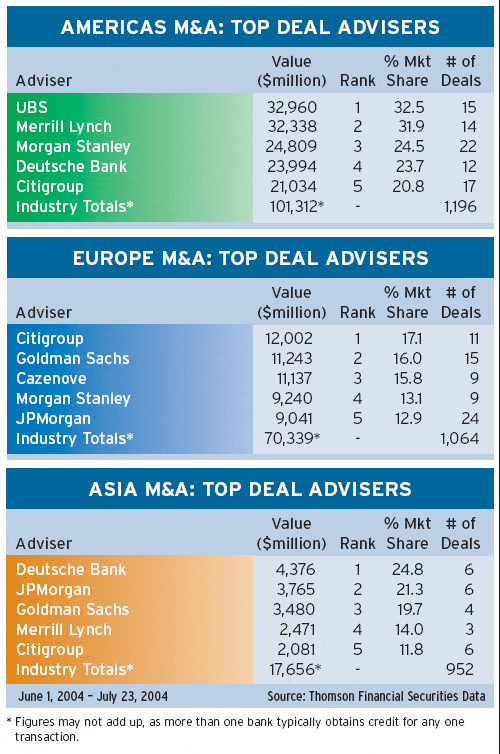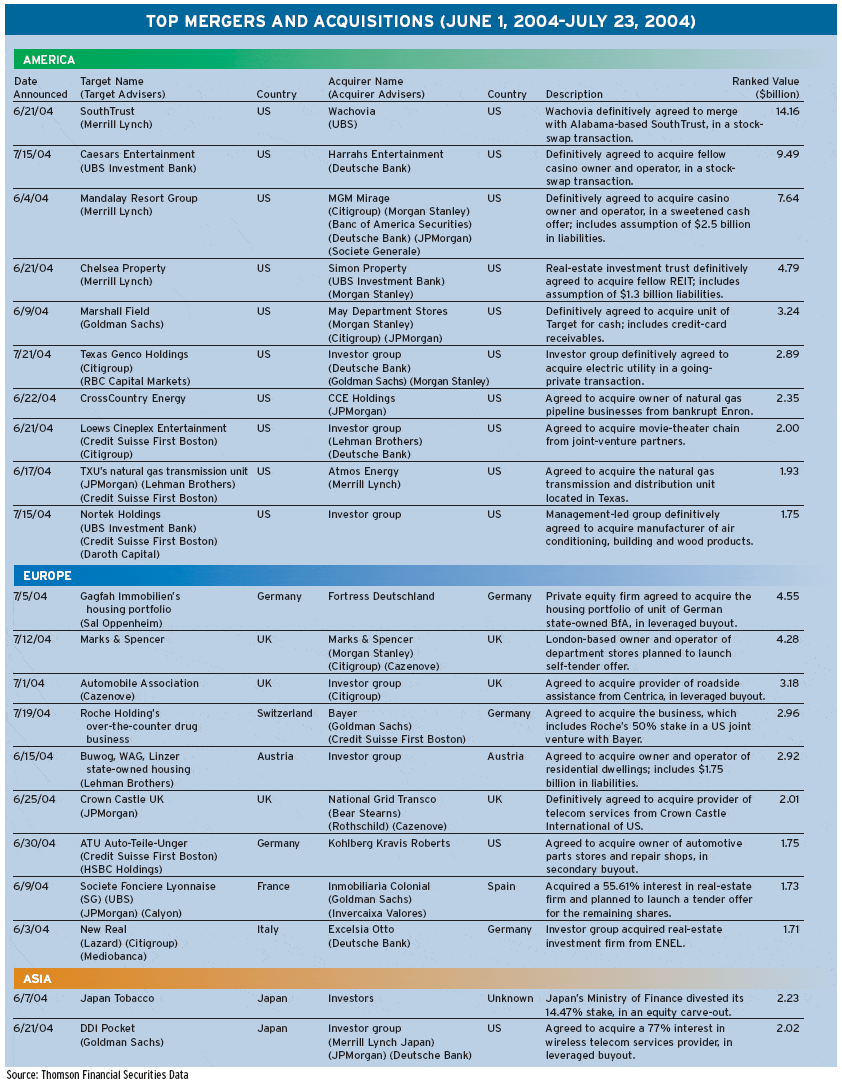 Gordon Platt