Bank of America and FleetBoston Financial agreed to merge in a $47 billion stock-swap deal that will create the second- largest bank in the US based on assets. Citigroup remains the largest US bank, while JPMorgan Chase drops down a notch to number-three.
North Carolina-based Bank of America already was the nations biggest bank in terms of branches and deposits, and the addition of Fleet- Bostons extensive network in the Northeast will extend its lead in consumer banking.
We are building a company that will deliver more financial service capabilities to more Americans than ever before in our nations history, says Kenneth D. Lewis, chairman and CEO of Bank of America, which is paying FleetBoston shareholders a 43% premium.
The compelling argument in favor of the merger, according to Lewis,was the longterm vision for a truly national bank.
Lewis will be CEO of the merged company, which will operate under the Bank of America name. Charles K. Gifford, chairman and CEO of FleetBoston, will become chairman of the combined company and will remain in Boston.
FleetBoston, created by the 1999 merger of Fleet Bank and Bank of Boston, has suffered significant loan losses in Latin America. Last year, it closed its San Francisco-based investment bank, Robertson Stephens, which focused on technology and growth companies and was once owned by Bank of America.
With 9.8% of all insured deposits in the US, the combined Bank of America will narrowly miss violating federal law that forbids interstate banking mergers that would create institutions with more than 10% of the countrys deposits.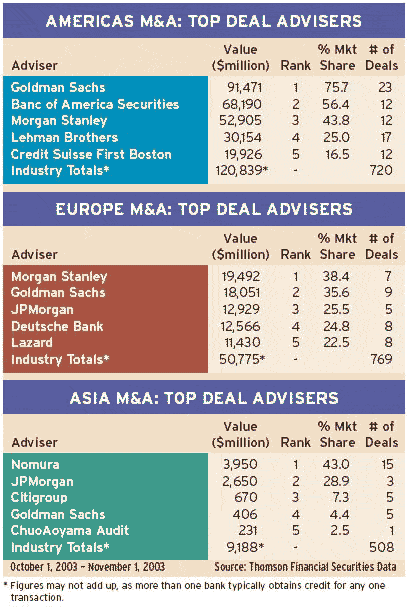 EUROPE


General Electric Buys UK Medical Firm

Connecticut-based General Electric, together with its GE Investments unit, agreed to acquire Amersham, a British producer of biological and medical diagnostic products, in a $9.5 billion stock-swap transaction.
GE expects the deal to give it access to new sales channels in the pharmaceutical industry for its medical-imaging technology and services. The acquisition will allow GE to accelerate the development of molecular imaging and personalized medicine,where it will be possible to predict and treat disease with therapies tailored to the individual, according to Jeffrey R. Immelt, chairman and CEO of the US company.
The new combined business, GE Healthcare Technologies, will be led by Amershams CEO Sir William Castell and will be based in the UK.

ASIA


Daido, Taiyo Life Agree to Merge

Daido Life Insurance and Taiyo Life Insurance, Japans only listed life insurers, agreed to merge to form T&D; Holdings, in a stock-swap transaction valued at $2.5 billion.
The companies will integrate their operations, effective April 1, 2004, with jointly owned T&D; Financial Life.The merged group will become Japans fifthlargest life insurer.
Under the deal, the holding company will swap 100 of its shares for each Daido Life share and 55 of its shares for each Taiyo Life share.Taiyo Life shareholders will also receive a cash payment of 1,500 yen, or about $13.70, a share.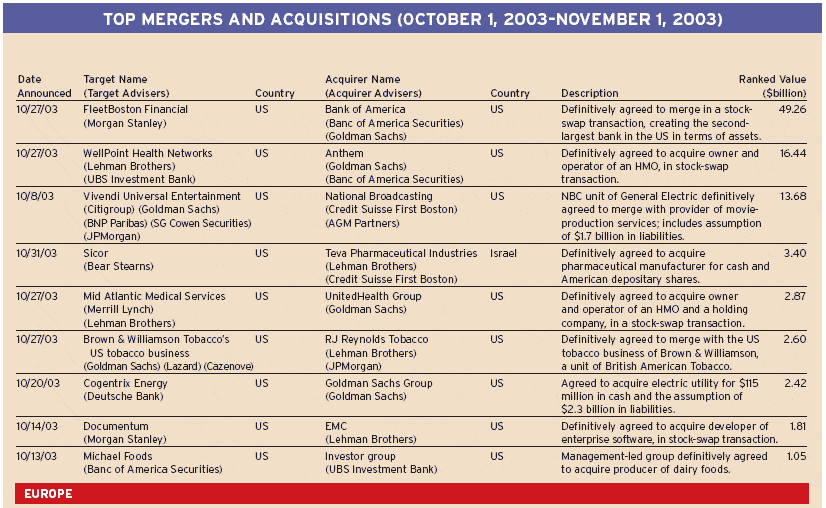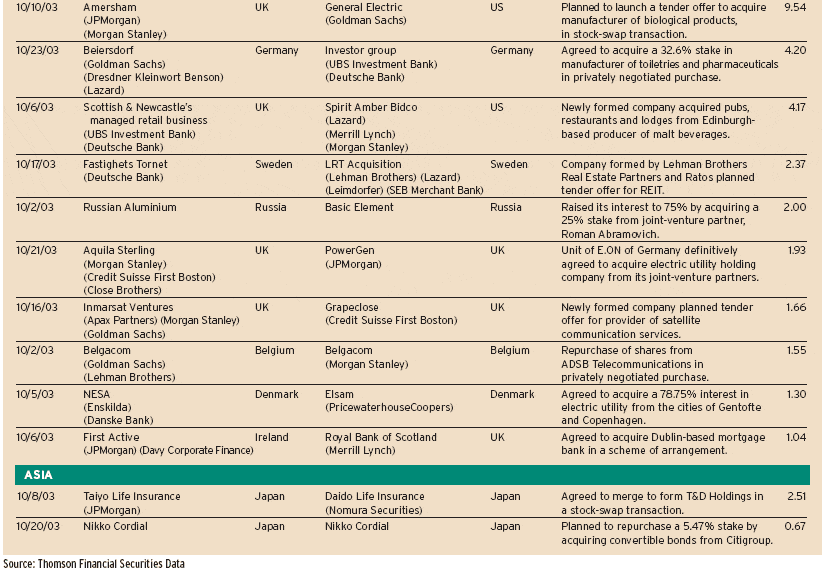 Gordon Platt