State-controlled Bank of China, the countrys second-largest lender, plans to list its shares in Hong Kong on June 1 in what is expected to be the largest initial public offering ever by a Chinese company. If the bank exercises its option to increase the sale by 15% to meet investor demand, the offering could be as big as $11.4 billion. Bank of China could raise an additional $2.5 billion in a domestic listing.
As Global Finance went to press, the bank had just kicked off its marketing road-show for the share sale, and after only one day of taking orders it attracted applications for more than three times the shares set aside for institutional investors. Highly successful IPOs last year by China Construction Bank and Bank of Communications paved the way for Bank of Chinas debut. Industrial and Commercial Bank of China is scheduled to follow later this year with an IPO of as much as $12 billion.
Deutsche Bank, Merrill Lynch, China International Capital, Credit Suisse and ICEA Finance Holdings are arranging the sale. Bank of Chinas investment banking arm, BOC International, along with Goldman Sachs and UBS Investment Bank are sponsoring Bank of Chinas IPO.
Chinese IPO volume totaled $2.4 billion in the first four months of 2006, up 71% from the same period a year earlier, according to Dealogic. BOC International is the leading IPO managing underwriter in China so far this year, with an 18.7% market share, followed by Morgan Stanley, with a 16.8% market share.
Meanwhile, China National Offshore Oil, or CNOOC, placed about $2 billion worth of shares with institutional investors and said it would use the proceeds to invest in its offshore oil project in Nigeria. CNOOC recently purchased a 45% stake in the oil field for $2.7 billion. The follow-on share offering by CNOOC was the largest deal in the oil and gas industry so far this year. JPMorgan, Goldman Sachs and Credit Suisse sponsored the sale.
Global oil and gas IPO volume as of May 3 stood at $4.4 billion, up 163% from the same period in 2005, according to Dealogic. In Italys biggest IPO since electric utility Enels $19.3 billion share sale in 1999, Milan-based oil refiner Saras priced a $2.5 billion IPO on May 12 via JPMorgan and Morgan Stanley. The IPO was the biggest ever in the refining sector. Russias Rosneft is scheduled to launch the largest oil and gas equity offering on record later this year, estimated at about $10 billion. The sale is being organized by Morgan Stanley, JPMorgan, ABN AMRO and Dresdner Kleinwort Wasserstein.
In India, real-estate developer DLF Universal filed to offer about $3 billion of shares via Merrill Lynch and Kotak Mahindra Capital. DLF, which is 99.5% owned by chairman K.P. Singh and his family, is raising money to build housing complexes, shopping malls, hotels and office buildings.
Brazilian communications services provider Telemar Holding filed a registration statement with the US Securities and Exchange Commission for an IPO of up to $1.45 billion in the form of American depositary shares. UBS Investment Bank, Morgan Stanley and Pactual Banking were listed as the underwriters. The offering is part of a proposed corporate restructuring in which shareholders of Tele Norte Leste Participaes would exchange their shares for Telemars newly issued common shares.
Austrian lighting designer Zumtobel raised $648 million in an IPO on the Vienna Stock Exchange. Kohlberg Kravis Roberts sold part of its holding, while the Zumtobel family also reduced its equity interest in the company. Bank Austria Creditanstalt, Morgan Stanley and UBS Investment Bank were the managing underwriters.
Air Berlin, Germanys second-largest airline, raised about $567 million in an IPO in Frankfurt. The low-cost carrier intends to use the money raised to fund its expansion in Eastern Europe. Commerzbank and Morgan Stanley handled the IPO.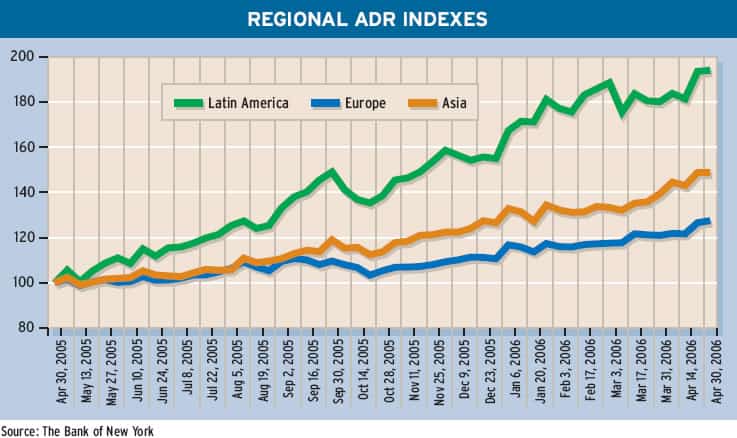 Gordon Platt