THE AMERICAS

Atlanta-based BellSouth agreed to sell its 10 Latin American cellular operations to Telefonica Mviles, the wireless affiliate of Telefonica of Spain
BellSouth will receive after-tax proceeds of approximately $4.2 billion and will reduce its consolidated debt by $1.5 billion. It expects to record a gain on the sale of about $1.9 billion. The sale of our Latin American operations enables us to continue to strengthen our domestic businesses, says Duane Ackerman, chairman and CEO of BellSouth. This transaction improves our flexibility as we focus on our growth opportunities.
Telefonica Mviles will become the largest wireless operator in Latin America following the deal and will add 10.5 million customers. While there is some overlap in countries where BellSouth and Telefonica operate in the region, the latter will gain an entre into Colombia, Ecuador, Nicaragua, Panama, Uruguay and Venezuela. With a worldwide customer base of well over 100 million, Telefonica will have a presence in 14 countries in Latin America, where it will have a 35% share of the cellular market.
Telefonica Mviles has a strong position in Mexico and Brazil, two of the regions largest markets. It ranks second in Mexico and its Vivo subsidiary in Brazil is by far the market leader. The transaction is expected to close in stages in the second half of 2004. Standard & Poors placed its ratings on Telefonica on CreditWatch, with negative implications following the purchase. The rating agency says it took the action because of the economic, financial and political risks of operating in Latin America, as well as the investments needed to develop these operations.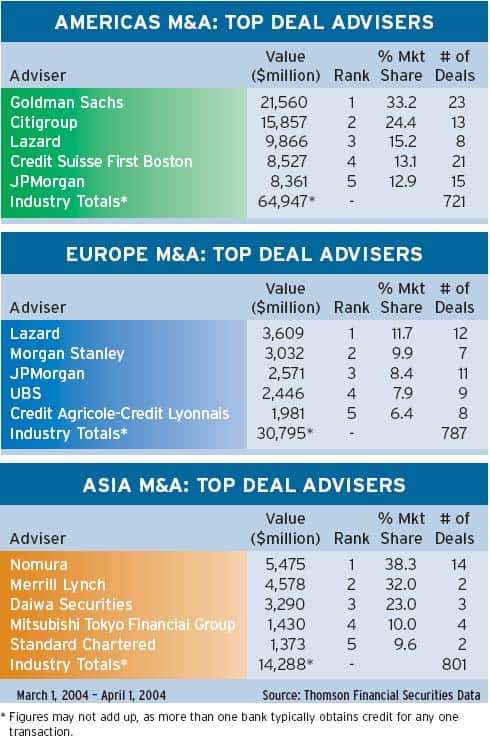 EUROPE


UK Grocery Chain Signs Property Deal

Tesco, Britains largest supermarket chain, plans to sell and lease back 33 stores and two distribution centers from a new joint venture with the Topland property group. The 50/50 joint venture plans to acquire the real estate assets for $1.2 billion.The deal would run for 25 years, with preagreed rents and an option for review in 2011.
Tesco, which controls about 27% of the UK grocery market, says the transaction will help raise money for its expansion plans. It is aggressively buying up corner shops in Britain and turning them into Tesco Express convenience stores.Tesco also aims to expand into Central and Eastern Europe and Asia.
Topland has completed similar sale-and-leaseback deals for other UK retailers, including Marks & Spencer.

ASIA


Japan Offers Bailout To Cosmetics Firm

Japans Industrial Revitalization Corporation, a government-run corporate bailout fund, announced a $3.3 billion rescue package for cosmetics and textile manufacturer Kanebo.
Under the plan, Kanebos cosmetics division will be set up as a separate company within the group and an 86% ownership interest will be sold to the government fund. The rescue was quickly arranged after Kanebo gave up on plans to sell the cosmetics division to rival Kao.That plan was opposed by Kanebos labor union.
Kanebo plans to pay off its debts with proceeds from the sale of its cosmetics unit and to turn itself around with its remaining operations in textiles and household products.
Kanebo, Japans secondlargest cosmetics maker after Shiseido, has 9,000 employees and offices in 47 countries.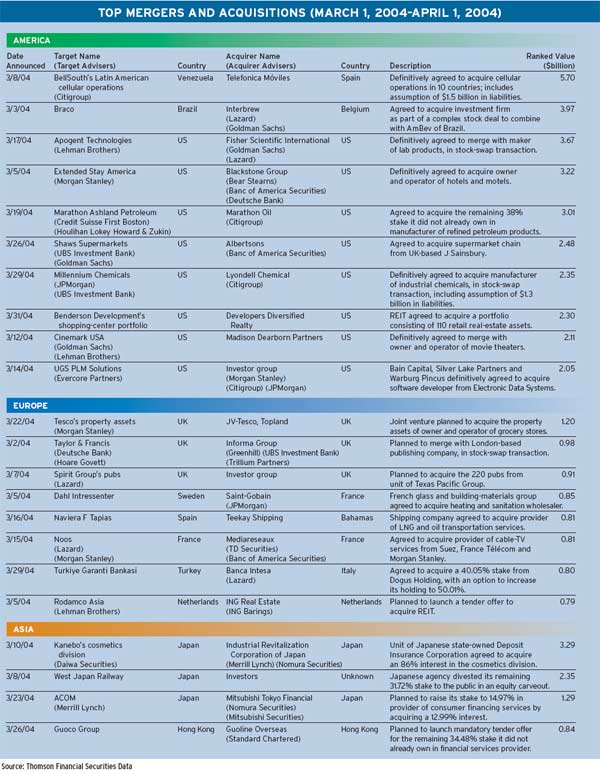 Gordon Platt