EUROPE

William Morrison Supermarkets touched off a bidding war for rival British supermarket chain Safeway with an offer valued at $6.7 billion in stock and debt. The Safeway board withdrew its recommendation that shareholders accept the offer after Britains top three supermarket chains,Tesco, J Sainsbury and the ASDA subsidiary of US-owned Wal-Mart, all submitted takeover plans of their own to the competition regulator, the Office of Fair Trading.
Meanwhile, Monacobased entrepreneur Philip Greens family-owned Trackdean submitted an official bid for Safeway with the OFT, indicating it is also serious about joining the hotly contested takeover battle. US corporate buyout specialist Kohlberg Kravis Roberts also is considering an offer for Safeway, which is not related to the US chain of the same name. KKR is waiting to see which of the other bids are allowed to stand before making its move.
Although Green has considerable retail interests in Britain through the Bhs department store chain and the Arcadia fashion group, none of his holdings are in the foodretailing business.
William Morrison, Britains fifth-largest supermarket chain, mainly operates stores in the north of England, where it has been facing increasing competition from ASDA.
A combination of Morrison and Safeway will create a strong fourth force in [UK] national food retailing, with lower prices for customers and benefits for suppliers, Morrison executive chairman Ken Morrison said in a statement.

THE AMERICAS


BB&T; to Acquire First Virginia Banks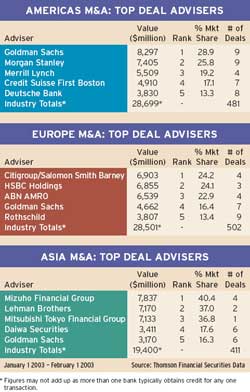 North Carolina-based BB&T; agreed to acquire First Virginia Banks in a stock-swap transaction valued at $3.39 billion.
BB&T;, one of the nations most active bank acquirers, will become the eleventh-largest US financial holding company in terms of assets after the proposed purchase.
Since 1999, BB&T;, parent of Branch Banking & Trust, has acquired 20 banks in eight states. Rumors have circulated for years that BB&T; would acquire First Virginia Banks to boost its market share in the Washington, DC, and northern Virginia area. It ended up paying a hefty 25% premium for the bank, which has a record of consistent profitability.
After digesting the First Virginia acquisition, BB&T; is expected to set its sights on acquiring banks in northern and central Florida.

ASIA


Trading Houses To Merge in Japan

Japanese trading houses Nissho Iwai and Nichimen plan to merge their operations and lay off workers in an effort to cut costs and trim their combined debt of $23 billion.
Japans long-term economic stagnation, deflationary pressures and the existence of a credit crunch are making things tougher for us, the companies said in a joint statement.
The restructuring is expected to enable the Tokyo-based trading houses to trim their total workforce to 17,000 from 21,000 as they cut their number of businesses to 300 from 430.
The companies plan to merge under a joint holding company in April 2003.The second-tier trading firms said they have few overlapping clients.

Gordon Platt