MERGERS & ACQUISITIONS

Centerview Partners, an advisory boutique formed last July by three prominent Wall Street investment bankers, was the number-two M&A; adviser in the Americas in January, according to Thomson Financial.
Stephen Crawford, formerly co-president of Morgan Stanley, joined Blair Effron, former vice chairman of UBS, and Robert Pruzan, former chief executive of Dresdner Kleinwort Wasserstein North America, in launching Centerview Partners, which is based in New York.
We believe there is a large and growing opportunity for a privately owned advisory firm focused externally on corporate clients, Crawford said at the time. The three founding principals had worked on many of the biggest and most complex transactions, including Procter & Gambles $57 billion acquisition of Gillette, Bank Americas $49 billion acquisition of Fleet and Kraft Foods $19 billion acquisition of Nabisco.
Thus, it shouldnt have come as much of a surprise that Centerview Partners was selected along with Lehman Brothers to advise Kraft Foods in January on its planned spin-off by Altria to shareholders of Altria, which owns tobacco companies Philip Morris USA and Philip Morris International.
Altria said the separation would enhance Krafts ability to make acquisitions, including by using Krafts stock as an acquisition currency, to compete more effectively in the food industry. Altria said the spin-off also would allow management of Altria and Kraft to focus more effectively on their respective businesses and improve Krafts ability to recruit and retain management and independent directors.
Another benefit of the separation is that it would provide greater aggregate debt capacity to both Altria and Kraft, the companies said.
The distribution of the approximately 89% of Krafts outstanding shares owned by Altria will be made on March 30. The divestiture valued Kraft at about $61.7 billion. Altria will not own any shares of Kraft following the spin-off, but it will still own approximately 28.6% of SABMiller, one of the worlds leading brewers.
Meanwhile, Centerview Partners late last year hired James Kilts, the former chief executive of Gillette, and David Hooper, chairman of Vestar Capital Partners US investment committee, to manage its private equity business. Effron, one of Centerviews three founders, advised Kilts on the takeover of Gillette by Procter & Gamble.
We look forward to being partners with our clients and providing advice based on a focus on the long term, Effron said in a statement last July when the formation of Centerview Partners was announced. This is the approach to client relationships that each of us has taken through our careers, so we start with a shared philosophy and complementary experience, he said.
Pruzan, the third founder of Centerview, said, As an independent adviser, I have found that clients appreciate an external adviser who is thinking about their strategic issues and concerns even when there is no specific transaction in progress. Earlier in his career, Pruzan assisted Altrias Miller Brewing division in its $6 billion merger with South African Breweries.
While Centerviews second-place showing on the M&A; league tables for the Americas in January was the result of a single deal, it had broader meaning. It showed that it is possible to do very big deals outside the shelter of Wall Streets big investment banks. It also answered the questions of those who wondered how Crawford would fare after leaving the presidency of Morgan Stanley with $32 million in his pocket as a protg of ousted CEO Philip Purcell.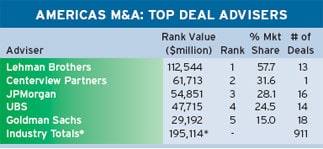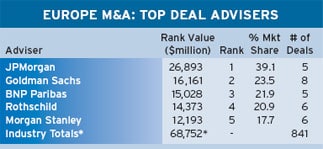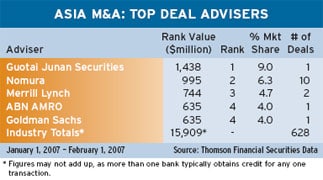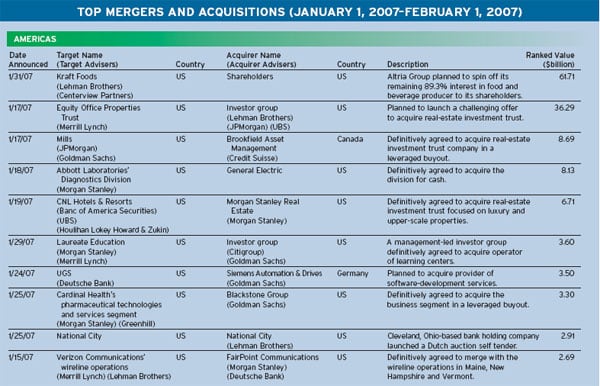 Gordon Platt