GLOBAL EQUITY/DRS
China is likely to have the year's biggest initial public offering for the second year in a row, although there remains a chance that Russia will beat it out. As Global Finance went to press, China Construction Bank planned to begin trading its shares in Shanghai on September 25, following what was expected to be the mainland's biggest IPO ever, at an estimated $8 billion or more.
The bank was the first of China's four big state-owned banks to launch an IPO in Hong Kong, raising $9.2 billion in October 2005. A year later Industrial and Commercial Bank of China netted $5.9 billion from the Shanghai portion of a dual offering that was also listed in Hong Kong and that raised a record total of $21.9 billion.
Despite a recent tightening of global liquidity and increased stock market volatility, Chinese investors still have a voracious appetite for shares. The Shanghai Composite index was up almost 100% year-to-date as of mid-September, after more than doubling in value in 2006.
While the People's Bank of China has been raising interest rates and increasing bank reserve requirements in an effort to restrain the fast-growing money supply, there still appears to be plenty of liquidity available in China to fund share offerings of this size.
Meanwhile, Russia-based United Company Rusal, the world's largest aluminum producer, has been trying to put together an IPO on the London Stock Exchange (LSE) that could raise $7 billion to $10 billion, which would potentially make it the largest 2007 IPO globally.
Russian firms raised $15.7 billion on the London Stock Exchange in the first half of 2007, accounting for 77% of the LSE's initial public offering business, according to London-based Dealogic. Most of this was in the form of global depositary receipts, which have lower disclosure requirements, rather than direct listing of shares.
Russia-based companies raised $10.4 billion in depositary receipt form in the first half of 2007, an 878% increase over the same period a year earlier, according to an analysis by Citi. VTB Bank's $5.2 billion IPO in DR form in May on the LSE was the second-largest DR capital raising in history. The size of the offering, including common shares issued in Russia, was nearly $8 billion.
Russian issuers accounted for 69% of IPOs in DR form in the first six months of this year, according to Citi. Russia-based AFI Development raised $1.54 billion in May, and PIK Group, another Russian real estate company, raised $1.44 billion in June. In April Magnitogorsk Iron and Steel Works raised $972 million in GDRs on the LSE. The first-ever Russian pharmaceutical IPO, Pharmastandard, a producer of generic drugs, raised $880 million.
With a target market capitalization of $30 billion, the United Company Rusal IPO would be one of the London market's largest. No date has been announced for the issue, however, and it remained unclear as Global Finance went to press whether the company would list its shares directly on the main board of the LSE or opt for an issue of global depositary receipts.
United Company Rusal, which has 100,000 employees, was established in its current form in March 2007, when Rusal was merged with another Russian aluminum company, SUAL, and the alumina assets of Glencore, based in Switzerland. United Company Rusal is 66%-owned by Oleg Deripaska, an oligarch who is one of the richest Russians. In November 2006, in the UK High Court, Michael Cherney, another Russian oligarch, lodged a claim that he owns 20% of the original Rusal. Deripaska denies a business relationship with Cherney, but the charges hang like a cloud over the IPO.
United Company Rusal signed a letter of intent in September to jointly develop alumina and aluminum projects with Venezuela. It also signed a memorandum of understanding with Indonesia's state-owned Antam to build a bauxite and alumina complex in Western Kalimantan.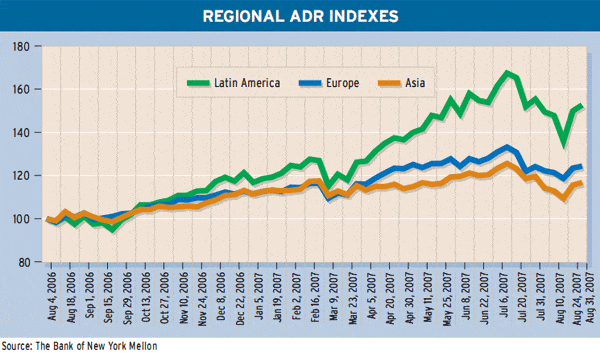 Gordon Platt