GLOBAL EQUITY/DRS
China has approved a series of major IPOs in recent weeks in an attempt to cool its soaring stock markets by flooding them with a growing supply of new issues. The country's main Shanghai index has more than doubled so far this year, following a similarly strong performance in 2006.
China Shenhua Energy, that country's largest coal producer, raised $8.9 billion in its domestic initial public offering in September, making it the biggest IPO in the world so far this year. The sale topped the $8 billion IPO in May by VTB Group, Russia's second-largest bank.
Less than a week before Shenhua Energy's IPO, China Construction Bank's domestic, or A-share, offering raised $7.7 billion. The bank's shares rose 32% in their Shanghai debut amid huge demand, particularly from retail investors. China Construction Bank already has H-shares traded in Hong Kong, as does Shenhua Energy.
Former Federal Reserve chairman Alan Greenspan said in early October that China's booming stock market has all the characteristics of a bubble. "If you ever wanted to get a definition of a bubble in the works, that's it," Greenspan said.
Repeated interest rate increases and investment curbs have failed so far to cool China's overheated economy, which continues to grow at double-digit rates and is experiencing a bout of inflation centered in rising food costs.
Meanwhile, the IPOs keep coming and are being met by strong demand from investors. The A-shares are not available to foreign buyers. China Coal Energy, the country's second-largest coal producer, is awaiting regulatory approval to offer 1.53 billion A-shares.
China International Capital, in which Morgan Stanley holds a 34.3% stake, and China Galaxy Securities were the major underwriters of the Shenhua Energy IPO, which attracted a record $355 billion in subscriptions. The new shares account for just over 9% of Shenhua Energy's capital.
China Construction Bank's IPO drew $300 billion in subscriptions, or nearly 40 times the amount offered. The institution was the first of China's four big state-owned banks to launch an IPO in Hong Kong, where it raised $9.2 billion in 2005.
China's A-share IPOs have raised a record $40.5 billion so far this year, according to Thomson Financial. That is nearly double the $21.1 billion raised in the full year of 2006.
Meanwhile, in Japan's biggest equity offering of the year to date, Sony raised nearly $2.8 billion from its insurance and online banking unit's IPO, priced at the top end of a lowered range. Sony Financial was scheduled to begin trading on the Tokyo Stock Exchange on October 11. Nomura and JPMorgan were the global bookrunners for the sale, which was for a 34.5% stake in Sony Financial.
Sony plans to use the proceeds to increase production of LCD televisions and to fund its games division, which makes the PlayStation series of console and hand-held game devices.
In London, JPMorgan announced that it is acting as depositary bank for Netherlands-based Vimetco, following the company's recent $515 million IPO, all of which was in the form of global depositary receipts. Vimetco, which makes primary and processed aluminum products, has operations in Romania and China. The company listed its GDRs on the London Stock Exchange.
Mexico-based Grupo Televisa selected The Bank of New York Mellon as successor depositary for its depositary receipt program. The company's DRs trade on the New York Stock Exchange, and its shares trade as ordinary participation certificates, or CPOs, on the Bolsa Mexicana de Valores.
TomCo Energy, based in the Isle of Man, selected The Bank of New York Mellon as the depositary bank for its American depositary receipt program. TomCo is listed on the London AIM market and has oil holdings in the United States. The ADRs trade in the over-the-counter market.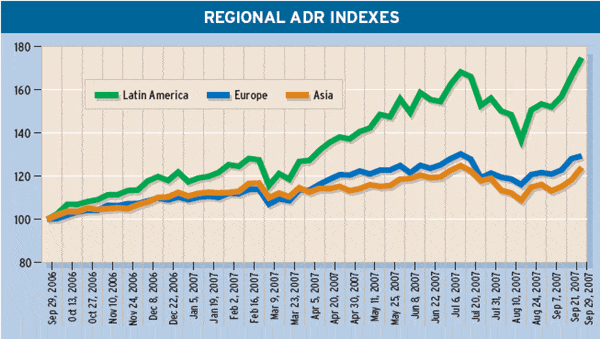 Gordon Platt