ASIA

Semiconductor Manufacturing International, or SMIC, Chinas biggest memory-chip maker, launched a sponsored American depositary receipt program in conjunction with its $1.8 billion global initial public offering.The ADRs are traded on the New York Stock Exchange.
A host of Asian issues, largely from China and India, have pumped new life into the ADR market, which was relatively dormant earlier this year.
Shanghai-based SMIC raised $475 million in ADR form. JPMorgan Chase is the depositary. Each ADR is equivalent to 50 ordinary shares, which are listed on the Hong Kong Stock Exchange.
China Oilfield Services selected Bank of New York as depositary for its Level-I ADR program. Each ADR is equivalent to 20 ordinary shares.
The company is the leading integrated oilfield services provider in the offshore China market. It owns and operates 13 drilling rigs and a fleet of 58 marine support vessels, as well as five oil tankers.
Shanghai-based Linktone, a provider of wireless valueadded services to mobile phone users in China, chose Bank of New York as depositary for its ADR program. Each ADR represents 10 ordinary shares and trades on Nasdaq.
Hong Kong billionaire Li Ka-Shing listed Tom Online, the Internet arm of his multimedia company Tom.com, on Hong Kongs Growth Enterprise Market and as an ADR issue on the Nasdaq. Citigroup is the depositary for the Level-III sponsored ADR program.
Far East Pharmaceutical Technology established a Level-I ADR program with Deutsche Bank as depositary. Each ADR represents 100 ordinary shares listed on the Hong Kong Stock Exchange. The company makes and distributes pharmaceutical products in China under the Desheng brand.
In India, Deutsche Bank was appointed as successor depositary for the sponsored Rule 144A and Regulation S global depositary receipt program of Tata Tea.The combined sales of Tata and its Tetley Group subsidiary make it one of the largest marketers of branded teas in the world.
Bank of New York was appointed depositary for sponsored Regulation S programs of several Indian companies, including Siel Sugar, Cranes Software International, and United Phosphorous.
In Japan, JPMorgan Chase was appointed as depositary for Kaos sponsored ADR program in the US overthe- counter market. Previously, the program was unsponsored. Kao is a global supplier of consumer products for personal and home care.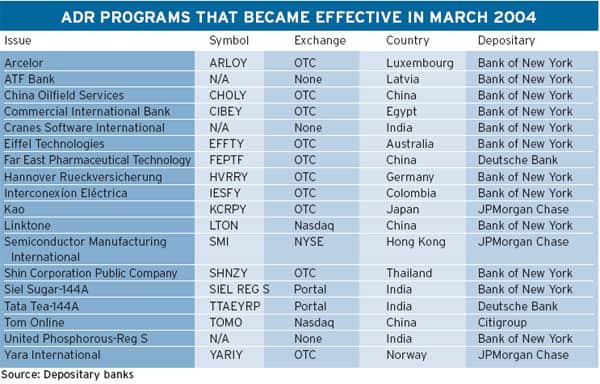 EUROPE


Norsk Hydro Exits Fertilizer Business

Oslo-based Norsk Hydro spun off its fertilizer unit to concentrate on its energy and aluminum businesses. Yara International, formed in the de-merger, is the worlds largest supplier of nitrogen fertilizer. It sailed off with the Vikingship logo that Hydro has used on its fertilizer brands for nearly a century.
JPMorgan Chase announced the launch of the Yara International sponsored American depositary receipt program. Each ADR is equivalent to one common share that trades on the Oslo Stock Exchange.The ADRs trade in the US over-thecounter market. Yaras initial public offering was the biggest in Norway since 2001. An offer of 20% of the companys shares was 20 times subscribed. The remaining 80% of the companys shares were issued to Hydros shareholders.

German Reinsurer Selects Depositary

Hannover Rueckversicherung, or Hannover Re, selected Bank of New York as successor depositary for its ADR program in the US over-the-counter market.
With a network of 100 subsidiaries and offices in 19 countries and gross premiums of $15 billion, Hannover Re is one of the five largest reinsurers in the world. It has business relations with 2,000 insurance companies in 100 countries.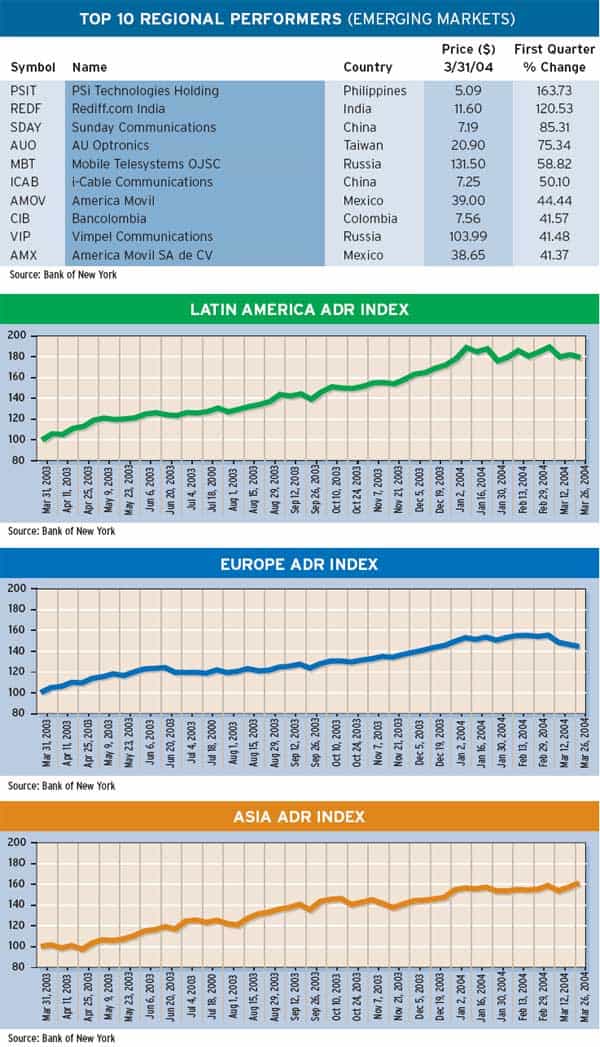 Gordon Platt