The Americas

Citigroup introduced four regional indexes that track the worlds most-liquid depositary receipts.
Known as the Citigroup Liquid DR Indices, they include only those companies that have US exchange-listed American depositary receipts or London-traded global depositary receipts that are actively traded.
These indices put the spotlight on liquid issues and provide an excellent gauge of international investor sentiment, says Sanjeev Nanavati, managing director for Citigroup Depositary Receipt Services.
To be included in the indexes, US-listed ADRs are required to have a minimum value of trading of $2 million a day, and London-traded GDRs must trade at least $1 million a day. In addition, the companies that issue the DRs must have investable, or free-float, equity capital of at least $250 million.
These new indices are a testament to the importance we place on liquidity and our unrelenting focus on assisting companies in this regard, Nanavati says.
The indexes, which are priced daily at the end of US trading, provide a more timely measure of international investor sentiment, he says. By contrast, the widely followed MSCI regional benchmarks provided by Morgan Stanley Capital International contain ordinary shares that trade in their local time zones where markets may have closed up to 14 hours earlier than the US market closing.
According to Nanavati, Citigroups Liquid DR Indices more completely capture global investor sentiment toward the Indian, South Korean and Taiwanese markets by including London-traded GDRs from companies in these countries that are not included in other DR indexes.
Bank of New Yorks and Standard & Poors Asian ADR indexes include no GDRs and many illiquid ADRs, he says. Even a small trade of an illiquid stock can give a misleading signal to investors, Nanavati says.
Citigroups new indexes will include the only publicly available DR indexes for the Asian Pacific region excluding Japan and for Asia-Pacific growth economies.The other regions covered by the Liquid DR Indices will be Latin America and EuroPac, which includes Western Europe and the developed economies of Asia.
The Citigroup indexes are highly correlated to the regional MSCI benchmark indexes, but include far fewer securities.The EuroPac index, for example, includes only 80 DRs, whereas the MSCI EAFE index has 1,006 stocks.
Citigroup has hired Standard & Poors to calculate and maintain the indexes, which are available on Bloomberg terminals as well as the Citigroup DR home page, www.citigroup.com/adr.
Mexican Homebuilder Starts NYSE Program Desarrolladora Homex, a fast-growing Mexican company that develops entrylevel and middle-income housing, launched an ADR program on the New York Stock Exchange on July 1, 2004, in conjunction with the companys $160 million initial public offering. Some $116 million of the total was issued in ADR form.
Each ADR is equivalent to six of the companys common shares, which trade on the Mexican Stock Exchange. JPMorgan Chase is the depositary bank for the ADR program.

Source: Depositary banks

Asia
Companies From Asia Raise $2.5 Billion

The amount of capital raised through depositary receipts rose to $2.5 billion in the first half of 2004, with all of the activity in the Asia-Pacific region, according to Citigroup.This years first-half total was up 502% from the first half of 2003.
The increase was so large in part because the base was so low, says Sanjeev Nanavati, head of Citigroups DR services. Markets last year were suppressed by the SARS virus crisis in Asia and global uncertainty.
Capital-raising activity picked up in the second half of 2003, with emphasis on Asian companies in the technology and telecommunications sectors.
Overall, the continued momentum in capital raisings for Asian companies represents a trend thats going to continue, Nanavati says.
Some 56% of the capital raised in the first six months of this year came from Citigroup DR programs, including AU Optronics, HannStar Display, United Microelectronics, Macronix International and Chunghwa Picture Tubes, which are all based in Taiwan. Other Citi- group programs that raised funds included Hong Kongbased Tom Online and Associated Cement of India.
China-based Semiconductor Manufacturing International raised $475 million and led all companies in capital raised in the first half of 2004, followed by HannStar Displays $302 million.
There was a 42% increase in worldwide DR trading volume in the first half of 2004.

Europe
Citigroup Awarded Nestl, Ici Programs

Citigroup scored two major successor depositary appointments from companies based in Europe.
Imperial Chemical Industries, a global specialty products and paint manufacturer based in the UK, and Nestl, the leading food company based in Switzerland, moved their DR programs to Citigroup.
Nestls Level I program trades in the over-thecounter market. ICIs ADRs are listed on the New York Stock Exchange.
IONA Technologies, a Dublin, Ireland-based designer of systems-integration systems, appointed Deutsche Bank as successor depositary for its Nasdaq-listed ADR program.
customers include telecom, financial services, aerospace and manufacturing companies worldwide.
Mediaset, a communications and broadcasting group based in Italy, appointed JPMorgan Chase as successor depositary bank for its Rule 144A program.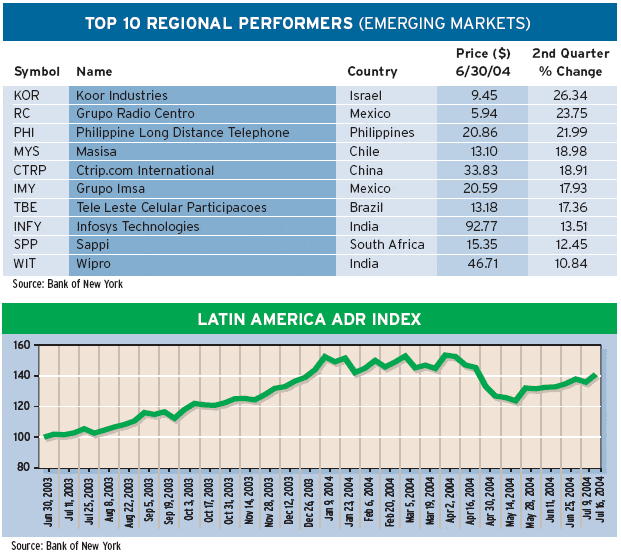 Gordon Platt