THE AMERICAS

Citigroup agreed to acquire the credit card and financial products business of Illinois-based Sears, Roebuck for an estimated $5 billion. The purchase will make Citigroup the largest private- label card provider in the US and extend its lead as the nations largest credit-card company.
The acquisition price was to consist of an estimated $3 billion in cash and up to $2 billion in profit-related payments, according to Thomson Financial Securities Data.
Sears is leaving the consumer- finance business after 90 years to concentrate on its core retail business. Sears and Citigroup will enter into a long-term marketing and servicing alliance with an initial term of 10 years. Some 8,300 full- and parttime Sears employees will move over to Citigroup when the deal closes, which is expected at the end of this year.
New York-based Standard & Poors cut its debt rating on Sears, saying that the credit business has been a vital factor in assessing the companys overall credit rating.
The downgrade reflects the absence of this historically important foundation to the credit rating and a greater reliance on a retailing business that has a very challenging future, the rating agency said.
Sears plans to use the proceeds of the sale to pay down debt and for general corporate purposes.
Robert B.Willumstad, president of Citigroup and chairman and CEO of its global consumer group, says the transaction creates growth opportunities for the bank.Sears is a unique franchise, as 60% of US households are Sears customers, including a significant Hispanic customer basea key focus of our consumer business marketing efforts, he said in a statement.

EUROPE


BAT Plans to Acquire Italian Tobacco Firm

British American Tobacco of the UK announced plans to acquire Italian state-owned tobacco company Ente Tabacchi Italiani for $2.6 billion.
BAT, the worlds secondlargest manufacturer of tobacco products, owns Lucky Strike, Pall Mall, Dunhill and Kent cigarette brands. It also makes furniture and owns and operates department stores. BAT outbid French-Italian group Altadis and an Italy-based investment group, Imprenditori Associati, for ETI.
The price we are paying is higher than the market has been expecting, says BAT chairman Martin Boughton,but it reflects the detailed financial information we have received, the discussions we have had with ETIs management and our view of the long-term prospects for the business and synergies that can be achieved.

ASIA


Taiwan Mobile-Phone Companies To Merge

Far EasTone Telecommunications signed a letter of intent to merge with KG Telecommunications in a deal that would create Taiwans secondlargest mobile-phone company.
The merger, in a stock-swap transaction valued at $900 million, is expected to improve Far EasTones ability to compete in planned high-speed mobile Internet services.
Through our alliance, we will be able to reach a larger economy of scale and strengthen our market position, says Douglas Hsu, chairman of Far EasTone.
The acquisition will boost Far EasTones customer base to 7.7 million.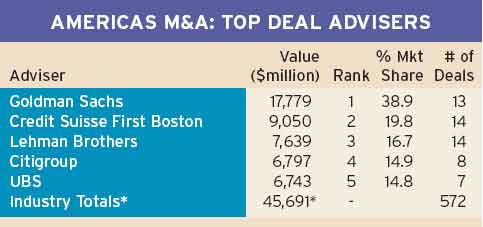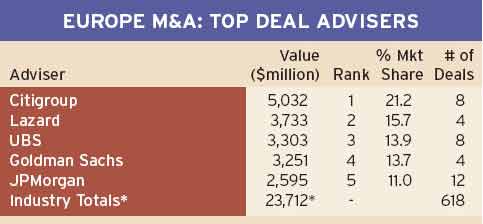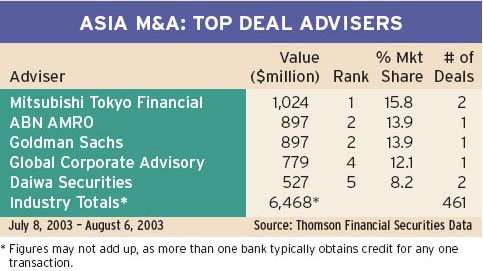 Gordon Platt