THE AMERICAS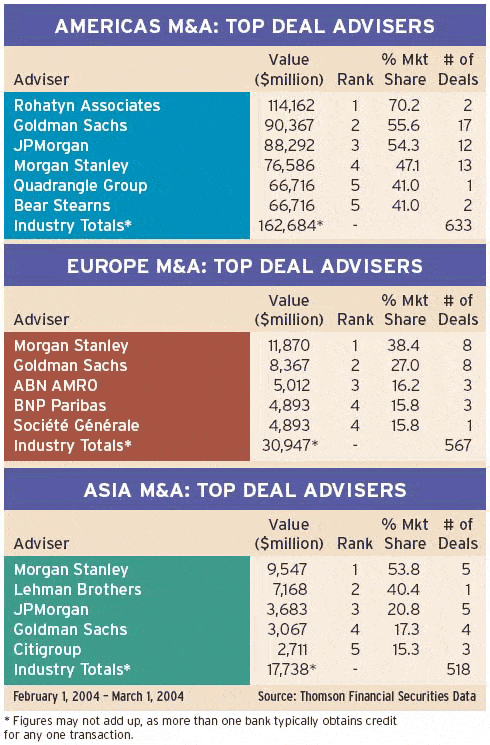 Comcast, the biggest cable-TV operator in the US, made an unsolicited offer to buy Walt Disney, the American entertainment icon, but was swiftly rebuffed by Disneys board.
The $67 billion hostile stock-swap transaction, if successful,would create the biggest media company in the world. It would combine Comcasts communications capabilities with Disneys film studio and theme parks, the ABC broadcast network and ESPN sports programming.
The proposed marriage of industry leaders in distribution and content won praise from some analysts but also drew comparisons with the ill-fated merger of AOL and Time Warner.
This is a combination that we believe would restore the Disney brand, says Comcast CEO Brian L. Roberts.
Philadelphia-based Comcast took the opportunity to pounce on Disney at a time of dissension in the companys shareholder ranks and amid a campaign by the Disney family to oust long-time CEO Michael D. Eisner, who lost the chairmans title March 3 following a no-confidence vote at the companys annual meeting.
Comcast, the largest high-speed Internet service provider in the US, says the proposed merger would give Disney the broadband technology it has been seeking to enhance how its content is created and delivered.
The rationale behind the merger is identical to the News Corporation-DirecTV combination, which is a combination of content and technology, says Jessica Reif Cohen, Merrill Lynch global media analyst.
In this case, Comcasts broadband technology is superior to satellite, creating even more opportunities, she says.
Analysts also note that by acquiring ESPN, Comcast would be able to control the cost of its sports programming.
Comcast likely will have to sweeten its bid, however, if it hopes to consummate the Disney deal, analysts concur.As Global Finance went to press, however, Comcast was sticking to its original offer, and no new suitors had emerged for the Anaheim, California-based creator of Mickey Mouse and Donald Duck.

EUROPE
France Tlcom Wants Wanadoo

France Tlcom wants to buy out investors in its Internet service provider Wanadoo.
The French telecommunications services provider plans to launch a tender offer to acquire the remaining 29.4% stake it does not already own in the ISP.
The cash-and-shares bid was valued at about $4.9 billion.
If the buyout goes as planned, France Tlcom says it may consider a partial initial public offering of its Pages Jaunes, or Yellow Pages, directory business.

ASIA
Pharmaceutical Firms to Merge

Yamanouchi Pharmaceutical and Fujisawa Pharmaceutical plan to merge, creating Japans largest pharmaceutical company.
The stock-swap transaction, valued at about $7.9 billion,was designed to create a firm that would be big enough to be a global mega player, according to the companies.
In October 2003, the companies agreed to integrate their overthe- counter pharmaceutical businesses in a joint venture.
The newly combined company will rank 17th in the global pharmaceutical market in terms of sales.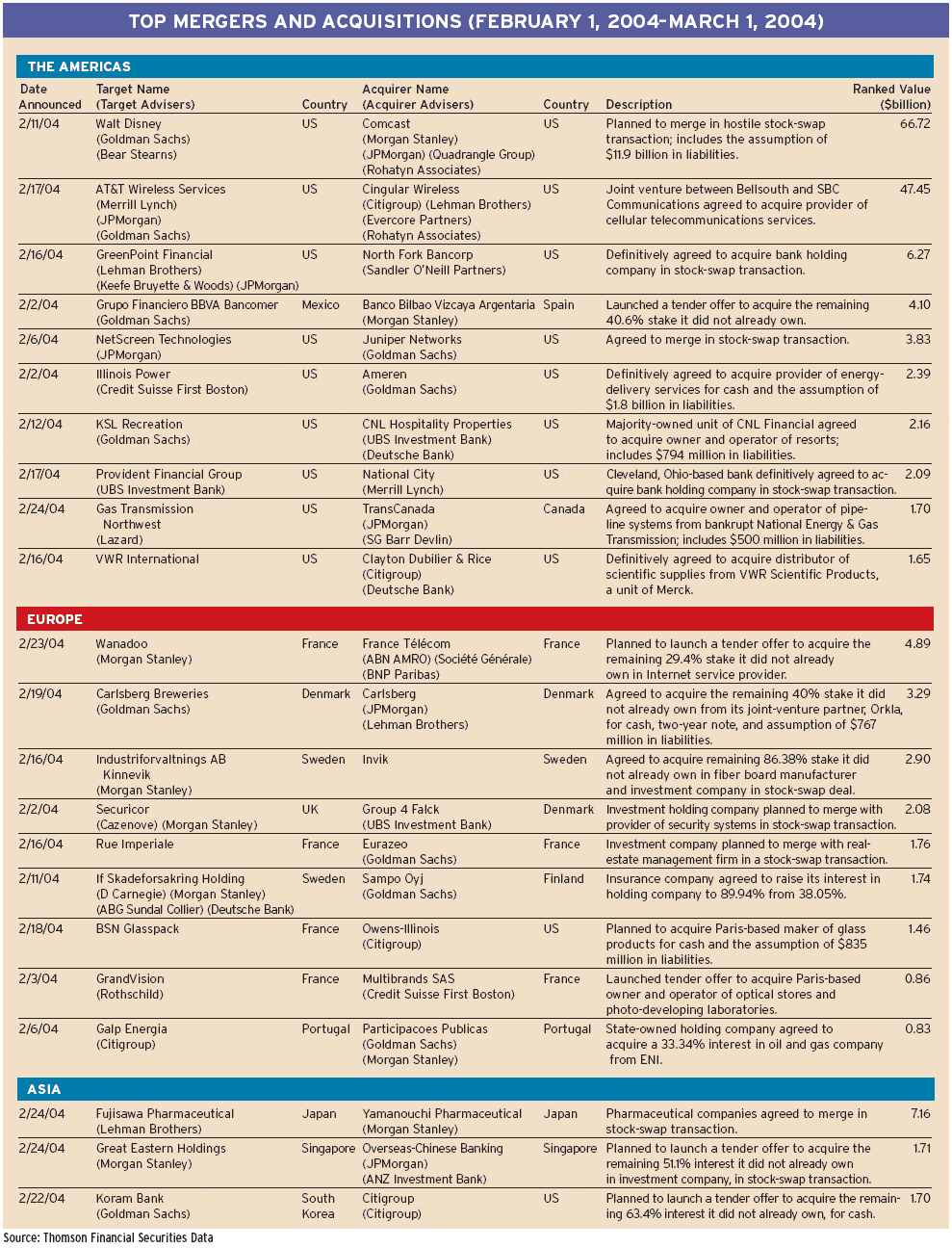 Gordon Platt