CORPORATE FINANCING NEWS / CORPORATE DEBT
The market for short-term corporate IOUs, or commercial paper, has continued to shrink in recent weeks amid the spreading credit crunch, putting more pressure on traditional bank credit lines.
Commercial paper outstanding in the United States fell $54.1 billion in the week ended September 5 after falling $62.8 billion in the preceding week and $90 billion in the prior two weeks. The decline was centered in dealer-placed asset-backed commercial paper. Much of the drop in commercial paper outstanding was replaced by bank credit facilities.
"The failure of asset-backed commercial paper programs to roll over is likely drawing down bank capital, while other balance-sheet constraints remain," says Steven Wieting, senior economist at Citi, who is based in New York. Excess capital that could be held as reserves by the banks to support additional lending appeared to be only about $30 billion among large US banks in the second quarter, he says.
"The importance of traditional bank capital has risen as secondary-market sources of liquidity have disappeared for the time being," Wieting says. Unless capital-adequacy ratios are relaxed, this suggests potential contraction in available credit as commercial paper programs fail to be renewed, he adds.
In addition, according to Wieting, roughly $250 billion in bridge loans for this summer's leveraged-buyout transactions remain on the balance sheets of underwriters, including commercial banks. Fears of economic deterioration, warranted or otherwise, could drag on the ability of banks to move these liabilities off their balance sheets and free up capital for new lending, he says.
"At the moment, traditional lenders are being asked to shoulder a much greater burden to supply credit to the US economy than in many recent years," the Citi economist says.
Banks are required to set aside a prescribed proportion of the deposits they take in and deposit them at the central bank in a special reserve account. Whatever they do not have to put aside as reserves against cash needs almost always is loaned out to retail and commercial customers, says Carl B. Weinberg, chief economist at High Frequency Economics, based in Valhalla, New York.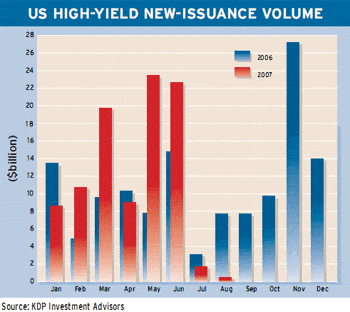 "The problem that Euroland is experiencing is that banks with excess reserves are unwilling to take on the credit risks of lending to other banks," Weinberg says. "They fear that there may be some insolvencies lurking in the system, but they do not know where they are. So banks are reducing counterparty risk by staying out of the business of lending reserves to other institutions," he says.
Unless the liquidity of bank reserves is restored, credit will become unavailable to some borrowers at any cost, and for any term, without regard to the posted interest rate, Weinberg says. The core of the operational problems for banks in the nascent financial crisis has been a shortfall of reserves, he says. While central banks have been providing extra reserves to the banking system in recent weeks, this can only be thought of as bridge financing, he adds.
The longer-term solution for the banks to insufficient reserve availability, Weinberg says, is to cut back on lending.
Meanwhile, the high-yield US bond market remained virtually closed in August for a second straight month, with only two issues, totaling $565 million. In the only public offering, Coventry Health Care, based in Bethesda, Maryland, offered $400 million of senior notes, in part to fund its planned acquisition of Florida Health Plan Administrators. Goldman Sachs, Citi and JPMorgan Securities acted as joint bookrunners, and RBS Greenwich Capital was co-manager.
Miami-based Vector Group, a holding company that indirectly holds Liggett and Vector Tobacco, placed $165 million of 11% senior secured notes due 2015 through an offering to qualified institutional buyers.

Gordon Platt