THE AMERICAS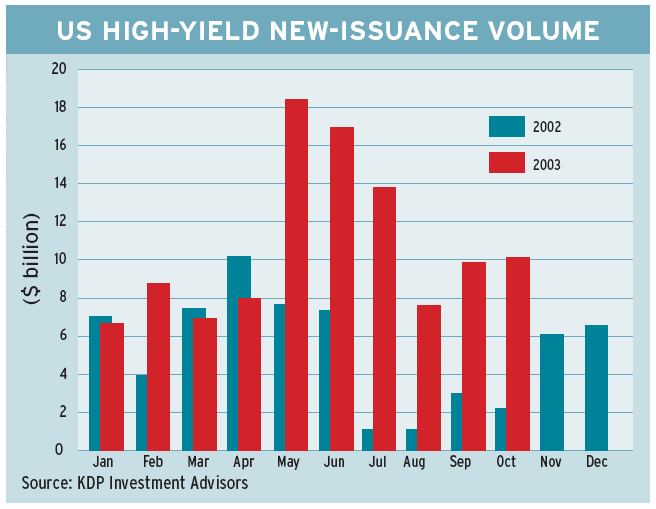 US corporations are prepaying outstanding bonds and locking in current low interest rates amid signs of strength in the economy, analysts say.
The 7.2% rise in US gross domestic product in the third quarter and employment gains in September and October make it clear that the next move in rates will be upward, economists say.They add, however, that the Federal Reserve will be patient and likely will wait months longer before tightening monetary policy.
Meanwhile, companies are issuing large amounts of bonds to replace higher-cost outstanding issues before market rates rise further.
US high-yield corporate bond issues totaled $10.2 billion in October, nearly five times the level in the same month of last year, according to Vermont-based KDP Investment Advisors.
With output gaps wide and inflation lower than desired, there is no need for policymakers to respond quickly to faster global growth, says John Lipsky, chief economist at JPMorgan Chase in New York.
Rather, policy tightening will become appropriate when economies are closer to full capacity than at present, Lipsky says.Thus, implicit market expectations that the Federal Reserve will initiate rate hikes during next years first and second quarters are likely to be premature.
While signs of improvement in the labor market are becoming more broadbased, the data are still far from enough to justify a Fed rate hike anytime soon, says Lara Rhame, economist at Brown Brothers Harriman in New York.
The Fed wont respond to job growth with higher rates until it thinks labormarket pressures are so strong they threaten to ignite inflation, Rhame says.
Surging profits and investment suggest that the jobless phase of recovery is nearing an end, says Robert V. DiClemente, chief US economist at Citigroup in New York.
There are increasing signs in incoming data that US recovery is at or very near a self-feeding stage, DiClemente says.
Rising orders for nondefense capital goods include a tailwind of rising backlogs, he says.A pattern of upward revisions accompanying strong data is characteristic of cyclical turning points, he adds.
Confidence in the durability of the recovery is not yet sufficient, however, for the Fed to abandon its pledge to remain accommodative for a considerable period, he says.

Host Marriott Issues $725 Million Notes

Host Marriott, a Marylandbased real estate investment trust, placed $725 million of 7.125% senior notes due 2013 with qualified institutional buyers.
The notes, which were increased from an originally proposed $500 million, generally may not be redeemed prior to 2008.
The company will use the proceeds to prepay its 7.785% senior notes due 2005, as well as a portion of its 8.45% notes due 2008.
Host Marriott owns high-end and luxury hotels, which are operated mainly under the Marriott and Ritz-Carlton brands. It recently agreed to purchase the Hyatt Regency Maui Resort and Spa in Hawaii from Blackstone Real Estate Advisors for $321 million. Host Marriott says it will pay for the oceanfront hotel in part with the proceeds of a recent equity offering.
Gordon Platt