SOUTH AFRICA

South African companies that find themselves ignored by analysts in developed countries can get noticed by issuing American depositary receipts, bankers say.
US and European companies have significantly higher price-to-earnings ratios and a stronger research following than South African companies, according to Colin Coleman, managing director of Goldman Sachs International in South Africa.
There is a smaller difference for companies with ADRs, Coleman told a conference in New York organized by the Corporate Council on Africa and hosted by Citigroup.
Mahmoud Salem, vice president in the ADR division at Bank of New York, told the conference that ADRs are the most efficient vehicle to tap the US market.
Salem says ADRs account for a significant share of the trading volume for some companies. For South Africa-based Gold Fields, for example,ADRs represent 23% of its shares outstanding, he says.
Christopher Morin, senior vice president for Europe, the Middle East and Africa at the New York Stock Exchange, says non- US companies account for 34% of the exchanges market capitalization.
Five South African companies have their ADRs traded on the NYSE, and Ghana-based Ashanti Goldfields has its global depositary receipts listed on the exchange.
Ashanti, however, is being merged with South Africa-based AngloGold, one of the worlds largest gold producers.
Bank of New York in February announced the establishment of a Rule 144A GDR for AngloGold.The issue trades on the NASDs PORTAL, which stands for Private Offerings, Resales and Trading through Automated Linkages.One GDR is equivalent to one Anglo- Gold ordinary share.
Only South Africa is being talked about because the analysts are not getting the information about our companies, Ndi Okereke- Onyiuke, head of the Nigerian Stock Exchange and chairperson of the African Stock Exchanges Association, told the conference in New York.
We need to train our analysts to meet world standards, she says.
A number of companies from Nigeria, Namibia, Zimbabwe, Malawi, and Botswana are dually listed on local exchanges as well as the JSE Securities Exchange in Johannesburg.
THE AMERICAS Grupo Modelo Launches Program

Grupo Modelo, Mexicos largest brewer, started a Level I American depositary receipt program in the US over-the-counter market with Bank of New York as depositary.
Grupo Modelo,whose Corona Extra brand is the leading imported beer in the US, is half-owned by St. Louis, Missouri-based Anheuser- Busch,which makes Budweiser, Bud Light,Michelob and other brands.Mexico City-based Grupo Modelo exports its beer to 150 countries and is the exclusive importer and distributor of Anheuser-Buschs products in Mexico.
Grupo Modelo is building a $64 million barleymalting facility in Idaho Falls, Idaho, adjacent to an Anheuser-Busch malting plant built in 1991.

Femsa Selects Bank of New York

Fomento Economico Mexicano, or Femsa, selected Bank of New York as successor depositary for its American depositary receipt facility.
Monterrey,Mexico-based Femsas main subsidiary is the largest Coca-Cola bottler in Latin America. Its Cerveza unit is the secondlargest brewer in Mexico, which produces and distributes beer brands such as Tecate, Sol, Carta Blanca, Bohemia and Dos Equis.

EUROPE Power Station Issues GDRs

Deutsche Bank announced the launch of an unsponsored global depositary receipt program covering up to 19.99% of the ordinary shares of Russiabased OAO Kostromskaya GRES, or joint-stock company Kostroma State District Power Station.
The gas-fueled powergeneration plant, located on the Volga River northeast of Moscow, sells all of its output to the federal wholesale electricity exchange.

ASIA/AUSTRALIA Norwood Abbey Starts Program

Norwood Abbey, a Melbourne, Australia-based biotech, established a Level I American depositary receipt program. Bank of New York is the depositary. We believe that now is the time to take advantage of a number of opportunities that are available to us in the US, says Peter Hansen, chairman and CEO of Norwood Abbey.
The US Food and Drug Administration recently gave the company clearance for the marketing and distribution of a laser device in conjunction with its US-based strategic partner, Ferndale Laboratories.
Norwood Abbey specializes in developing medical technologies to solve drug-delivery problems, including a needle-less injection system.
The Australian company has appointed New Yorkbased Global Markets Capital as US advisors to facilitate the eventual listing of its ADRs on Nasdaq.
The drug-delivery market is the highest-growth area in the pharmaceutical industry, according to Mark Saunders, president of Global Markets Capital.


Outsourcing Firm Launches GDRs

India-based Daksh eServices Private, a business process outsourcing, or BPO, firm launched a sponsored Regulation S global depositary receipt program in February with Bank of New York as depositary.
Daksh eServices offers customer service and technical support through multiple channels, including voice, email, online discussion groups and data processing. In March the company launched its first BPO center outside India, in Manila, the Philippines.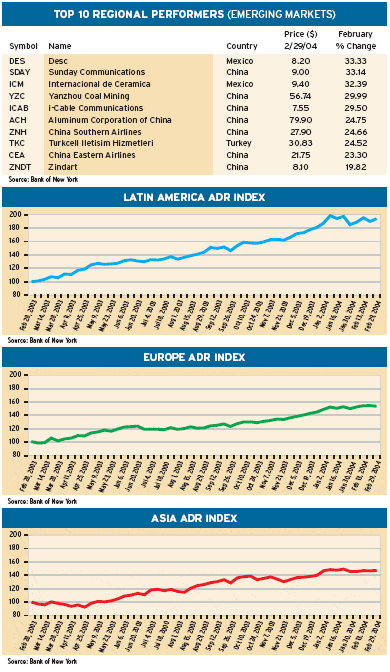 Gordon Platt