GLOBAL


High-Yield Issuance Setting Fast Pace

The improving global economy is spurring an increase in debt issues by lesser-rated companies, as the risk of default declines, analysts say.
Worldwide issuance of high-yield corporate bonds is running well ahead of last years pace, according to Dealogic.
The year-to-date total was $81.7 billion as of May 12, 2004, up 60% from $49 billion in the same period of 2003.There were 459 high-yield issues that came to market between January 1 and May 12 this year, up from 242 issues in the same period last year.
March 2004 was the most active month for high-yield volume in more than a decade, with $22.8 billion worth of issues, Dealogic says.
US-based companies accounted for 59% of total high-yield issuance from January 1 to May 12, 2004, down from 68% of the total in the same period of last year. South Korean companies ranked second to the US this year, followed by companies based in Russia, the UK and India, according to Dealogic.
The high-yield default rate is falling faster than expected, says Jan Loeys, global head of fixed-income research at JPMorgan Securities in London.
High-yield spreads have traditionally seen a negative relation with bond-yield levels, as Federal Reserve tightening happens during good times for the economy, Loeys says.
High-yield bonds should rise one basis point, or onehundredth of a percentage point, for every two-basispoint rise in US treasury bond yields for the remainder of 2004, he says. This clearly implies tighter spreads, as credit fundamentals remain strong, Loeys says.
The Fed has promised a measured pace of adjustment, but the excessive stimulus of the past few years suggests that the economy will not give policymakers that luxury, says Ram Bhagavatula, chief economist of financial markets in North America for Royal Bank of Scotland.
The combination of strong growth and increasing inflation has suddenly put the economy well ahead of Fed policy, he says.

THE AMERICAS


Cable TV Operator Refinances Debt

Charter Communications, the third-largest cable-TV operator in the US, issued $1.5 billion of senior second-lien notes to refinance the debt of certain subsidiaries.
The St. Louis, Missouribased broadband services provider issued $1.1 billion of 8% senior notes due in 2012 and $400 million of 8.375% senior notes due in 2014.
Charter,which is controlled by Microsoft co-founder Paul Allen, lost $294 million in the first quarter of 2004.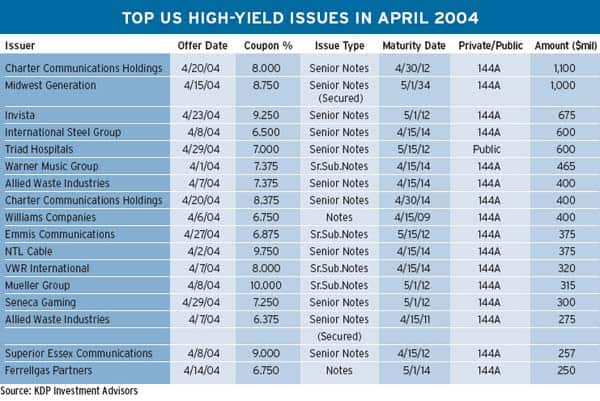 Gordon Platt