THE AMERICAS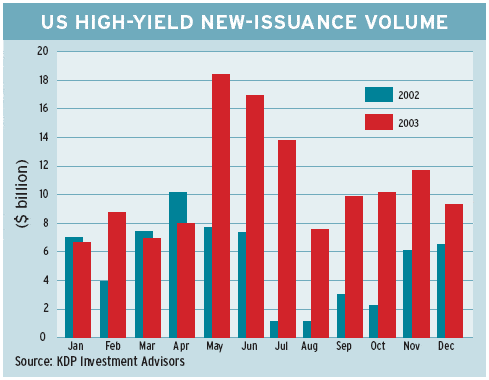 A favorable confluence of economic factors is expected to keep credit spreads tight in 2004, analysts say.
Corporate bonds outperformed US Treasury bonds by more than 500 basis points last year, thanks to an improvement in credit quality and a rush by investors to obtain higher yields.
The stunning surge in US corporate profits to a 30-year high as a share of gross domestic product reflects persistent positive productivity surprises, says John Lipsky, chief economist at JPMorgan Securities in New York.
He forecasts a further narrowing of credit spreads in 2004.
Strong productivity gains and unexpectedly low inflation, the structural forces that fueled the bull markets of the 1990s, remain in place, Lipsky says.In fact, recent productivity and inflation developments are even more favorable than they were in the 1990s.
Merrill Lynchs corporate supply forecast calls for less supply in the year ahead, helping to keep the bid for credit strong.
Capacity utilization rates are still hovering in the 75% area, indicating there is still a lot of excess capacity to be absorbed before substantial money will be put into capital spending, and companies continue to pay down debt, says Mary Rooney, senior credit strategist at Merrill Lynch.
This can be seen especially in the cable and media sector, where we are expecting this years issuance to be just 20% of last years, Rooney says.
One major risk to the forecast of a dearth of supply is the potential for a surge in mergers and acquisitions, she says, noting that the firms retail and pharmaceuticals analysts expect to see more M&A; in their sectors.
Christopher Wiegand, economist at Citigroup in New York, says rising profits and limited borrowing will improve US corporate finances still further in 2004.
Stronger balance sheets should, in turn, underpin further credit-spread narrowing, especially among lower-rated credits, and provide a sizable tailwind to business activity, he says.
Even in the unlikely event of a severe bear bond market, strengthening credit quality should temper somewhat the rise in corporate bond yields, Wiegand says.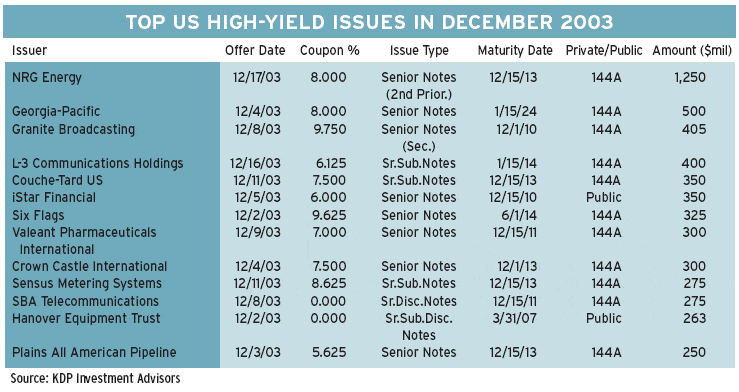 NRG Energy Sells $1.25 Billion Notes

Minnesota-based NRG Energy, which emerged from Chapter 11 bankruptcy on December 5, 2003, closed a $2.7 billion financing that included $1.25 billion of 8% secondpriority, senior secured notes due in 2013.
The package, which also included a $1.45 billion credit facility,was increased from an originally planned $2.2 billion.
NRG Energy owns and operates a diverse portfolio of power-generating facilities.
Proceeds of the financing will be used to pay off debt, make an additional $500 million cash distribution to former unsecured creditors, and fund a $250 million letter-of-credit facility.

Gordon Platt