Mergers & Acquisitions

Erich Hampel, CEO of Bank Austria Creditanstalt, writing in the banks 2004 annual report, said, In Central and Eastern Europe, our goal is to become market leader.
Hampel and Bank Austria are on the verge of realizing that goal, perhaps sooner than he expected.
As a result of Europes largest-ever cross-border bank merger, announced on June 12, 2005, between Italys biggest bank, UniCredit, and Bank Austrias German parent HVB, Hampel will find himself at the helm of an expanded Bank Austria, which will be the CEEs leading bank by far.
UniCredit, formerly UniCredito Italiano, agreed to buy HVB, Germanys second-largest bank following Deutsche Bank, for $18.7 billion in an all-stock transaction.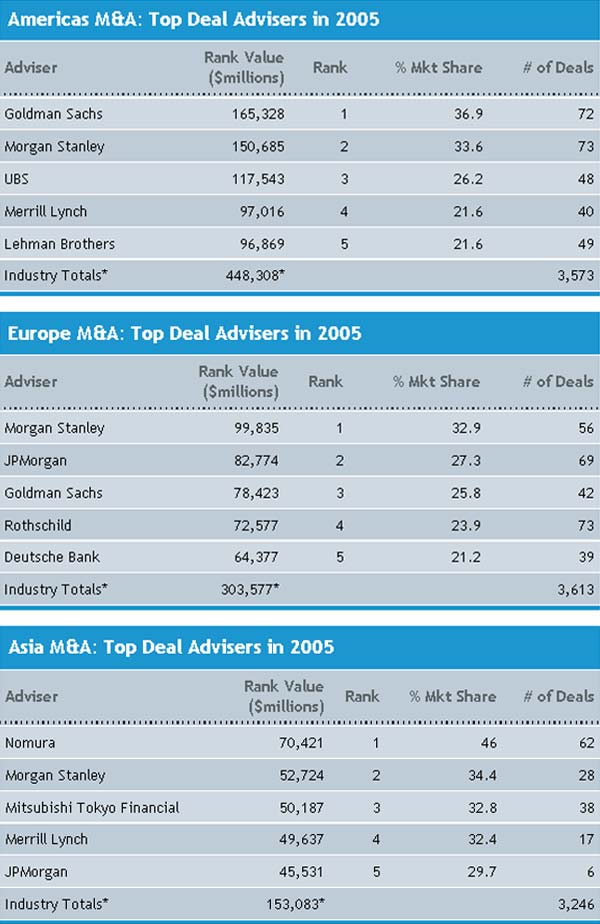 Source: Thomson Financial Securities

* Figures may not add up, as more than one bank typically obtains credit for any one transaction.
The CEE division of the combined bank will be run by Hampel and will control about 20% of the fast-growing regions profitable banking market.
UniCredit plans to offer five new shares for each share in HVB. It also will buy HVBs Bank Austria and BPH in Poland. Some 22.5% of Bank Austrias shares are publicly held.
This deal makes a lot of sense to us, Morgan Stanley analysts said in a note to clients. Cash cow in Italy, growth in Central and Eastern Europe, and restructuring in Germany and Austria. We like it, they said.
Bank Austria already had a presence in 14 CEE countries, including major market shares in Poland, Croatia and Bulgaria. The acquisition of Bank Austria would double UniCredits assets in Eastern Europe and create a lender twice the size of its nearest competitor, Austria-based Erste Bank.
UniCredit began expanding in the CEE region after the Bank of Italy blocked its attempt in 1999 to acquire Banca Commerciale Italiana. UniCredit owns the leading private bank in Poland, Bank Pekao; the largest bank in Croatia, Zagrebacka Banka; the biggest bank in Bulgaria, Bulbank; the fifth-largest bank in the Slovak Republic, UniBanka; one of the Czech Republics main commercial banks, Zivnostenska Banka; and UniCredit Romania. In Turkey, UniCredit has a partnership with Koc, a Turkish industrial group, with whom it recently purchased Yapi Kredi, Turkeys fourth-biggest bank.
Bank Austria has a significant presence in Southeast Europe, a region that enjoyed the strongest economic growth in Europe in the past four years, with real growth of 23% in the period, according to a study by the bank. The region, comprised of the Balkan countries to the east of Italy, achieved the strongest growth of income in the world, with an increase of about 50% since 2000, it says.
The banking market in Southeast Europe had exceptionally strong loan growth of 29% annually in the past four years, according to Bank Austria.
While CEE growth is appealing, Alessandro Profumo, UniCredits chief executive, says, Germany is strategic.
Profumo is betting that he can revive HVBs sluggish domestic operations and that he wont find any skeletons in the German banks real-estate loan portfolio. HVB has had to write down billions of dollars in defaulted real-estate loans in eastern Germany in the past three years.
Meanwhile, Austria-based RZB is continuing to build up its network in the CEE, where it has a presence in 15 countries. The International Finance Corporation on June 21, 2005, agreed to provide $200 million to RZBs 70%-owned subsidiary Raiffeisen International in the form of loans to finance small and medium-size enterprises in Belarus, Russia and Serbia.