GLOBAL DEPOSITARY RECEIPTS


EUROPE


Deutsche Bank Study Shows ADRs Boost Stock Prices

German blue-chip companies with American depositary receipt programs enjoy higher stock prices than similar companies without ADR programs, according to a study by Deutsche Banks Global Equity Services.
The study covers 28 of the 30 German companies in the DAX index of major companies traded on the Deutsche Brse.DAX is short for Deutscher Aktienindex, or performance index.
The 18 DAX companies that have ADRs traded at an average 39.3% premium over the 10 DAX companies without ADRs from March 2002 to June 2003, the study found.
This premium is particularly pronounced in the case of DAX companies with exchange-listed ADRs, says Christian C. Starck,New York-based director of customized client solutions and analytics at Deutsche Bank Trust Company Americas.
The 11 German companies with exchange-listed ADRs had an average 64.3% premium over the 10 companies without ADRs.
DAX companies with over-the-counter ADR programs, which are exempt from most of the US reporting requirements that apply to exchangelisted programs, enjoyed an average 0.9% valuation premium over companies without ADRs.
This would seem to validate OTC ADRs, which are relatively easy to establish, as viable instruments for German companies seeking to raise their profile in the US, Starck says.
This could be interpreted as demonstrating that US investors are interested in German companies even in cases where the company does not reconcile its accounts with US generally accepted accounting principles, he says.

UK Property Firm Starts OTC Program

Liberty International, owner of Britains largest chain of shopping centers, launched an ADR program in the US over-the-counter market with Bank of New York as depositary.
The company, which originated in South Africa, said the ADRs are part of a program to attract longterm investors worldwide.
Each ADR represents one ordinary share.The companys shares are listed on the London Stock Exchange and the Johannesburg Stock Exchange.
Meanwhile, Bank of New York was appointed as successor depositary for the ADR program of Autonomy, another company listed on the London Stock Exchange.
Autonomy provides technology for automating the management of unstructured information on the Internet.
Each ADR represents five ordinary shares and trades on Nasdaq.

THE AMERICAS


ADR Swapbook Platform Debuts

ADR Swapbook, the first independent platform for swapping ADRs and underlying ordinary shares, has been launched by Creditex, an online system for trading credit derivatives.
The technology behind ADR Swapbook is based on Creditexs RealTime, a trading and price-distribution application used by most major dealers in credit derivatives.
ADR Swapbook was designed for dealers and institutional investors in non-US securities.The application allows market participants to view swap information in a centralized location and to make anonymous exchanges of ADRs and ordinary shares at a fraction of the cost of traditional conversions.
ADR Swapbook has gotten off to a fairly promising start, says Sunil Hirani, New York-based CEO of Creditex.While it is still the early days,we have already had a million- share-plus day.
The lower transaction costs will improve ADRmarket liquidity and create arbitrage opportunities for participants who trade in large volume, Hirani says.
The ADR market is expected to continue to expand as US investors diversify their stock portfolios, he says.

Mexican Retailer Selects Depositary

Controladora Comercial Mexicana selected Bank of New York as successor depositary for its New York Stock Exchangelisted ADR program.
The Mexican holding company operates retail operations through five chain stores, including a joint venture with Costco of the US. It also runs a chain of family restaurants. Each ADR represents 20 common shares, which trade on the Bolsa Mexicana de Valores.
Bank of New York also was selected as successor depositary for the ADR facility of Braskem, one of the five largest privately owned Brazilian industrial companies.

ASIA


South Korean Banks Debut on NYSE

Citigroup launched two New York Stock Exchangelisted ADR programs for South Korean financial institutions in September.
Shinhan Financial Group, South Koreas largest financial services company, upgraded its global depositary receipt program to a NYSE-listed ADR program. Each ADR represents two common shares of Shinhan, which trades on the Korea Stock Exchange.
Woori Finance Holdings, South Koreas thirdlargest financial services company, launched its ADR program as part of the governments effort to privatize the company.
Woori was set up by the government in 2001 through the Korea Development Insurance Corporation to create a new management model based on market principles to restore the profitability of several struggling banks.
Each American depositary share represents three shares of the companys stock, which trades on the Korea Stock Exchange.
Woori Bank, South Koreas second-largest lender, signed a memorandum of understanding with Sumitomo Bank of Japan for mutual operational support and cooperation in business projects.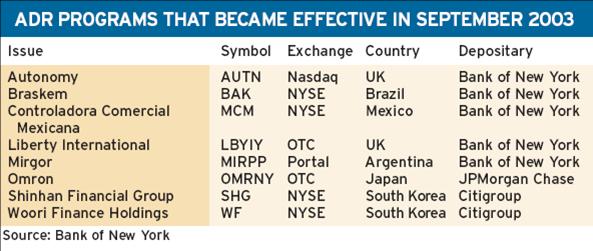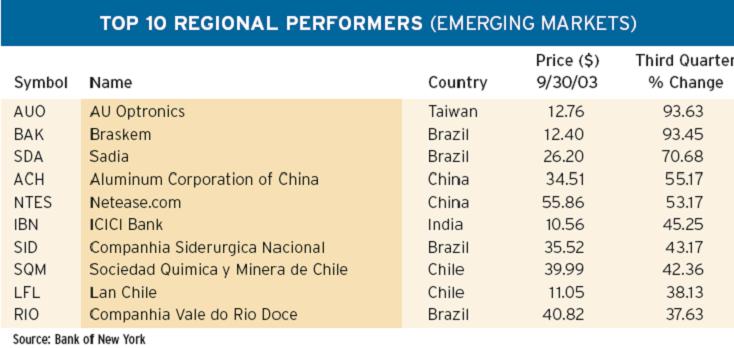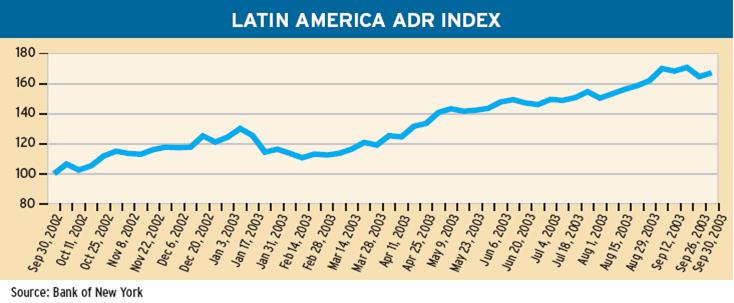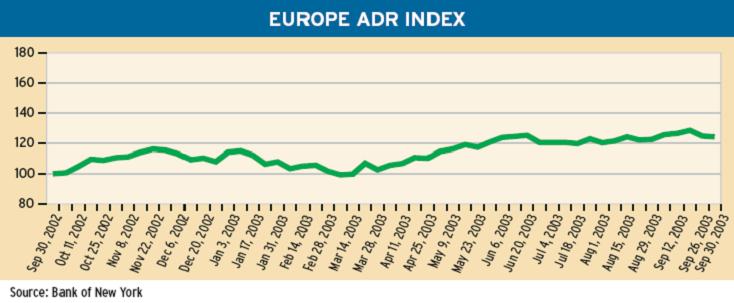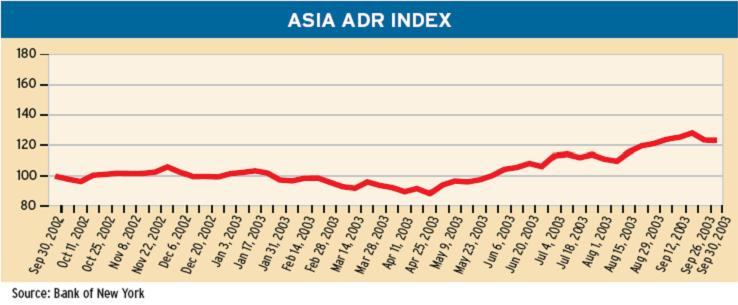 Gordon Platt