THE AMERICAS



The US dollar rebounded sharply in early March, recording its biggest jump in a year against the euro on expectations of an imminent rate cut by the European Central Bank.
When the ECB held its ground, the dollar bulls pinned their hopes on confirmation that the US labor market was set to improve in the near term,following a multi-year slump in manufacturing jobs.The February payroll report threw cold water on this thesis as well.
The dollars bounce was overdue, given the extreme negativity and one-sided positions in the market af– ter two years of relatively steady declines on worries about the US current-account deficit, analysts say.
What was missing, however, was any significant change in fundamental economic news.
Turning around a twoyear- plus trend in the dollar will require more than a bout of risk aversion, says David Gilmore, partner and economist at Essex, Connecticut- based Foreign Exchange Analytics.
It also will take more than a quarter-point rate increase this year by the Federal Reserve for the dollar to turn the corner, he adds.
The weak-dollar story is built on the need to address the record currentaccount deficit through dollar depreciation because other channels for adjustment are severely constrained, Gilmore says. Policies support low US savings and high foreign savings, for example.
Meanwhile, the need to grow jobs will keep the Bush administration very patient in any future orderly dollar declines, Gilmore says. But then, what do the analysts know?
Despite extensive efforts on the part of analysts, to my knowledge, no model projecting directional movements in exchange rates is significantly superior to tossing a coin, Fed chairman Alan Greenspan said in a prepared speech to the Economic Club of New York on March 2.
I am aware that of the thousands who try, some are quite successful, Greenspan said.So are winners of coin-tossing contests.
Not surprisingly, currency strategists took the Fed chiefs remarks as an affront.
Real foreign exchange movements do trend, and such trends can be explained in terms of supply and demand for the currency, says Michael Woolfolk, senior currency strategist at Bank of New York.
Although it may be true, as Greenspan suggested, that currency movements could not be divined from the current-account level alone, few analysts would go to this extreme.
To gauge the impact on currency markets, the current- account deficit must be combined with net foreign direct investment and net portfolio flows, Woolfolk says.
Greenspan himself acknowledged this back in 2001 and said that this was perhaps the best means we know of to explain long-term shifts in foreign exchange rates, according to Woolfolk.
Both net FDI and net portfolio investment into the US remained strong in 2001, frustrating forecasters of a weaker dollar, he says. It wasnt until 2002 and 2003 that these sources of financing for the current-account deficit began to dry up, and the dollar embarked on its structural decline.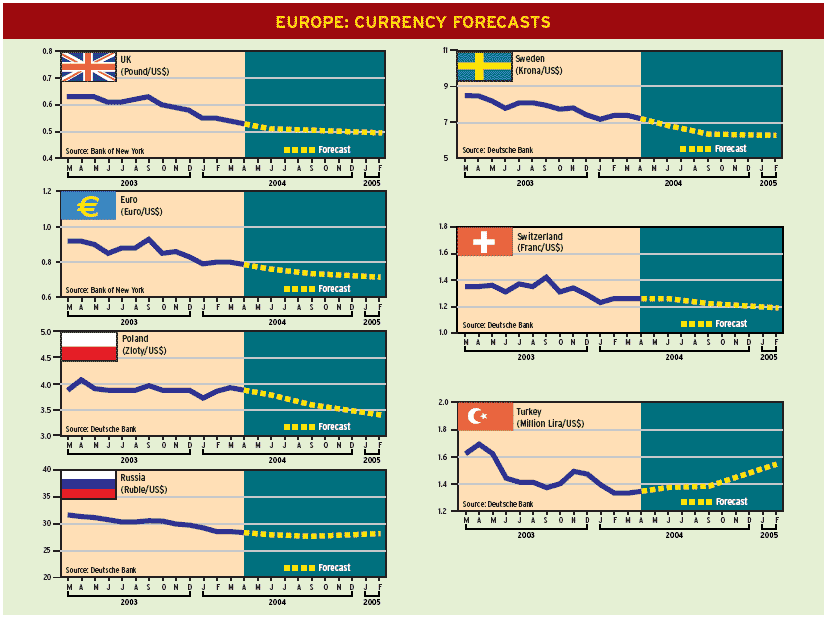 EUROPE


ECB Shows That It Has Backbone


From German Chancellor Gerhard Schroeder on down, European politicians openly pressured the ECB to cut interest rates at its meeting on March 4, but the central bank left its key rate unchanged at 2%.
Politicians calls for the ECB to cut rates are probably counterproductive, given the banks penchant for insisting on its independence, says Anne Mills, director of currency research at Brown Brothers Harriman in New York.
We still expect European growth to quicken, and the recent increase in German retail sales was a sign of that,Mills says.
The question remains, however, as to whether the rebound in growth will be strong enough to make additional rate cuts unnecessary, she says.
The recent decline in the euro, meanwhile, has bought the ECB more time, Mills says.
The verbal intervention campaign [by European politicians] that began in mid-January helped break the persistent euro buying seen since prior to the Dubai Group of 7 meeting last September, says Marc Chandler, chief currency strategist at HSBC Bank (USA) in New York.
HSBC expects an ECB cut toward the end of this year.
The market remains nervous about whether the recent moves [in the currency market] reflect a US dollar turning point or an adjustment of positions put on since the Dubai meeting, Chandler says.
Jean-Claude Trichet, who replaced Wim Duisenberg as ECB president on November 1, 2003, is not targeting the euro, analysts say.The bank is focusing on inflation and the money supply.
While it would be wrong to think that the ECB has the contempt for politicians that the Bundesbank had before monetary union, it is fiercely independent and will not allow itself to be seen kowtowing to political demands for rate cuts, says Gilmore of Foreign Exchange Analytics.
This is especially so, he says, when the European governments have suspended the Growth and Stability Pact.
ASIA
Yen on Roller Coaster as Rumors Abound

The Japanese yen fell sharply in early March but lurched suddenly higher mid-month on expectations that the period of massive intervention by Japanese officials could be drawing to a close.
Meanwhile, expectations have run ahead of reality in the US, and US growth surprises have turned negative, according to analysts at JPMorgan Chase, who say this is part of the reason they do not believe that the dollars general declining trend has yet turned.
According to observers, the fundamental and capital flow backdrop, together with international pressure, should guide the Japanese Ministry of Finance to allow for a stronger yen. It appears this may have begun.

Gordon Platt